This article appears in FLOOD 12: The Los Angeles Issue. You can purchase this special 232-page print edition celebrating the people, places, music and art of LA here.
Remi Wolf is already talking about nostalgia, and her debut album Juno hasn't even come out yet. Well, it will have by the time you're reading this—but when I touch base with her over Zoom, it's the eve of her album release and she has a moment to catch her breath. She's in her bed at her Echo Park home, bundled in a kelly green sweatshirt with "2003" scrawled across her chest. Within the past year she's achieved a variety of firsts, from headlining shows to festival slots, and it's no surprise that one of the biggest of them all—the release of her first album—is causing her emotions to do loops like a ride at Six Flags. "I've been crying everyday this week because I've been so excited and sad and happy," she reveals.
The overlooked irony about putting together any major creative project is that it's as much about loss as it is about birth. For months, even years, artists ready themselves and their work to present to the world. And then, like a parent saying goodbye to their child as they move out, the musician has to step back and let the world welcome their songs. "They are the babies," Wolf says, her voice balancing a timbre of pride and tenderness. "Once they're out there, you kind of have to build a shelter around yourself, because you don't know how they're going to be received."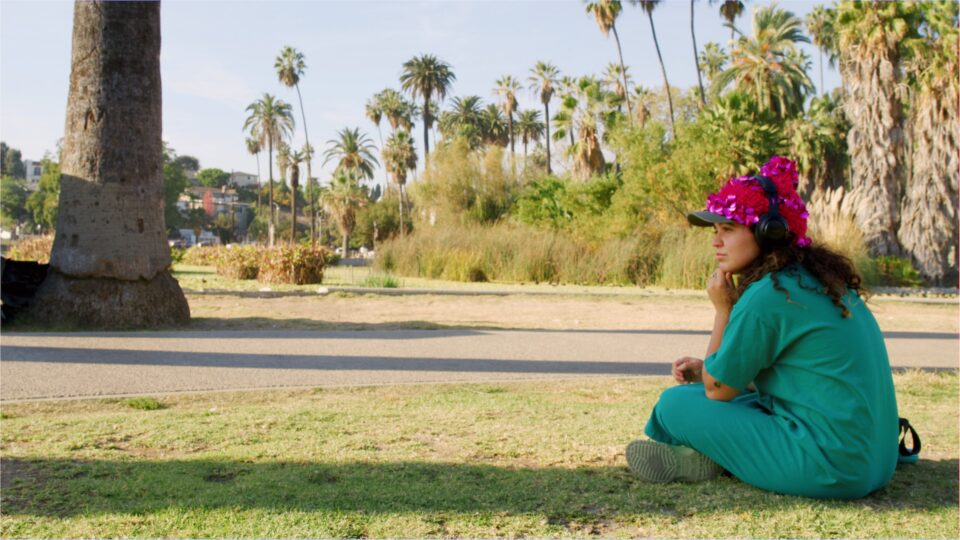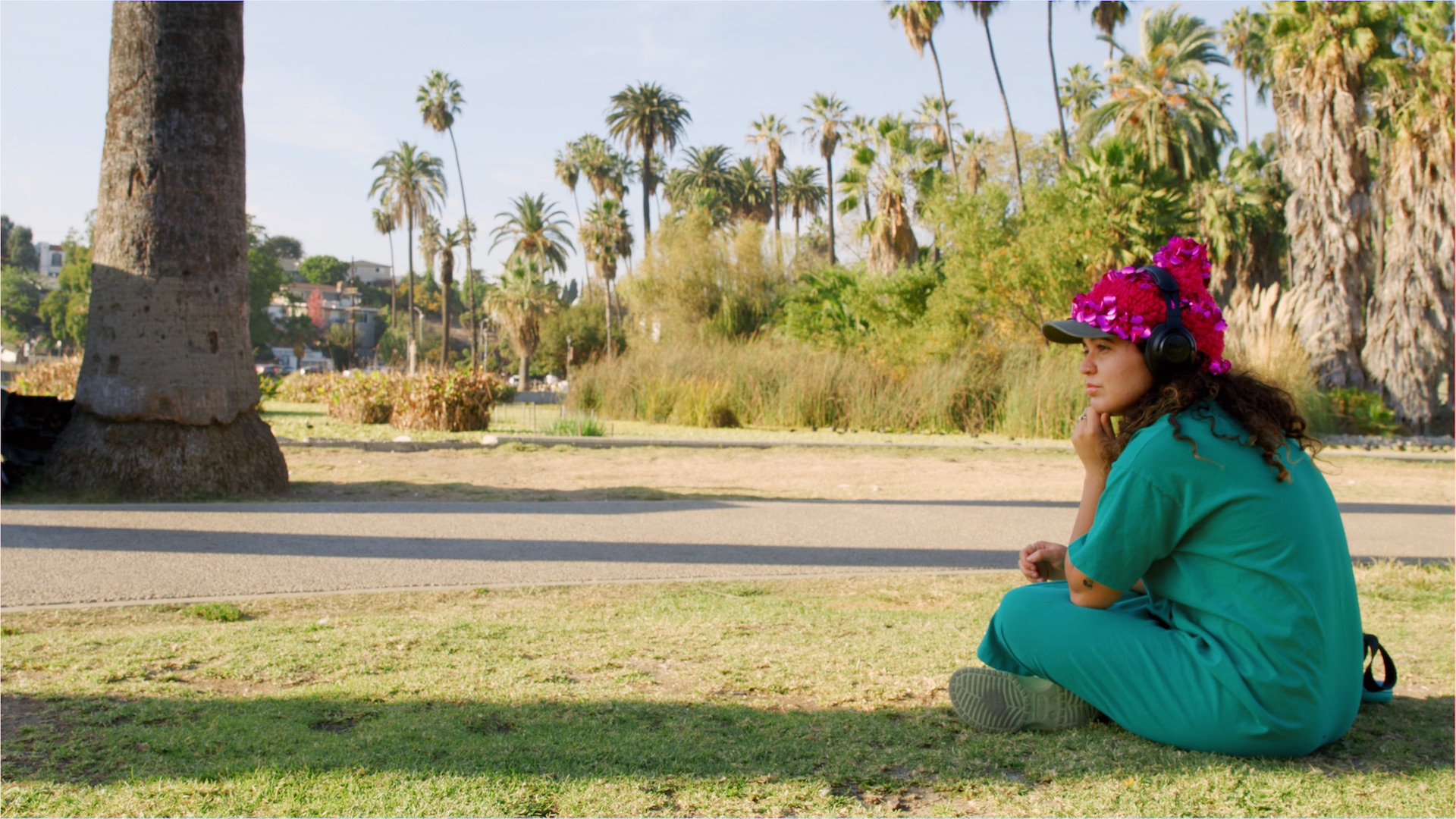 With Juno being thrust into the world, Wolf shares that putting out these psychedelic pop explosions isn't as frivolous and fun as the music sounds. There's a hope that she's raised them right, that giving them to her fans won't be a form of abandonment or impact her perception of herself—after all, kids can be seen as reflections of their parents and a home's values. "I'm sure for parents when their kids go out into the world, they have to put up some sort of wall and be like, 'OK, this isn't my responsibility anymore.'"
Even as she explains that she's accepted the process of getting the word out and describing her artistry as part of the debut release cycle, she tears up when talking about putting every modicum of her soul into these 13 tracks. Her eyes drift off and her expression becomes serious, registering the energy and time she's invested in her art. It's the type of recognition that comes with raising something until it has to walk on its own, hoping that the care and support you've provided will amount to longevity, or at least to other open arms to take the weight. "I love them and I put my absolute"—she pauses, grasping the gravity of this—"my whole soul into them."
 "I'm finally to a point where I know my story. I know who I am. I've hashed this shit out so many times and gone through the loops and the existentialism about it."
When I ask what she's been the most unprepared for in her whirlwind of getting ready to share her creative offspring with the world, she's only got one answer: press. "Being asked about your identity and about who you are as a person, who you are as an artist, every day for five months and having to rehash that fucking question, it's really exhausting," she says candidly. "As much as I can be like, 'Oh it's just media journalism,' it can get pretty existential because that's not a normal thing to be asked every day. But I'm finally to a point where I know my story. I know who I am. I've hashed this shit out so many times and gone through the loops and loops and loops and the existentialism about it, but I'm just like, 'Alright bitch, get over yourself, it's just a fucking article,'" she says before apologizing to me.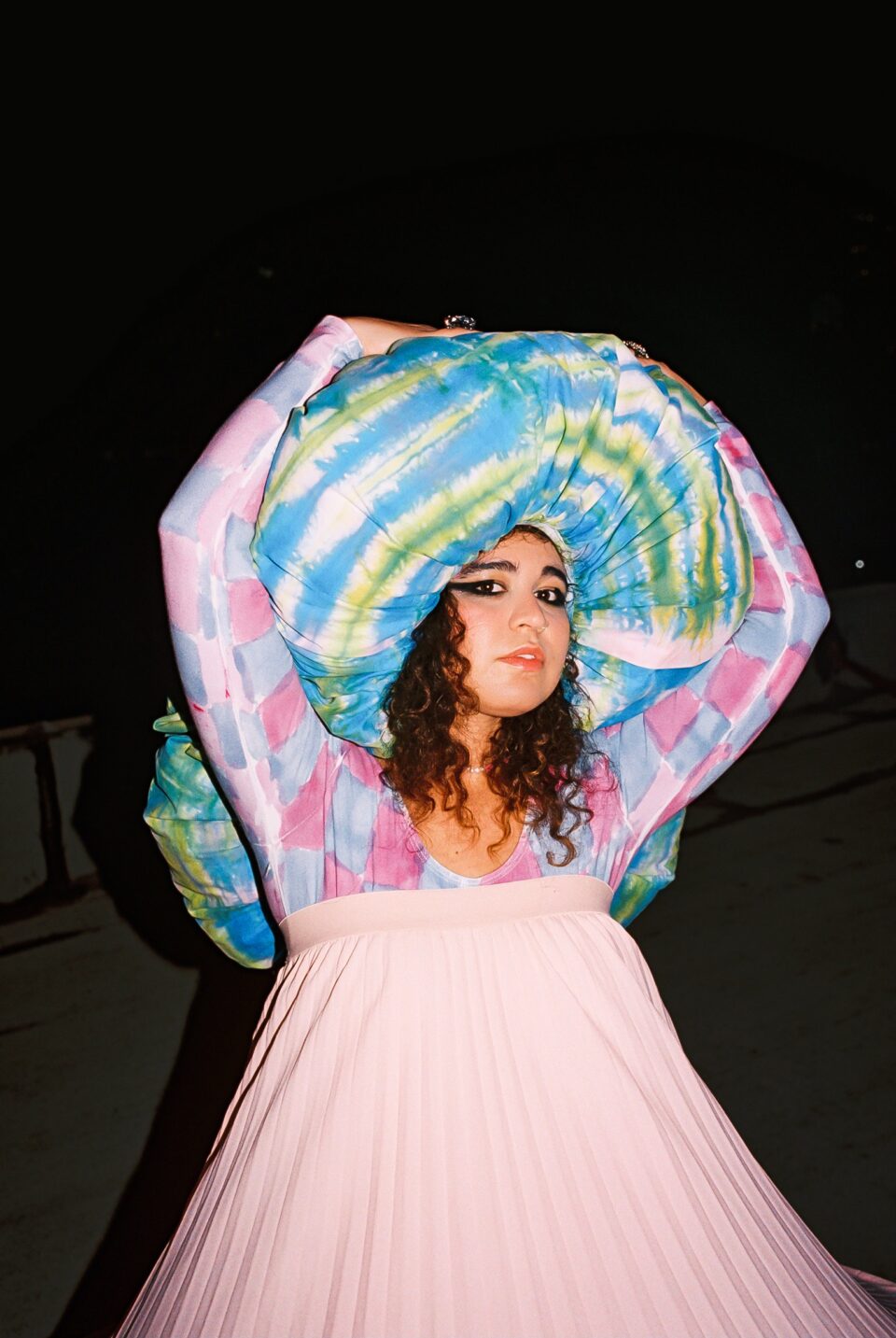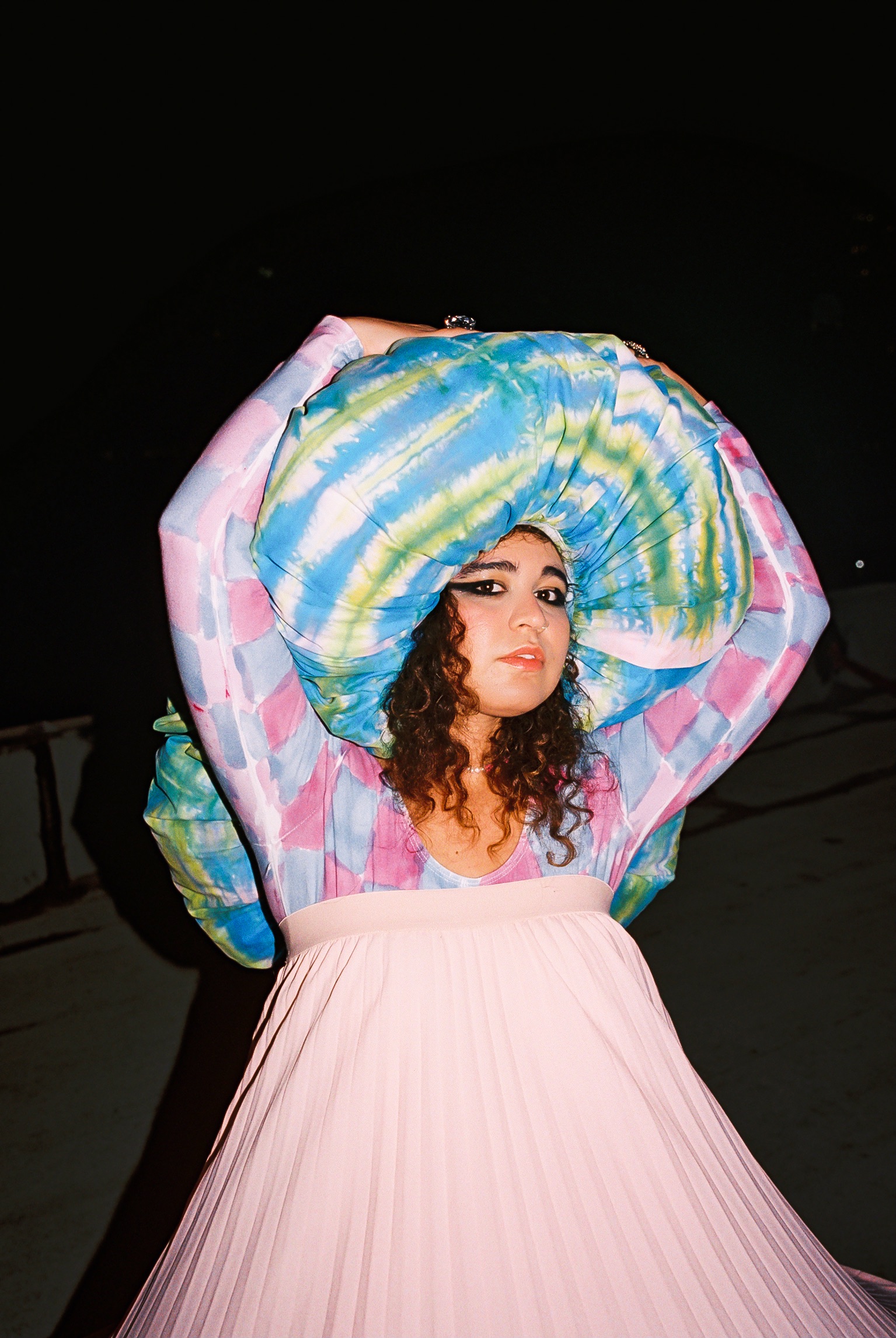 Wolf is right when it comes to the repetitive insanity of press cycles. But she's a perfect example of how the personal ingenuity of an artist can be an escape or reassurance for a fan. Juno presents her as equally fun and vulnerable. Her music is spunky, like if claymation was a music genre, or if Ms. Frizzle's dresses were woven into a quilt of funk, bedroom pop, and psychedelic jazz. Over curlycue melodies and slip 'n' slide rhythmic sections, she tackles the pressure of fame, the obligation to love family, substance abuse, the pandemic's isolation, and fake friends. Immensely catchy with unconventional lyrics, she playfully references serial killers, The Human Centipede, and orgies at Five Guys with, well, five guys. She finds the middle ground of life's heaviness without taking herself too seriously.
The chaos that spills from Remi Wolf's mind is carefully produced with her friend Jared Solomon, a.k.a. Solomonophonic. While additional production was added by collaborators Kenny Beats, M-Phazes, Ethan Gruska, John Carroll Kirby, and Elie Rizk, Juno came together in a homey environment with Wolf's dog (for whom the album was named and who graces the cover) and Solomon. She's become the reigning queen of (rented) bedroom pop, making one of the year's biggest albums in various Airbnbs. It's not how she envisioned making her debut album, but then again she didn't have expectations—only that it "be good." She draws out the word, laughing at the vague categorization.
"I imagined myself probably being in a fancy studio with gear and an engineer, especially after having made my two EPs in my bedroom or in the garage with the most horrible equipment ever," she says. "After signing to a label I was like, 'OK, we're gonna step it up. We're gonna go to a big studio. We're gonna do this shit. I'm gonna be a real artist in the studio,' and that did not happen. I realized through that process that I don't need the big studio—nobody really needs the big studio.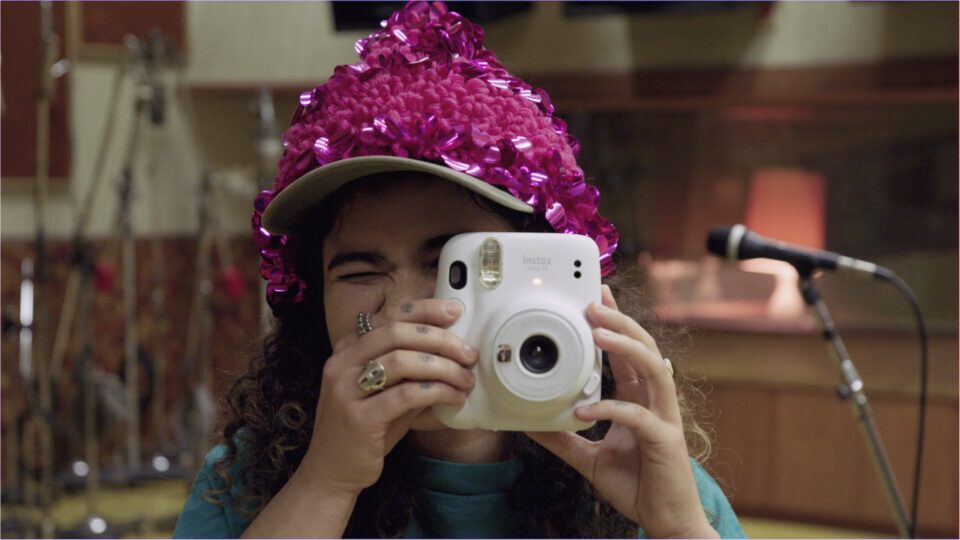 "But I like doing the Airbnb thing," she continues. "I like having a hot tub next to me. I like being in the living room and then going over to the kitchen and making lasagna. I like just living life and then having music be there as well."
Wolf has been based in Los Angeles for eight years. The city has been the background for her vital years of growth, and it finds itself in the cracks of her music. "Get my milk from Altadena," she sings on "Sexy Villain." On her song "Anthony Kiedis," she uses the Red Hot Chili Peppers frontman to capture the feeling of intrinsic love she has for her family. She read Kiedis' book Scar Tissue and was moved by how, despite his dad being "fucked up," Kiedis still idolized him.
The most Los Angeles–indebted track is "Quiet on Set," which takes a classic Hollywood setting and sets it ablaze with another one of Wolf's first experiences. "That was my first time being on one of these big sets where there's a lot of people. It was crazy because it was also in the middle of the pandemic, so everybody was really heavily masked up. We all had to take multiple COVID tests, and it was this crazy, really high-stress situation," she says, offering a small belly laugh thinking about it in retrospect. "They do say that shit," she laughs, referring to the song's title.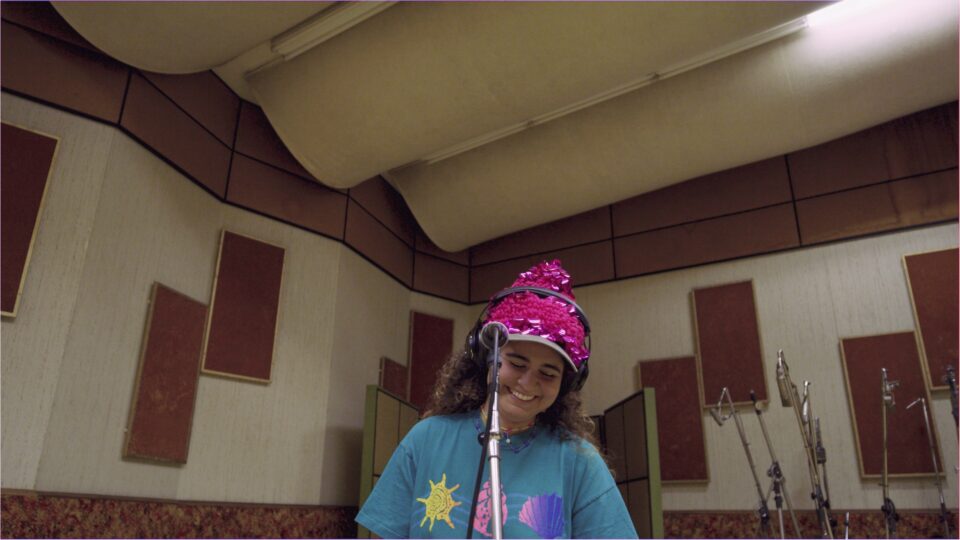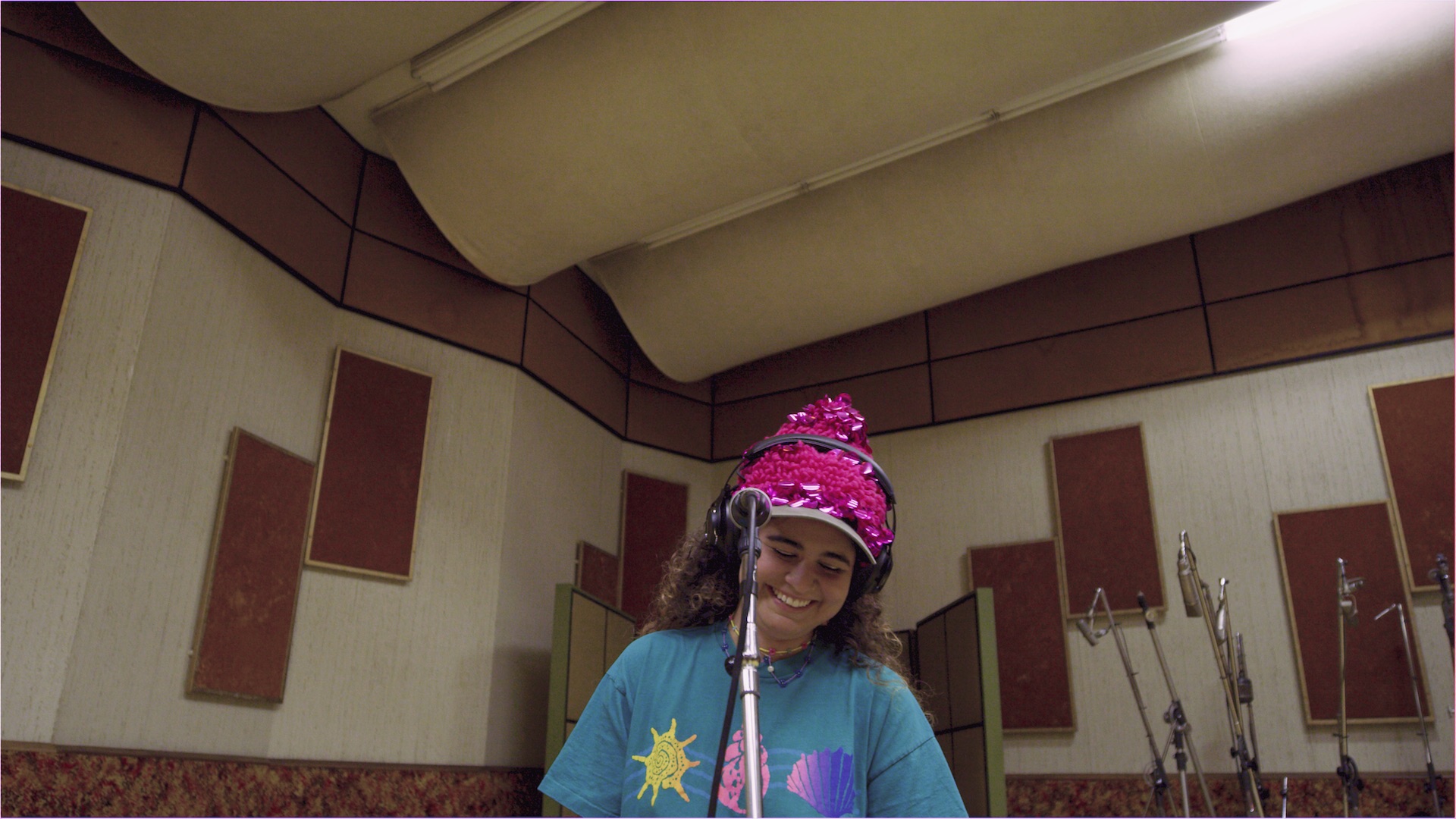 She then offers an explanation for the restaurant name-checking that occurs in the song. Over a frenzied keyboard and jammy hip-hop beat, her vocals are a frantic lasagna of layers as she sings, "Hey guys, should I Postmates Chuck E. Cheese? / Wait, ain't no Chuck E. Cheese in Los Feliz." That unique line came about when a friend was trying to order food and the infamous animatronic arcade came up as an option. "We were actually in the Valley at the time. We weren't in Los Feliz," she reveals. "But as soon as he said that, I was like, 'We have to put this in the song.' And then we were like, 'What rhymes with Chuck E. Cheese? Los Feliz!' That was a spur-of-the-moment thing that we thought was hilarious. And then the food theme kind of ran rampant through that song. I think we must have been really hungry that day," she offers with another hearty chuckle.
"I was really hating the city during the pandemic. And now I love it again, now that I can go eat food," she smiles. "LA is the best food ever. You can get so many different cuisines. That's honestly my favorite part of Los Angeles." She shares that her go-to spots are Korean BBQ in Koreatown or Courage Bagels in Virgil Village.
"LA is the best food ever. You can get so many different cuisines. That's honestly my favorite part of Los Angeles."
"I came here when I was 18. I've really grown up here, into adulthood, and into my current way of thinking. And like, everybody always talks to me about how I'm referencing all this LA pop culture."
She clarifies to me that she's not as big of a pop culture buff as her songwriting makes her seem. In reality, she reflects her surroundings and rolls with the punches of her fast, improvisational recording style. Most tracks on Juno were mainly written in under four hours while capturing the energy of each day in the songs. "Before the pandemic, I literally had no idea what was going on pop culture–wise. I just didn't pay attention. And then for some reason, during the pandemic, I was like, 'Oh, pop culture exists? I'm gonna figure out what this is.' That just kind of seeped its way into the shit. I'm just talking about what's going on around me."
Now Remi Wolf isn't just at the forefront of the Los Angeles music scene, she's part of pop culture itself. FL