This article appears in FLOOD 12: The Los Angeles Issue, which features the collaborative cover art of Nipsey Hussle by RISK, Jim Evans a.k.a. TAZ, and photographer Estevan Oriol. You can purchase this special 232-page print edition celebrating the people, places, music and art of LA here.
David Banner was stunned. The Mississippi-born rapper was in Los Angeles working on his Sex, Drugs & Video Games mixtape when a friend took him to meet Nipsey Hussle. It was around 2011, and Nip was rising through the ranks of LA's rap scene through a series of well-received mixtapes, including the Bullets Ain't Got No Name volumes and The Marathon.
After discussing music and life, Nipsey Hussle gave Banner an unusual gift. "I still have the marketing book that he gave me," he says today. "That was the first thing Nip ever gave me. He said, 'I want you to take this shit and use it for good. Banner, I'm on the same shit you're on. I'm gonna use this for the betterment of our people.'"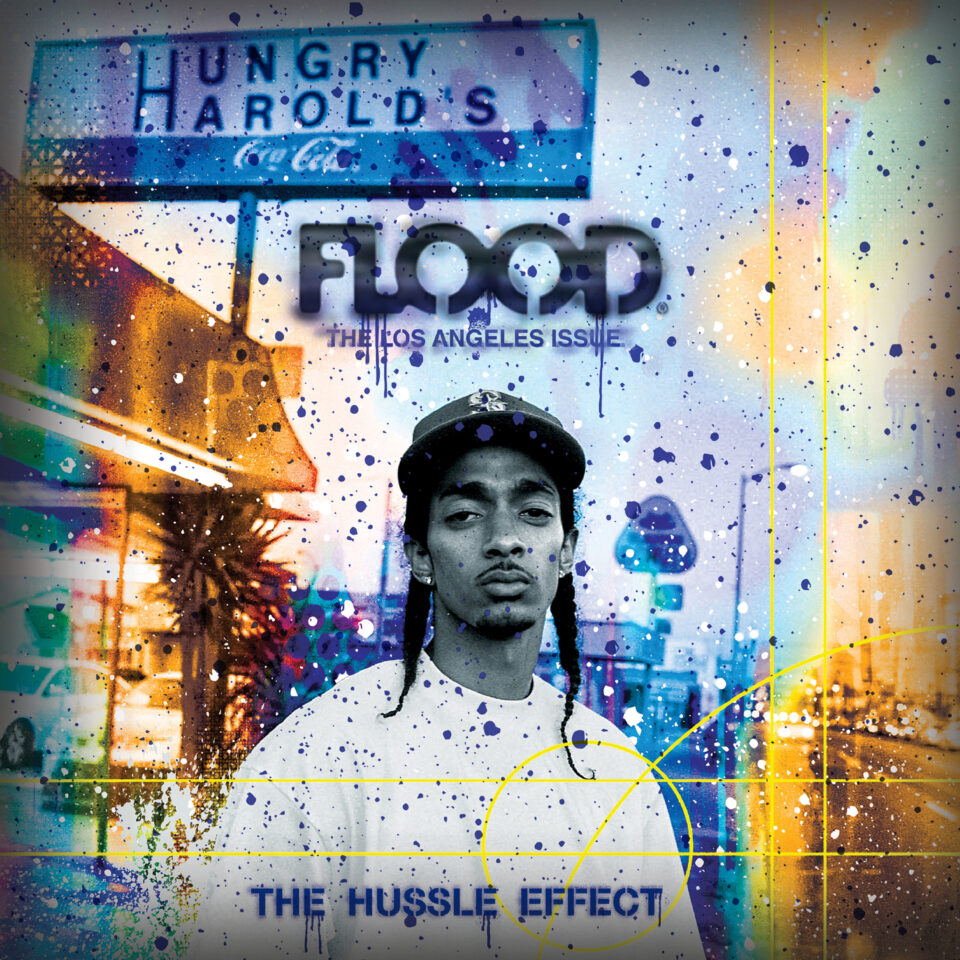 The gesture gave Banner a deeper glimpse into the mind and the intention of Nipsey Hussle, who was shot and killed at the age of 33 on March 31, 2019 in front of The Marathon Clothing, his store in the heart of his beloved Crenshaw neighborhood of Los Angeles. Since Nipsey's murder, the late rapper's music, reach, foresight, and innovative business practices have gotten more exposure and appreciation than they did while he was alive.
"He wasn't what I considered mass consumable," says DJ Hed, co-host of Home Grown Radio on REAL 92.3 in Los Angeles and one of Nipsey's early champions. "You have to be at a certain intellectual level to understand somebody like Nip upon your first encounter with him. If you don't necessarily have the bandwidth to fully comprehend the stuff he was saying and the things that he stood for, then it would take you a long time to latch onto it. It took me a long time."
"He knew what he was doing. He knew the way that he wanted to look. He knew how he wanted to dress. He understood the ramifications of his lifestyle. He knew it all, and most people don't know themselves."

— David Banner
Nip drew from a steady accumulation of knowledge, beliefs, and practices that helped him become one of the genre's most promising talents, one who was focused on long-range goals. "I saw that he had that fire in his eyes," says Kokane, the rapper-singer featured on Bullets Ain't Got No Name Vol. 1's "Paid My Dues" and The Marathon's "Mr. Untouchable." "One thing that made him stand out besides his talent and his innovative drive was that he always had respect. A lot of cats come up, they get $5, a little chump change, in their pocket and it goes to their head, but he didn't allow that to go to his head."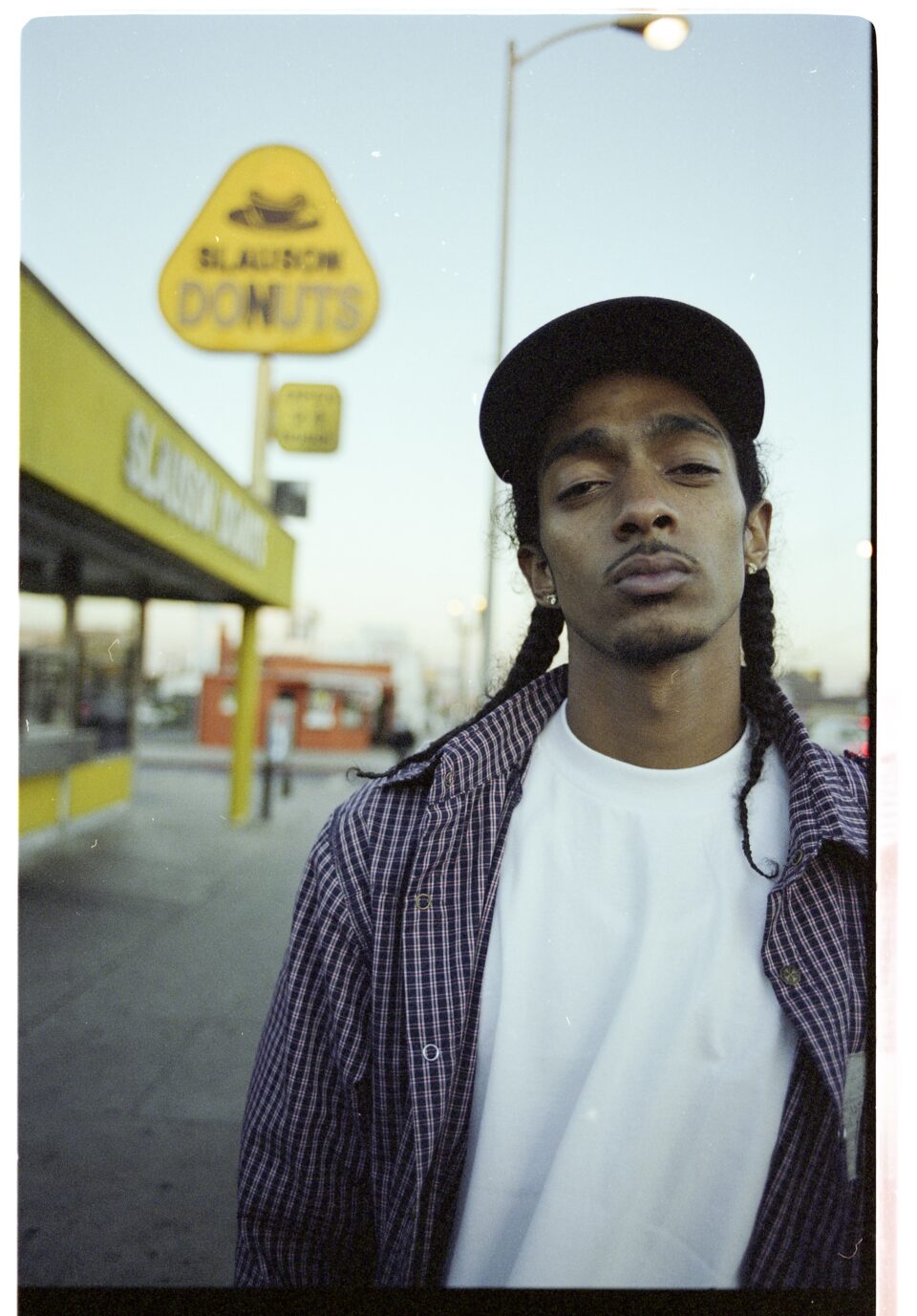 As Nipsey's status grew in the music industry, he signed with industry powerhouse Atlantic Records and released his GRAMMY-nominated debut album Victory Lap in February 2018. By this time, he had already started getting recognized by such publications as Forbes for his business acumen.
"I mean this in no disrespectful way, but he reminded me of a calmer version of 50 Cent," David Banner says. "He never bullshitted. He never wasted his time. Anything 50 did, it was always intentional. He knew what he was getting into. Nipsey was the same way. He knew what he was doing. He knew the way that he wanted to look. He knew how he wanted to dress. He understood the ramifications of his lifestyle. He knew it all, and most people don't know themselves."
Nipsey Hussle knew he wanted to instill pride in his listeners. He wanted to build a business infrastructure in the 'hood, in his native South Los Angeles, an area blighted by societal inequalities on one hand and gangbanging on the other. Nipsey wanted to change the narrative that people from the hood would become successful and then leave. He wanted to stay rooted in his neighborhood and build it up, just as the neighborhood built him.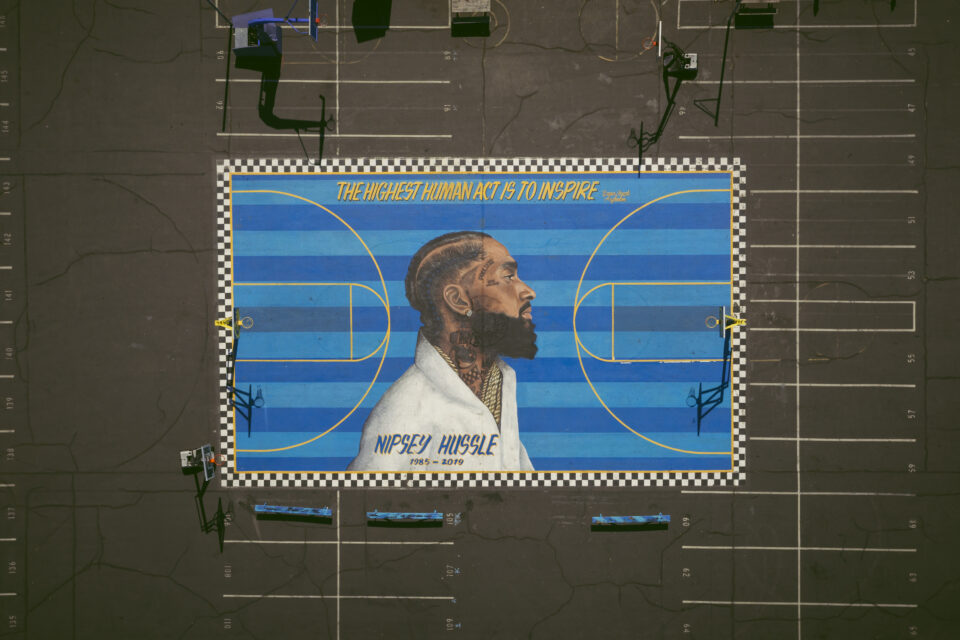 "Everything you're supposed to do, Nipsey did, and my city still failed him," says Ras Kass, who wrote "Californication," a standout selection from David Banner's Sex, Drugs & Video Games project that also features Nipsey Hussle, Snoop Dogg, and The Game. "They always said, 'You leave the hood.' He didn't leave the hood. He brought businesses to the 'hood, bought property, had knowledge of self, and kept it gangster and they still killed him."
"Everything you're supposed to do, Nipsey did, and my city still failed him."

— Ras Kass
On the Victory Lap song "Dedication," Nipsey Hussle rapped that he was the "Tupac of my generation." Rob Kenner, who had met with an emerging Nip years earlier, was drawn to the line. During an interview around the time of Victory Lap's release, Kenner got a detailed explanation about the comparison.
"Nip always thought that Tupac was kind of a Trojan horse for the streets, that he was someone who presented the image of thug life, but there was more going on behind that image than what he might immediately convey," says Kenner, author of the 2021 bestseller The Marathon Don't Stop: The Life and Times of Nipsey Hussle. "Nip said that he could relate to that feeling. He told me that in his culture, street culture, it's almost like intelligence is viewed as a form of weakness. In order to not lose some of the people that you want to speak to, sometimes you don't want to appear overly intellectual or preachy."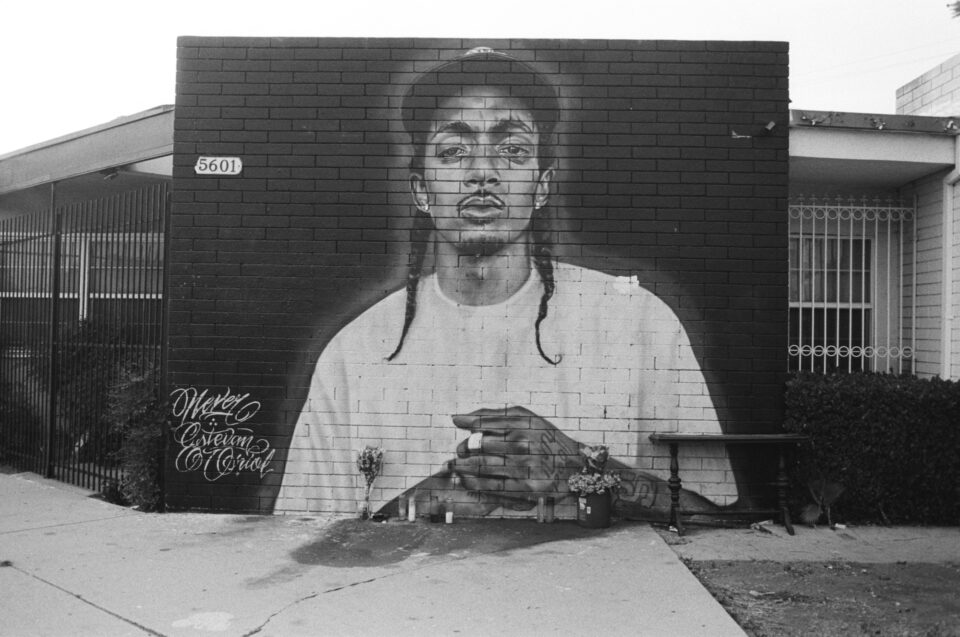 This approach may help explain how Nipsey gradually grew into the figure he became. While recording "Mr. Untouchable," Nip confided in Kokane. "He said, 'Man, I want a song to set this off. I'm about to do this Marathon push real tough,'" Kokane says of their 2010 collaboration. "This is before he had the clothing store and all that. That particular mixtape really kind of set the tone for what came to fruition that was very successful, and that's the Marathon brand."
"Most artists are just trying to live the dream of getting a record deal. He was so different because he wasn't out here trying to get a record deal. He was out here trying to figure out how to scale his business."

— Steve "Steve-O" Carless, The Marathon Agency
Today, the Marathon brand has multiple tentacles, including The Marathon Clothing and The Marathon Agency. "Most artists are just trying to live the dream of getting a record deal," says Steve "Steve-O" Carless, an executive producer of Victory Lap and an executive at The Marathon Agency. "He was so different because he wasn't out here trying to get a record deal. He was out here trying to figure out how to scale his business. He always took his own experience into consideration and worked to figure out how he could optimize something and make it more efficient."
The Marathon Agency and Nipsey Hussle's inner circle remain driven by his business mantras. Chief among them is to focus on brand over business. Throughout the years, The Marathon Clothing, for instance, could have had lucrative clothing partnerships. But the company passed on the opportunities based on Nipsey's vision. A deal that made sense, though, was The Marathon Clothing's alliance with Puma.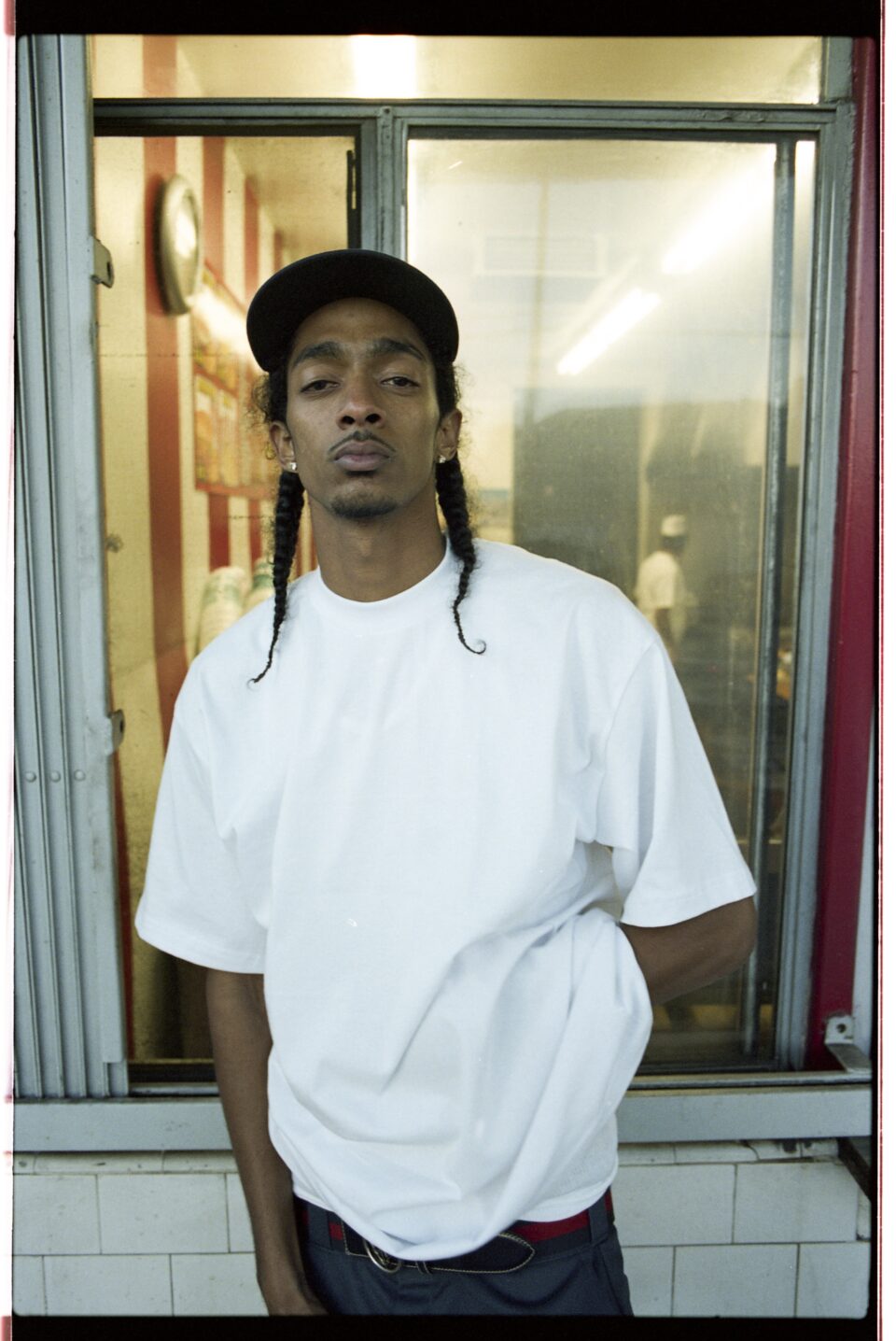 "One of the things that Nipsey wanted established from the get-go was that it wasn't just him being involved with Puma in the capacity of an endorser," says Jorge Peniche, a.k.a. JP, brand manager of The Marathon Clothing. "It was us being involved with Puma. He always put his brands in front of everything he did. It was always 'The Marathon Clothing in collaboration with Puma.' He didn't want it to be 'Nipsey Hussle in partnership with Puma' in terms of how it was presented outwardly. The fact that he had that foresight as a businessman and a brand architect set us up for a situation where Puma could continue to collaborate with us." The partnership continues releasing capsule collections. In December 2021, for instance, they collaborated on the "Mogul" release of limited-edition shoes that are available in black and white colorways.
Steve-O says that Nipsey's business mind was expansive at least in part because of a practice he grew up with at home. "There was a program in his family that they had to read books," Steve O says. "They had to read often. That's something that I think his mom and then his brother instilled in him early. Getting that kind of information unlocks the imagination because the more things you know, the more confident you become."
Yet Nipsey knew he had to mete out his mission to his fanbase, which is why his releases were gradual and significant. "The things that Nip stood for," DJ Hed says, "are foreign in our communities: economic empowerment, enlightenment, growth mentally, spiritually, intellectually, entrepreneurship, spiritual awareness. A lot of these things aren't really taught to us in the way that he presented it to the world."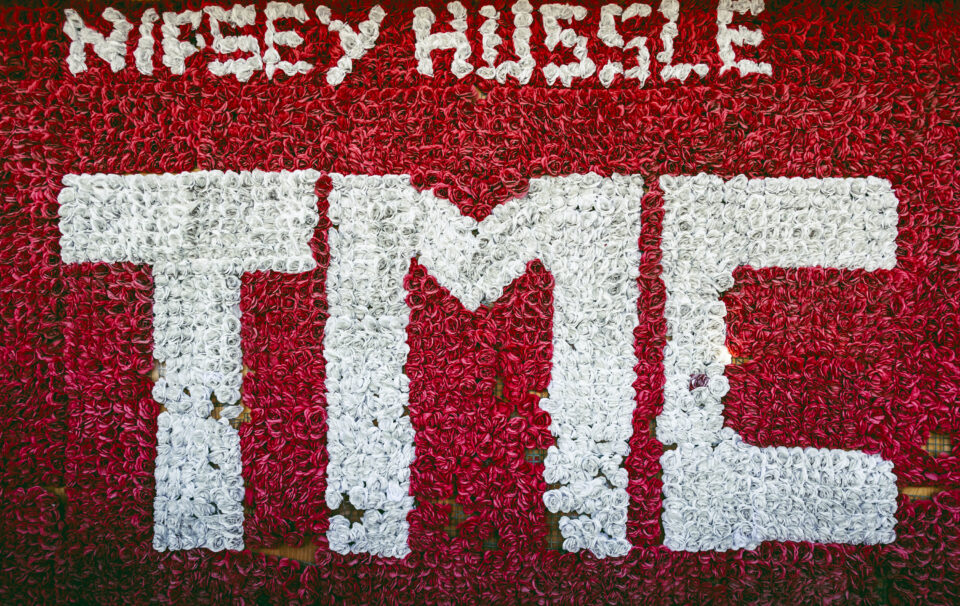 Musically, Nipsey Hussle made his first major mark with the 2005 mixtape Slauson Boy Vol. 1, executive-produced with Jaire "Ralo Stylez" Lewis. As his recording career progressed, his musical evolution coincided with the growth of Nipsey as a person, as an artist, and as a businessman. With his Bullets Ain't Got No Name mixtape series, Nipsey focused on what was going on in the streets, his environment, and the gangbanging lifestyle. By 2013, Nip's name was ringing in the streets of Los Angeles and beyond. That's when he came up with the #ProudToPay campaign in which he'd press 1,000 copies of his Crenshaw mixtape and sell them for $100 each, even though it was available for free online.
"My initial reaction was that I thought it was batshit crazy," says Steve-O, who worked the project as part of The Marathon Agency. "My jaw dropped. I said, 'Wow, that is a brave concept.' Almost all of us were a little taken aback by the concept because it was the era where CDs were phasing out, and we looked at it as, 'Man, is that gonna hurt you more than it'll help you?' He said, 'Listen, you just gotta trust me.'"
The groundbreaking move worked. Nipsey made $100,000 selling a project fans could get for free. Its success drew attention from high profile followers such as JAY-Z, who bought 100 copies of the tape. The move was about more than music—it set Nipsey up as an innovative businessman, someone whose non-traditional moves brought people to his music and to his movement.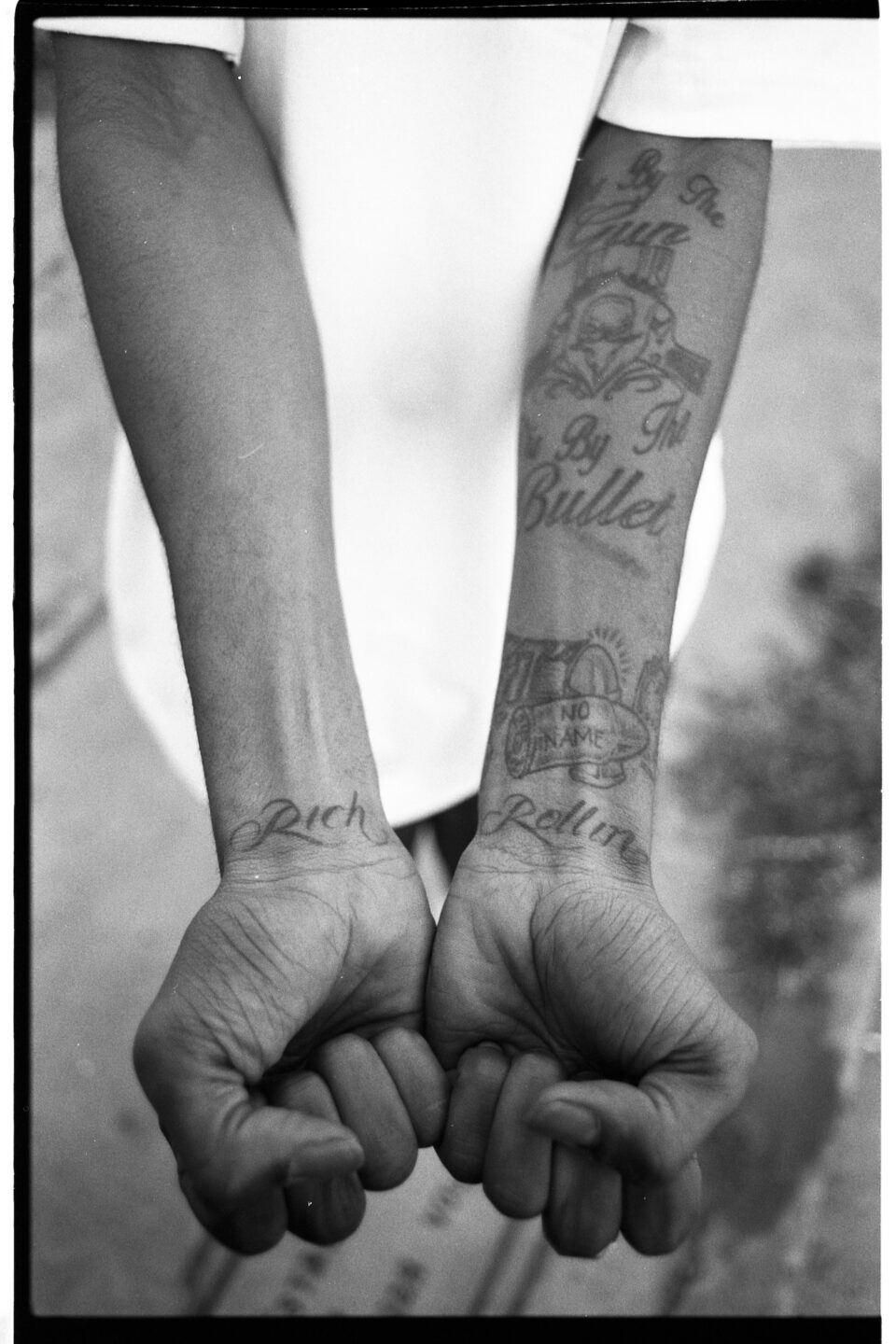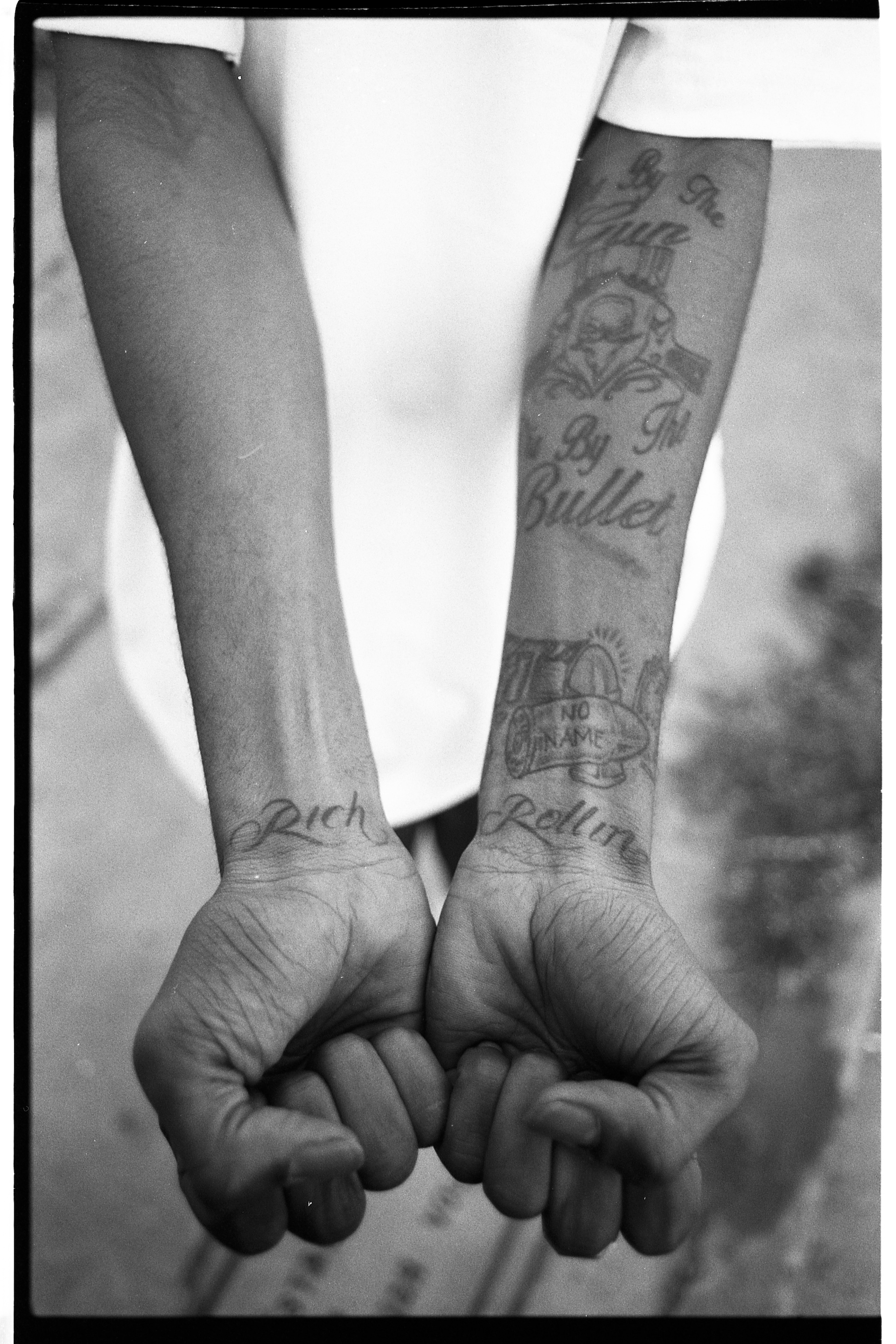 "He said, 'I am valued, here's my intellectual property,'" Kokane says. "It's not like he had 30 albums and did what he did. That's what makes it so incredible because he was just banking on mixtapes. But he knew. He just said, 'Tradition is tradition, but this is something I'm innovating.'" The following year, he pressed 100 copies of his Mailbox Money mixtape and sold them for $1,000 each. Listeners who purchased the CD also received a ticket to an advance listening event ahead of the release of Victory Lap.
"The things that Nip stood for are foreign in our communities: economic empowerment, enlightenment, growth mentally, spiritually, intellectually, entrepreneurship, spiritual awareness. A lot of these things aren't really taught to us in the way that he presented it to the world."

— DJ Hed
At this point, Nipsey's momentum generated an excitement and interest that stretched beyond music. "Now he's teaching about economics, economic empowerment, and entrepreneurship," DJ Hed says. "Then it evolved into, 'I'm a business. These are my multiple businesses.' Then when Victory Lap finally came, it was more like a celebration of all those things combined." Victory Lap was a critical success, earning positive reviews from XXL and Pitchfork, among others.
At the height of his fame, with an acclaimed major label project and The Marathon Agency and Clothing both humming, Nipsey Hussle showed a special type of spirit that endeared itself to a wide range of creatives. "That entrepreneurial spirit really resonates with street artists because that's what we are," says artist Levi Ponce, who grew up in Los Angeles and created a Nipsey Hussle mural in LA's Boyle Heights neighborhood. "We're out there with our art form in the streets, raw and direct to the general public. We're hustling. We're trying to make a living with our art. We're expressing ourselves, and he was prolific at his entrepreneurship."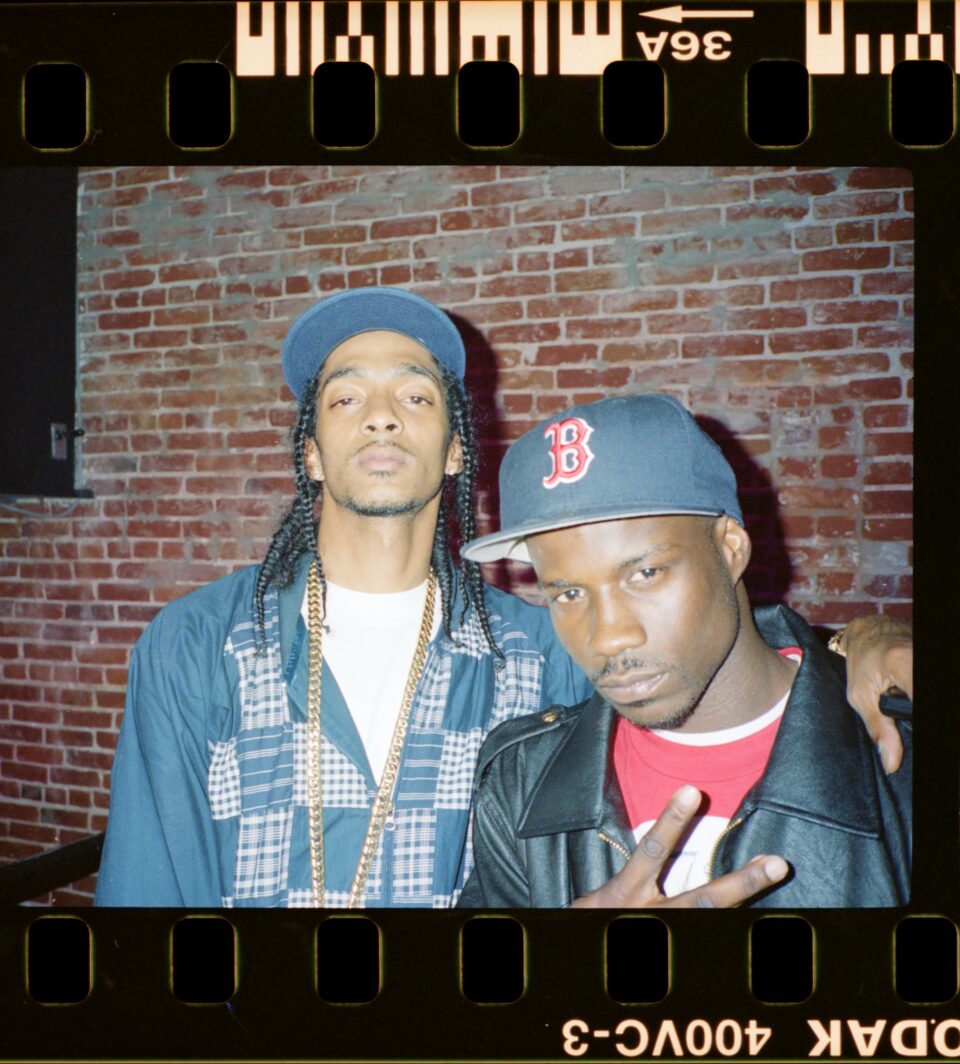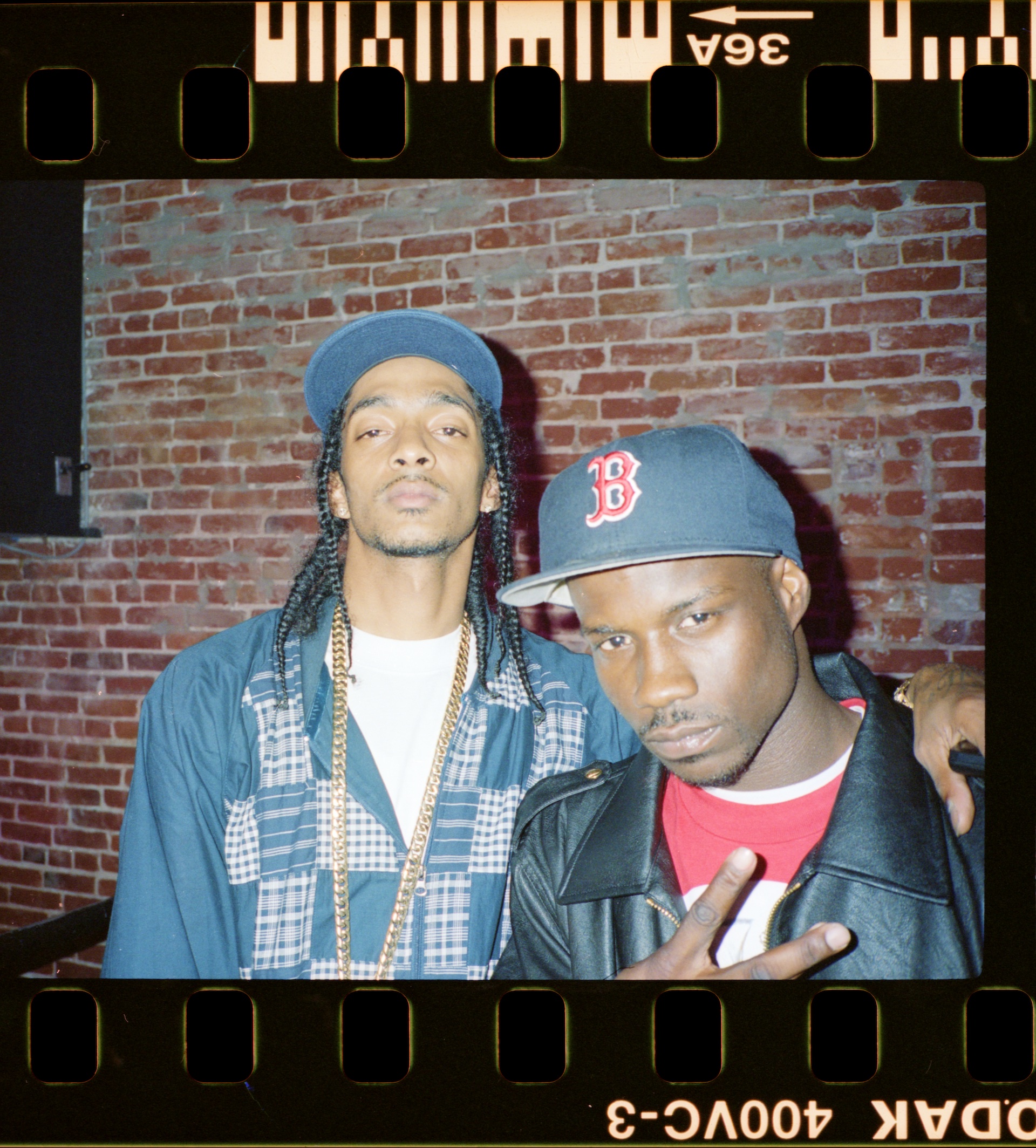 Indeed, at each stage of his career, Nipsey also remained focused on pushing his brands. For instance, The Marathon Agency worked in a range of capacities with Dave East, Nick Cannon, and YG, among others. Nipsey never wanted it to be, say, "Nipsey Hussle Marketing." The point of remaining in the background enabled the company to attract premier talent, even though Nipsey was a principal in the company. He didn't want artists to feel as though they'd be compromised working with his entity. At the same time, Nipsey was mapping out his other ventures. With The Marathon Clothing, for instance, he and stylist Groovey Lew created designs that are still being unveiled.
"A lot of the groundwork for the capsules we drop under The Hustle Collection were all pretty much already laid out," Peniche says. "Everything is referenced exactly from something that Nipsey and Groovy Lew created in 2018, 2019. These are all outfits that were custom tailored for Nip."
Building cultural currency with music, marketing, clothing, and business enabled Nipsey to become a mythical figure of sorts in the aftermath of Victory Lap. He was an artist who had a vision and manifested it, all while building his fanbase and earning respect from the streets and executives alike.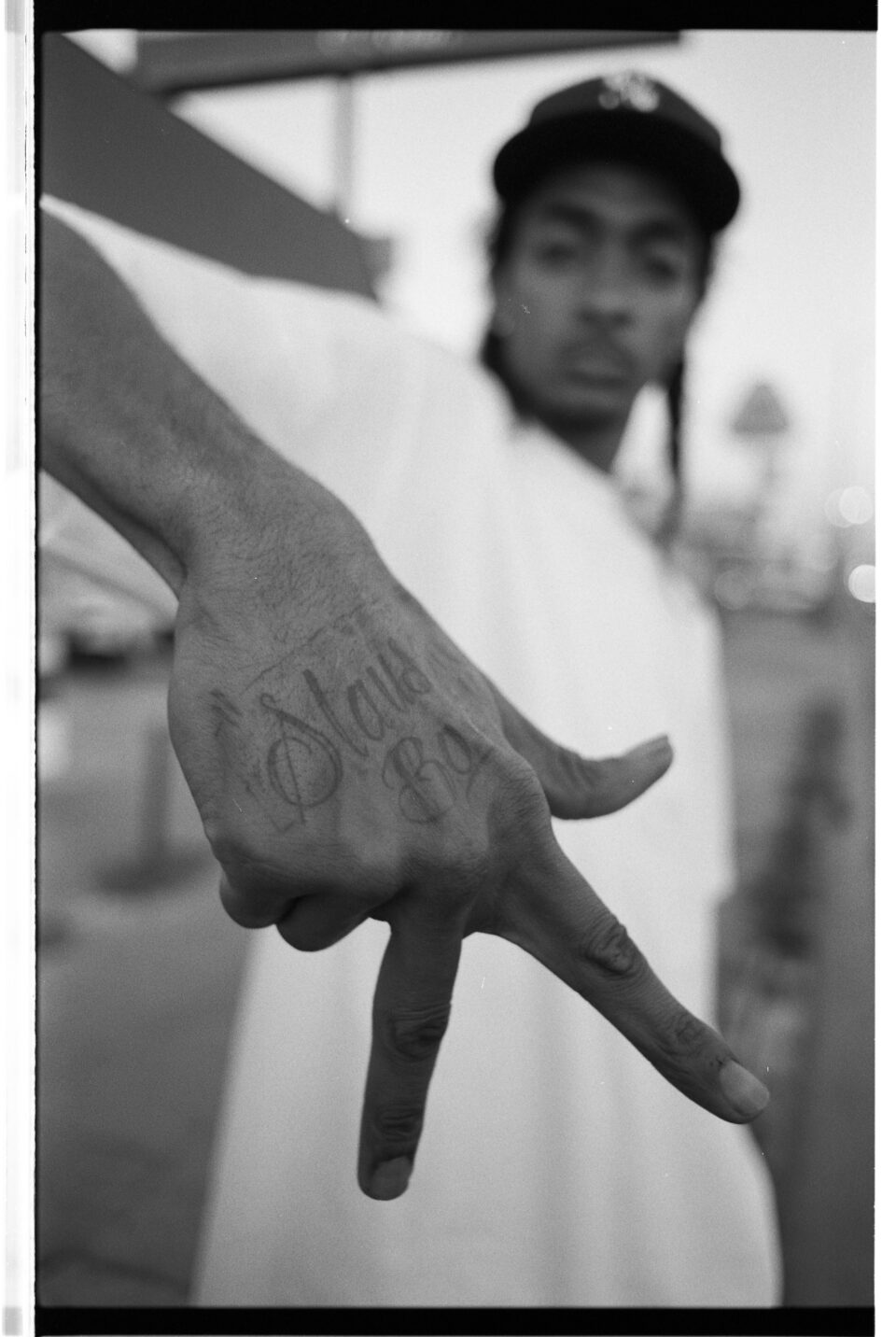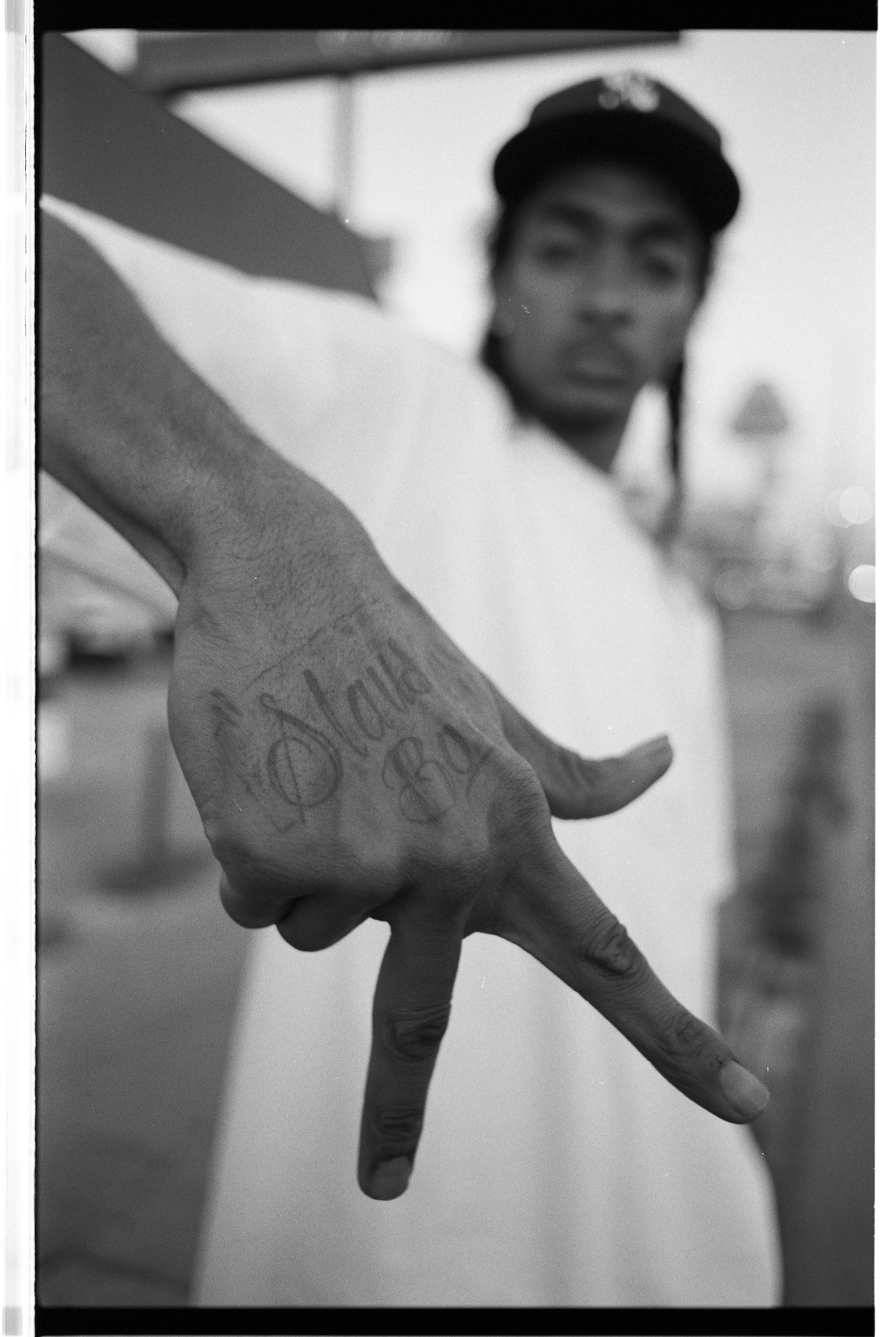 "It sounds crazy, but he made it look cool," DJ Hed says. "What I learned—with me getting further into education, getting involved with the Boys & Girls Club and going to schools and talking to kids all the time—is that it's not really what you say, it's how you say it. If you can make things cool, people will be involved in it. Becoming an entrepreneur is something that's cool now. It's not something that's scary and frowned upon like it was when I was growing up. Our parents were hell-bent on us having stable income. Now, you have nine-year-olds who are entrepreneurs. They have their own YouTube channel. There's millionaire teenagers that have their own Twitch business, people who sell things on Instagram. I think now more than ever, there's this new boom of entrepreneurship that I think [Nipsey] very much contributed to making look obtainable."
"He gave out a lot of free game," adds artist Gustavo Zermeno Jr., who did the Nipsey Hussle basketball court mural at the Crete Academy non-profit charter school in South Central Los Angeles. "I think that was one of the coolest things about him. His music was one thing, but the way he spoke made anybody feel like they can accomplish what they wanted to."
Nipsey's success wasn't an accident. Yes, he had ideas, but he did more than just imagine things. He mapped out his plans, making himself tangible reminders of his objectives.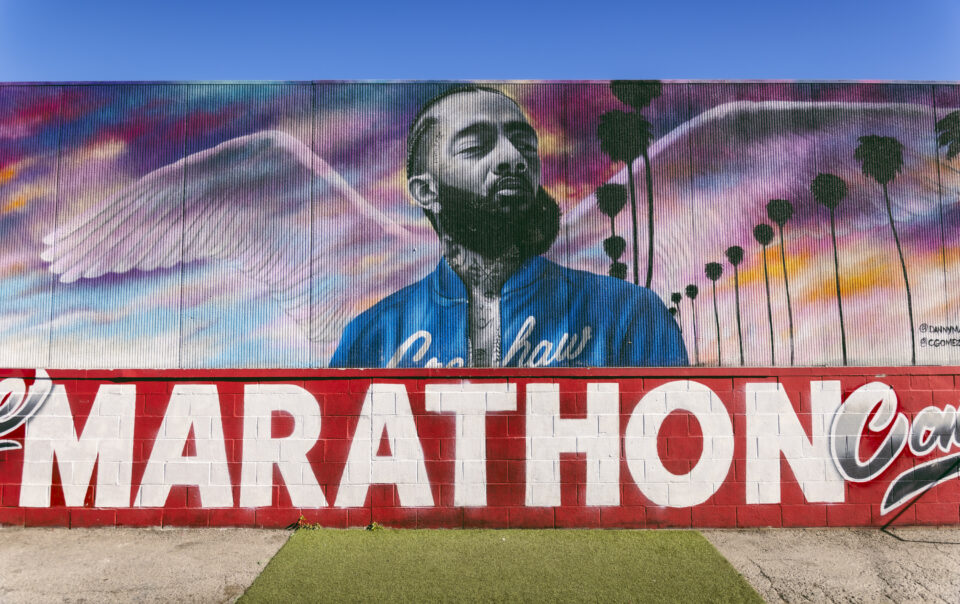 "He was always writing the goals down, writing down the plan, updating those goals, updating those plans," says Kenner, who is scheduled to release an updated paperback version of The Marathon Don't Stop in March. "He was just very organized, very focused, and a great inspiration for me and anybody that pays attention to him. You can learn a lot of life lessons, a lot of skills that you can apply to your daily [life]. He's someone to be emulated."
Today, Nipsey Hussle's inner circle still draws from him, too. "In the back of our mind, any move or anything that we present," Peniche says, "we always think, 'What would Nipsey do?' That's our guiding star."
March 31, 2022 will mark the third anniversary of Nipsey Hussle's death. Since then, he's been celebrated in music and by visual artists who have depicted him in murals throughout Los Angeles and beyond. As time passes, Nipsey Hussle's lessons still resonate with fans, many of whom still watch his interviews on YouTube.
"In the back of our mind, any move or anything that we present we always think, 'What would Nipsey do?' That's our guiding star."

— Jorge "JP" Peniche, Marathon Clothing
"The messaging was about positivity," Peniche says. "His message was universally identifiable, despite the fact that at the beginning of his career it might have been very directed at a specific group of people. He did that intentionally, but I think The Marathon concept is universal because it talks about this concept of setting lofty goals and being willing to work hard and be patient, and do things on your own terms."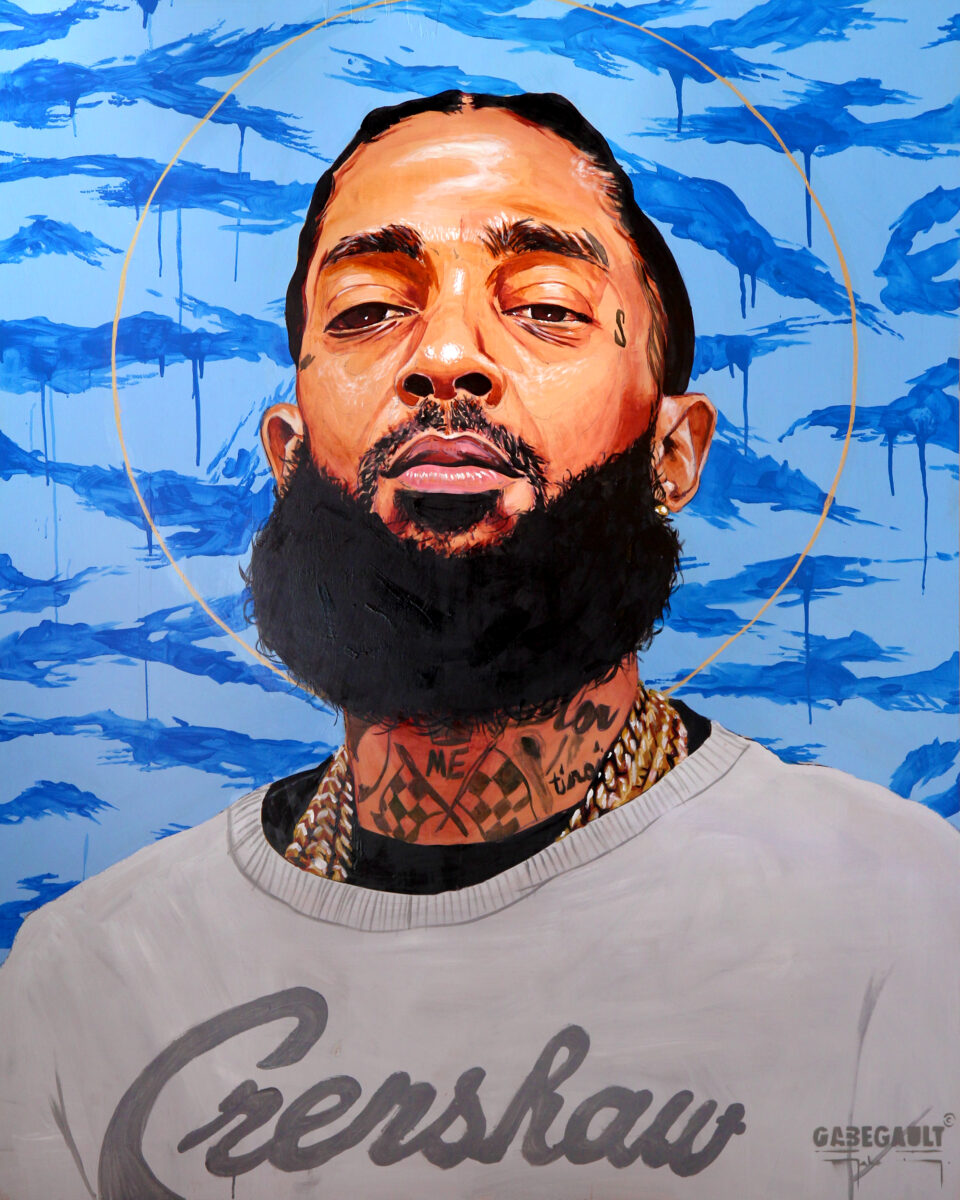 Working hard is key to the mission, as The Marathon mission by default symbolizes an extended journey en route to achieving something. "The legacy is The Marathon," DJ Hed says. "It sounds cliché, but it's the truth. In real life, artists leave us all the time; and most of the time, all they leave is their music or their movies. With him it was different, and it impacted everybody differently. For some people, he left poetry; others books, inspiration. I think that's his legacy, and I think that's what The Marathon represents. It's more than just some clothes, some T-shirts, or an album. I think it's way more than that. I think it's a mentality, a lifestyle, a way to think beyond today, a way to think long term."
As murals celebrating Nipsey Hussle sprang up throughout Los Angeles following his death, many of them included his lyrics and messages. Gabe Gault, who did a Nipsey installation at Complex, purposely drew the late rap star in a particular way. "I wanted him looking up," Gault says. "It represents where he was heading, heading upwards. We all have to go someday, so just be the best you can be and keep going." FL