This article appears in FLOOD 12: The Los Angeles Issue. You can purchase this special 232-page print edition celebrating the people, places, music and art of LA here.
BACKSTORY: A pixelated electronic synth-pop duo, Mica Tenenbaum and Matt Lewin write songs that will have you partying in a black hole or an otherworldly time loop
FROM: Los Angeles by way of Miami
YOU MIGHT KNOW THEM FROM: Their Adult Swim–inspired skits on TikTok
NOW: Signed to Luminelle Recordings, the duo are touring in support of their recently released debut album Mercurial World
The first time I heard about Magdalena Bay's debut album, it was from a travel brochure that I received in the mail regarding the new world created by the duo of Mica Tenenbaum and Matt Lewin. Displayed in calming shades of light pinks, blues, and purples, the cover depicted two hands cupping a small gridded sphere. But it's the main image that spreads across the brochure's three pages that was especially curious—a quantum physics–esque design which explains that "Everything comes from and goes to the same place: nowhere." It's clear that this world—Mercurial World—is not a vacation, or even a typical escape.
Magdalena Bay are part of the new generation of songwriters discovering ways to reinvent pop music. They're experts in transforming playful synth doodles, noodling guitar grooves, and silvery vocals into cosmic portals. Their songs are fresh and complex without feeling onerous, and the duo has found a way to balance hedonism and catharsis by morphing real human stresses into sonic flights that seemingly leave reality.
However, when I chat with the LA-by-way-of Miami twosome, Tenenbaum and Lewin are in a bumpy Uber ride lightyears away from the majestic world they built. They're in the thick of album-release day, on their way to a couple meetings before they soundcheck at a venue, wide-eyed and overwhelmed by New York City's honking traffic around them in a moment that echoes their music's desire to escape this world's engulfing chaos. They tell me that after the mayhem around the press cycle and touring the East Coast, they're excited to head back to their current home territory.
"Specifically, pop music lives [in LA]. Not to say that it's non-existent here, but it's not really the same in New York."

— Matt Lewin
Tenenbaum and Lewin have been living in Los Angeles for a little over three years now. They met in high school, starting a prog-rock group before making music remotely from the respective cities they attended college in. "I feel like the minute we started, it became my entire life," Tenenbaum laughs. "We took the high school thing very seriously," adds Lewin. "So I think we're very serious about whatever we're doing at the moment."
Moving out west was the first time they were able to make music together in the same place since high school. "I feel like it's the only place that made sense for us," says Lewin of LA. "Specifically, pop music lives there. Not to say that it's non-existent [here], but it's not really the same in New York." Tenenbaum chimes in: "The whole hyperpop scene is housed [in LA] now, so it's a great place for more experimental pop."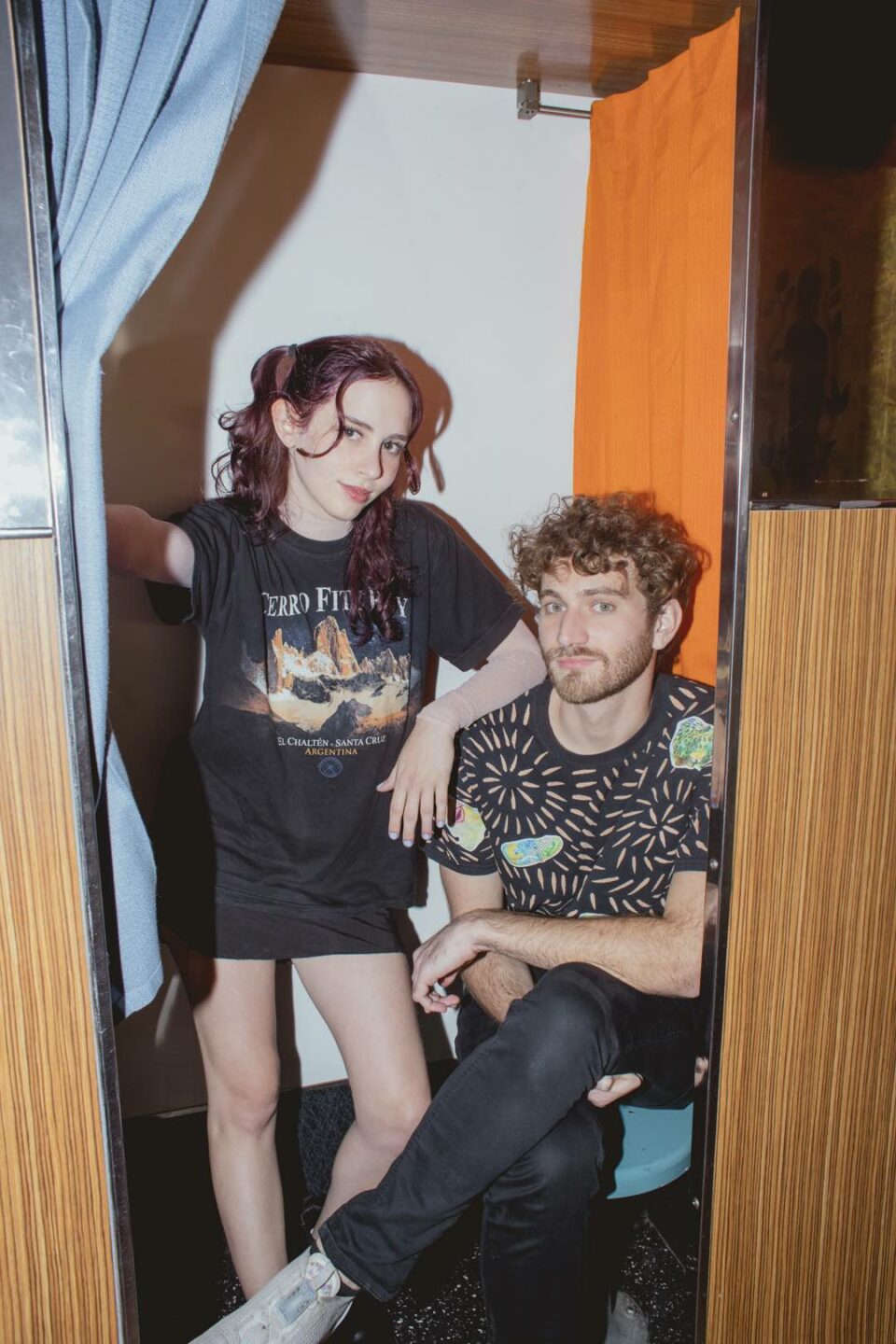 Although they're a part of a budding experimental pop scene and use multimedia projects to flesh out their technicolored world, Magdalena Bay are not a hyperpop group. Instead, their music is a blend of 2000s-inspired pop, detailed synthesizer work, and disco-tinged rhythm sections. It's smoother than hyperpop, with less emphasis on the shock value that artists within that genre invest in.
There's a striking delay when registering the darkness of Mag Bay's lyrics. Cascading synths and simmering drumbeats build at the pace of a sunrise, and the spritely melodies are welcoming; together it's a world-building atmosphere like the soundtracks of your favorite lifestyle-simulation video game. The sweetness of Tenenbaum's vocals undercut the intensity of such themes as the incomprehensible nature of time and how humans learned to breathe.
"We weren't as afraid to delve into the weirder or darker stuff. Maybe before we were more focused with the escapism of what pop should be."

— Mica Tenenbaum
"We weren't as afraid to delve into the weirder or darker stuff," says Tenenbaum, trying to make sense of where this dimly lit escapist concept came from. "Maybe before we were more focused with the escapism of what pop should be." There was no detailed storyboarding for their time loop album—it begins with a track called "The End" and ends with one titled "The Beginning." But when their two tours opening for Yumi Zouma and Kero Kero Bonito were cancelled at the onset of the pandemic, they decided to write a batch of songs, and the themes soon became clear.
How did they strike a balance between fantasy-inspired pop and a sense of impending doom? "Well, you can't really have one without the other. What are you escaping from if you don't have existential dread?" Lewin asks, laughing.
"I always have those existential questions about time and mortality, and they felt so much more salient with the world seemingly collapsing and all these opportunities fizzling away," Tenenbaum continues. "I think the escapist nature and time series thing was a coping mechanism. This fantasy that we constructed." FL