Whether you've discovered him through his work on the early War on Drugs albums, his collaborative record with woozy-rock starchild Courtney Barnett, or the relentless amount of touring he does with his longtime band The Violators, Kurt Vile's modern rock blueprint touches two generations while continuing to evolve into a sound that's unequivocally his own. After a near-four-year break from full-length LPs, Vile's back with (watch my moves), a warm, sprawling record that firmly plants itself as the centerpiece in his discography. It's his first release with Verve Records, a collaboration catalyzed by his appreciation for the label's homing of notable releases from The Velvet Underground and John Coltrane.
(watch my moves) gives us 15 more joints from "Philly's Constant Hitmaker," but is prominently carried by "Mount Airy Hill (Way Gone)." The track is emphasized by a dreamy slide guitar and velvety chords underneath Vile's most-pronounced vocal performance to date. Named after the Philadelphia neighborhood where he lives and raises his three daughters, the track is emblematic of the singer-songwriter he's become, and where his priorities have landed. "I been around but now I'm gone," he sings in the refrain, as he ruminates on where he's been, where he is, and where he'll be.
The message is in the title. After a decade of doing his thing, Vile just wants you to watch him work. Where 2018's Bottle It In was a victory lap for Vile's already-pronounced sound, (watch my moves) is an exploration of new worlds with a punctuation on the collaborations that have shouldered him home. Since Smoke Ring for My Halo dropped in 2011, he's embraced a campfire-esque, kinfolk kind of vibe in his work, emphasizing that Kurt Vile isn't just my dude, he's everyone's dude.
To celebrate the release of (watch my moves), we talked with him about building his own recording studio, the joys of collaboration, his love for Bruce Springsteen, and more.
This new project has a much more psychedelic, meditative vibe than Bottle It In did. Did having that four-year break between records afford you the kind of space where you could toy around with more existential, fried-out sounds?
Yeah, I think so. I was happy to take it slow, because I was never allowed to do that. Obviously there were tons of bad things happening because of the pandemic, but I have kids and stuff, and I think all of those things just combined, taking my time, going in and out of the zone, you know? Into an imaginary world and into the real world, in intervals.
You recorded Bottle It In at Tarquin and Beer Hole, as opposed to (watch my moves), which you did at your new studio OKV Central. How do the dynamics of a record change when you get to make it from the comfort of a space you created?
I couldn't have done it on my own. I had a buddy that moved to Philly who's into building studios and getting weird and is someone to bounce [ideas] off of. I would [also] talk to my producer Rob Schnapf over the phone a lot. He helped me pick out certain gear. And then the whole studio-at-home rules because once I turned in the record, and once there wasn't a bunch of bandmates down there, the studio kept on giving. I've always had my gear within my house, but I never had a place where you can get the job fully functionally, professionally done in high-fidelity, but as psychedelic as you want at the same time.
"The whole studio-at-home rules because once I turned in the record, and once there wasn't a bunch of bandmates down there, the studio kept on giving."
How are you feeling about going on tour for the first time in two years?
I'm feeling good about it. I like the whole record, so I want to play as many of the songs as I can. Before, we've always known the solid songs, and now we have this one record where we have a lot to choose from. Ultimately, we're just going to play whatever sounds solid and then figure it out as we go. It still feels a little nerve-wracking, but the beauty is that the ultimate way to rehearse is to just get on the stage and play. We've got plenty of gigs to figure it out.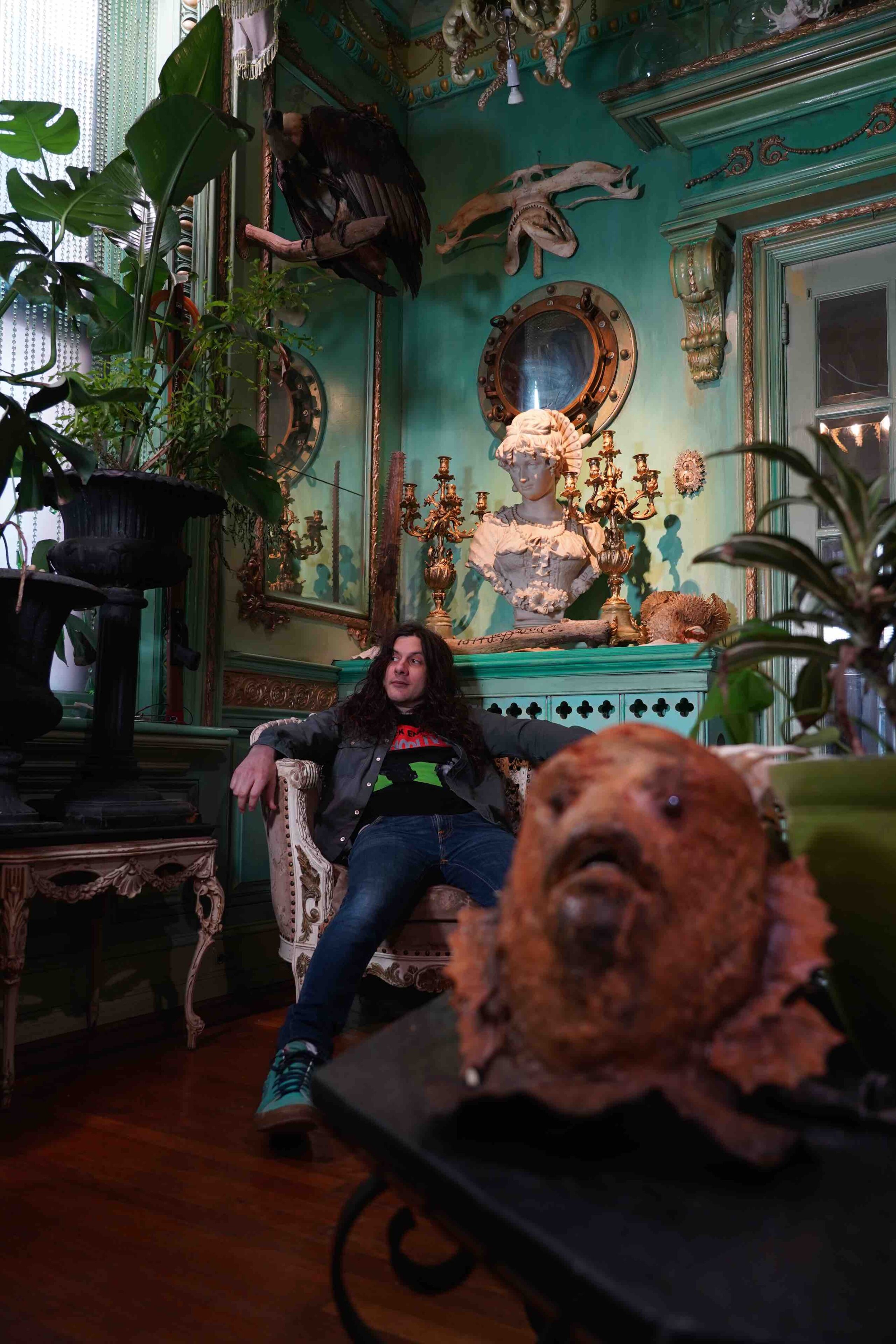 You always populate your tracklists with at least a few long, meditative croons. What's your approach to that kind of songwriting? Do you take your time and answer each question a song poses before it's over, or are you more inspired by loose ends?
It's not that I'm inspired by loose ends, but, for instance, "Bottle It In" is my favorite long song and I knew it had mad potential. I remember the morning I was going to fly to LA to record with Rob. I had this Octagon keyboard and I just laid it down into a boss looper and played it really long. I was like, "I guess somewhere in here will be the song," but I was really feeling the soulful lyrics about somebody being rejected, saying, "Don't tell anybody that you love them, because you never know when your heart's gonna break."
I took it into the studio and I was like, "Well, we're gonna just play this, say these lyrics, and we're gonna see what happens." I played with Stella [Mozgawa] and we played it live. There's a Mellotron solo in the middle that I played. Everything was done live; it was just this moment captured. At the time, I didn't even laugh. I didn't know, necessarily, if we got it. I love that track, it's soulful. If you got a song and you don't want it to be long, just don't keep playing. What I like to do, if I'm feeling it, is I just keep playing. Sometimes the whole thing is magic. It's hard to get rid of stuff sometimes, because it all feels good, at least to me.
"I like to have a lot of songs. It doesn't mean you've got to release them all. There's always a few albums that get left on the cutting room floor."
Cate Le Bon sings on and co-produced "Jesus on a Wire." You two have very similar senses of artistry, a sort of weirdo tangent of the genre you each work from.
I just love Cate. I met her first as a person and she was so sweet. I would always see her with Stella and she's got that wealth and charm. I just knew I loved her as a person, and then her last record, Reward, came out of nowhere—so good. I'd just heard "Home to You" on the digital radio and that melody was unforgettable. She asked me to sing on that album, too, so I sort of sang in a hotel room when I was on tour.
[Cate and I] went on tour together and I saw that she produced Deerhunter. I didn't realize she was a producer, and we'd played enough shows where I decided to ask her if she would help. The first sessions for this record were recorded with Cate in November of 2019 after I played Hardly Strictly Bluegrass Fest in San Francisco, and we went up to Stinson Beach. Actually, only one song made this record. The rest are all good songs and they'll make it on something, but that's sort of the beauty. I like to have a lot of songs. It doesn't mean you've got to release them all. There's always a few albums that get left on the cutting room floor. You just gotta live it, playing music all the time. That's why I invited Cate. I was just inspired by her being there.
You cover Springsteen's "Wages of Sin" on the record. What's your connection to The Boss?
Lately, what I say to describe The Boss is that he's a member of my family. We don't talk every day, I don't hear him every day anymore. I just love how "Wages of Sin" is this solid, dark, hypnotic, beautiful song. He has that whole album of stuff that didn't make Darkness on the Edge of Town that's beyond solid. I attempted to do a cover [of "Wages of Sin"] back in 2007 when Adam from The War on Drugs was in the Violators, but I'd been revisiting certain songs on Tracks. [In 2019] I was having panic attacks from the stress of the road, and I would be flying a lot, but Springsteen's Western Stars had just come out, and I feel like that was his best album in a long time. I would listen to it on the plane a lot. For those reasons, the new album and going back to those old songs, I was back in touch with him like a member of the family. That's why, in January 2020, we took another crack at ["Wages of Sin"] and we pulled it off.
Your work has always been evocative of kinship, and (watch my moves), once again, emphasizes that affection—especially in how Stella, Cate, and other contributors feature throughout the tracklist. What is it about working so closely with your friends and contemporaries that brings out someone's best work?
Pretty much any contemporary I've gotten obsessed with, either their music or just them as people, I just like having them around. They give me inspiration and energy. That's just the kind of friends that I make. FL