This article appears in FLOOD 12: The Los Angeles Issue. You can purchase this special 232-page print edition celebrating the people, places, music and art of LA here.
The target audience for Paul Thomas Anderson's Licorice Pizza probably never shopped in the record store chain that lends the movie its title, which populated Southern California from 1969 until the mid-1980s. With a flagship kitty-corner from the Whisky a Go Go, Licorice Pizza stood out for its name—coined by the comedy music duo Bud & Travis as slang for an LP—against the competition of Tower Records, The Wherehouse, and the mall chains.
Each location carved out a niche, Licorice Pizza founder James Greenwood told Gary Calamar and me a decade ago, when we were writing Record Store Days: From Vinyl to Digital and Back Again. "We went for service and convenience," he recalled. "In some instances, price, too—we were truly thinking about satisfying the senses." That meant providing couches and hangout areas in the store along with free licorice and, at times, pizza as well.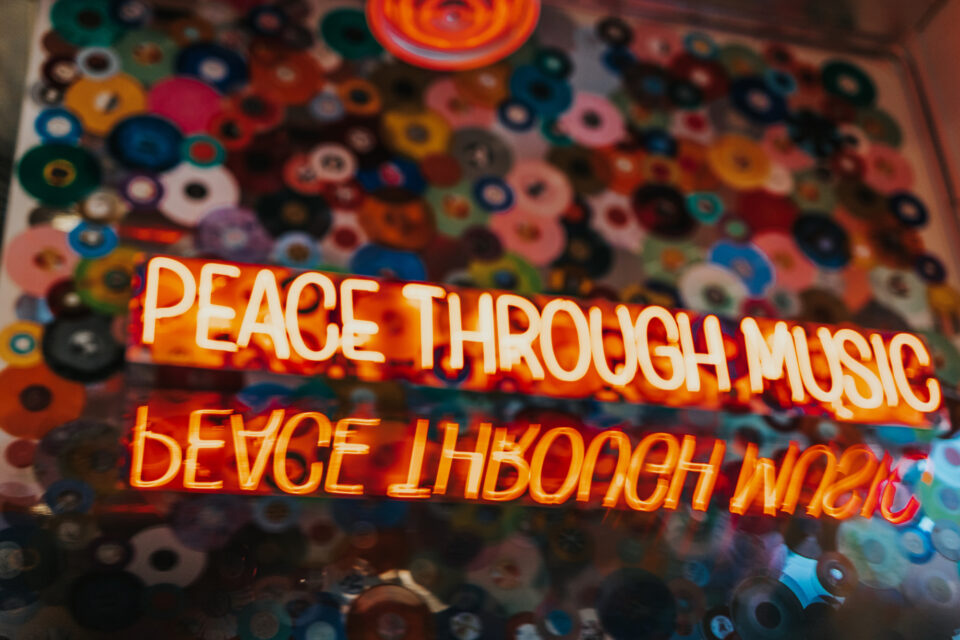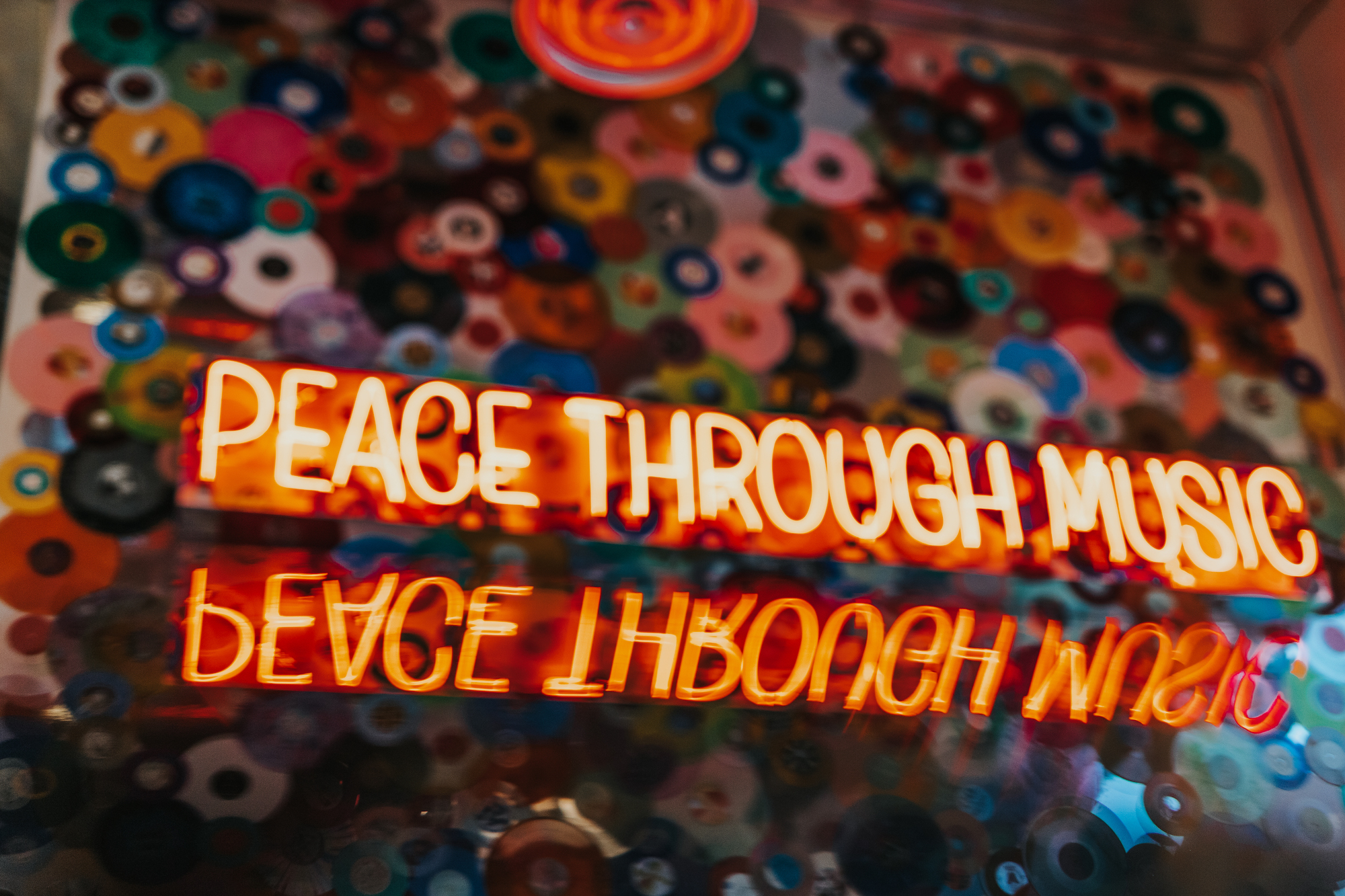 Anderson's film is set in 1973 in the San Fernando Valley, where there were only two Licorice Pizza outlets—one in North Hollywood, another on Topanga Canyon Boulevard in Canoga Park—that consistently had an astoundingly good collection of cut-outs. (For the young-uns, a cut-out was a catalog title with the top corner of the album sleeve cut off, sold for several dollars less than the newer releases.) Cut-out bins might be a thing of the past these days, but the hunger for vinyl has only deepened during the pandemic, as stores are finding that customers old and new are looking for tangible musical goodies. And as Licorice Pizza reminds us, few places were ever as cool as record stores.
"Record stores really bring back a kind of a street-level culture that has been missing a lot since stores started getting blown out of the water by all the big chains and then Amazon."

—Marc Weinstein, Amoeba Music co-owner/founder
"I think record stores kind of foster and support a neighborhood walking and browsing culture that has been diminished or lost in a lot of places," says Amoeba Music co-owner and co-founder Marc Weinstein. "Record stores really bring back a kind of a street-level culture that has been missing a lot since stores started getting blown out of the water by all the big chains and then Amazon. It doesn't matter where [shoppers] come from. They have a tremendous interest in the romance of record stores and whatever it represents to them."
In 1973, you couldn't pass three strip malls without landing on a record store. These days, the premier record outlet in the Valley is Freakbeat Records, which has been on Ventura Boulevard in Sherman Oaks since 2003. Owner Bob Say started working at Moby Disc in 1970; in Licorice Pizza's heyday, Moby Disc competed with the chains by offering a mix of new and used LPs.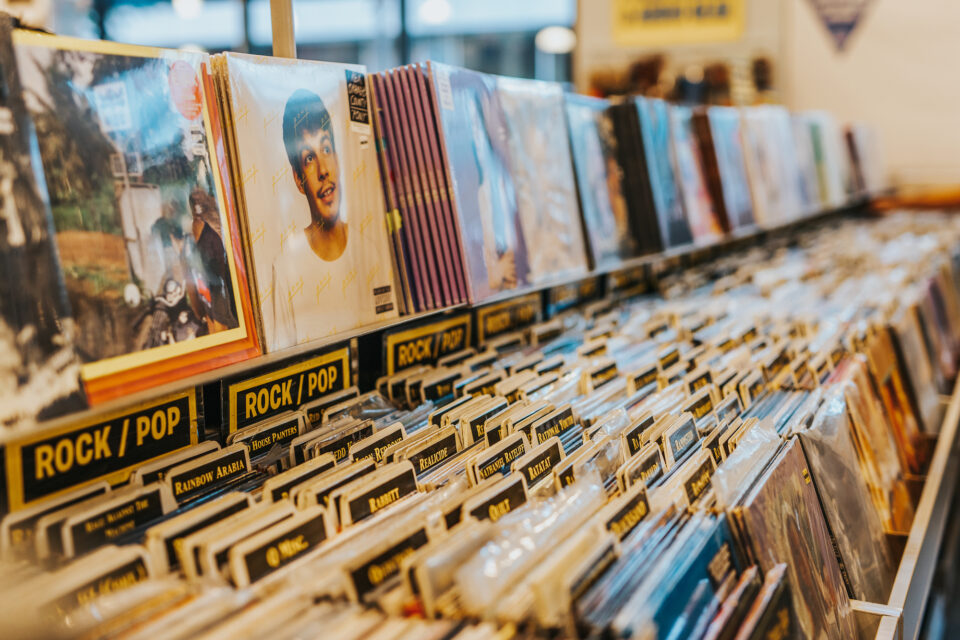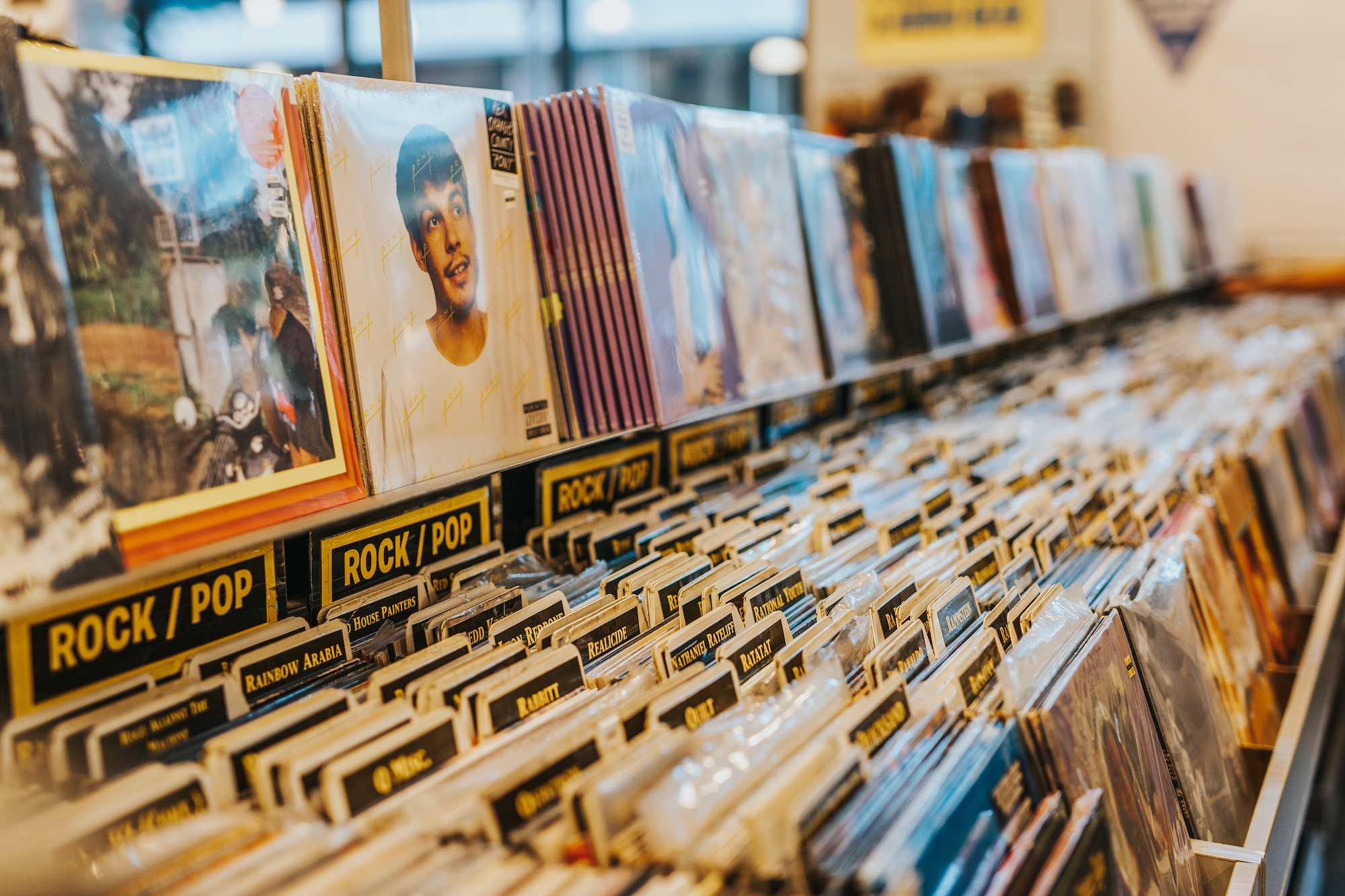 "Back in the good old days, everything was so cheap, including new records," Say recalls. "I don't think Moby Disc was that concerned about new releases except to have them in stock because it drew people in, and they wanted people to trade in other records to buy the new stuff. So you'd get a constant supply of trade-ins."
"There's a whole new audience that's gotten into vinyl in the last five or six years and a lot of those people are just strictly shopping for sealed new stuff."

— Dan Cook, Gimme Gimme Records owner
That balance between new and used has been the paradigm for anyone who gets into the retail record business in the 21st century. Two decades ago, as the chains were crumbling from unmanageable debt, the threat of Napster, and the emergence of a singles-based download marketplace, the newcomers survived by working niches. The last 10 years, though, have seen the return of the general-interest record store catering as much to collectors and obscurity hunters as they are the buyer who wants a Fleetwood Mac reissue or the new Billie Eilish LP.
"There's a whole new audience that's gotten into vinyl in the last five or six years and a lot of those people are just strictly shopping for sealed new stuff," says Dan Cook, owner of Gimme Gimme Records in Highland Park. "And people looking for rare records are looking for different rare records than they were five or 10 years ago. Things like Japanese city pop, which no one mentioned seven years ago. I'm trying to accommodate both kinds of audiences."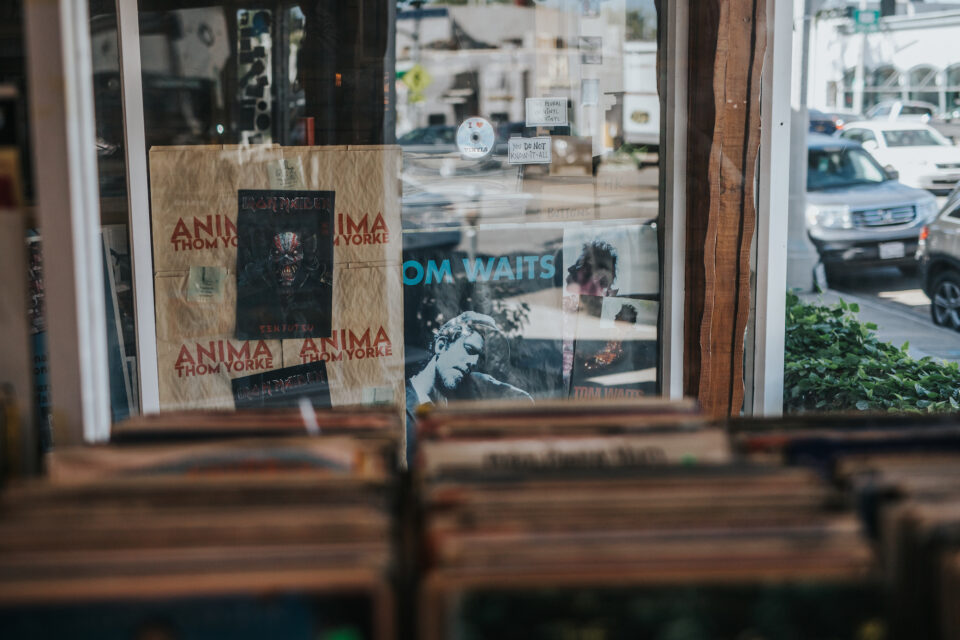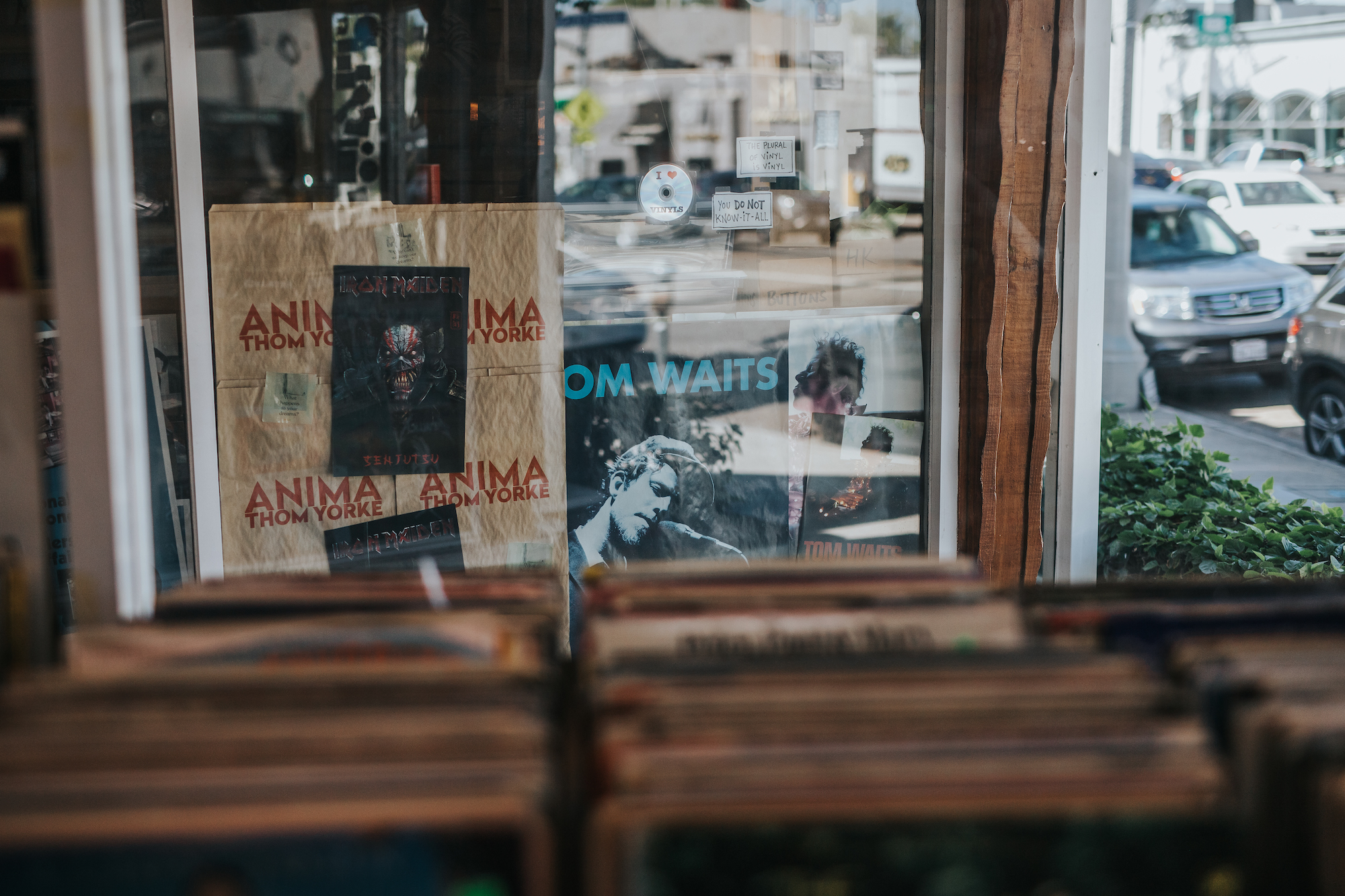 Freakbeat's Say is finding that the modern-day collectible is not a doo-wop 45 from the '50s or an import from the '70s. It's probably an album less than a decade old that had a single press run to satisfy die-hard fans. "Because of the inability for record companies to keep product in stock, there are records from seven or eight years ago that haven't been repressed," he says. "And now people are paying $60-$100 for them because they can't get them any other way. Somebody told me the other day a Dave Matthews album sold for, like, $700 or something. Just crazy."
When COVID-19 shut down brick-and-mortar stores across Southern California, many chose to remain shuttered and focus on internet sales. Say was able to reopen Freakbeat in June 2020, limit the space to five customers at a time, and would even get people lined up on Ventura Boulevard, which in turn spiked interest among passers-by.
"Because of the inability for record companies to keep product in stock, there are records from seven or eight years ago that haven't been repressed. And now people are paying $60-$100 for them because they can't get them any other way."

— Bob Say, Freakbeat owner
COVID threw a major curveball to LA's top music emporium, Amoeba Music, which was starting to pack up its 20,500 square foot Sunset Boulevard location to move to a 17,000 square foot space on Hollywood Boulevard. The reopening was delayed six months until April 2021. Weinstein says they were fortunate to be able to navigate LA's changing COVID rules and permit issues—they still don't have a proper sign—and sales totals are in line with 2019.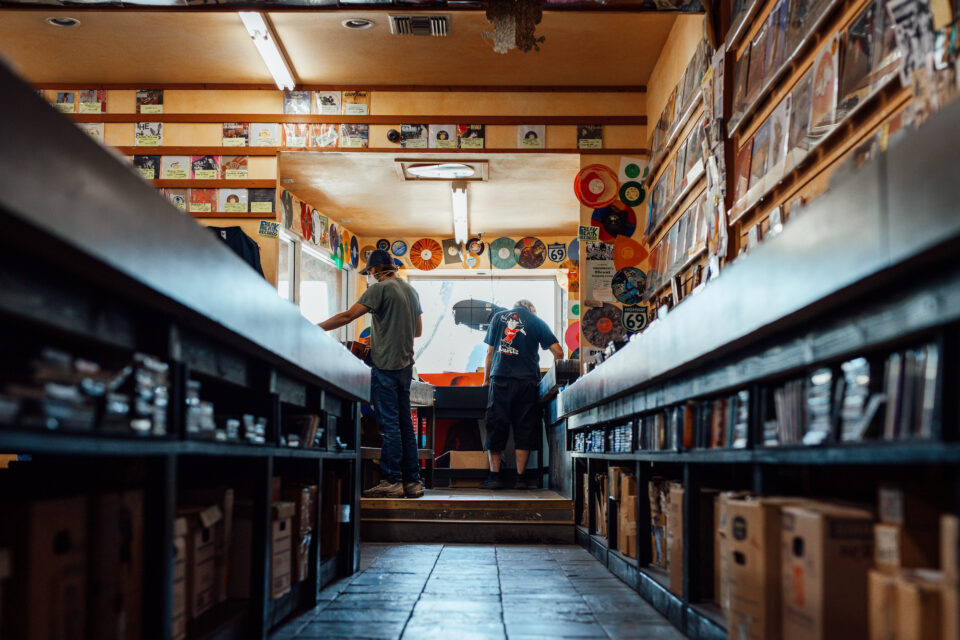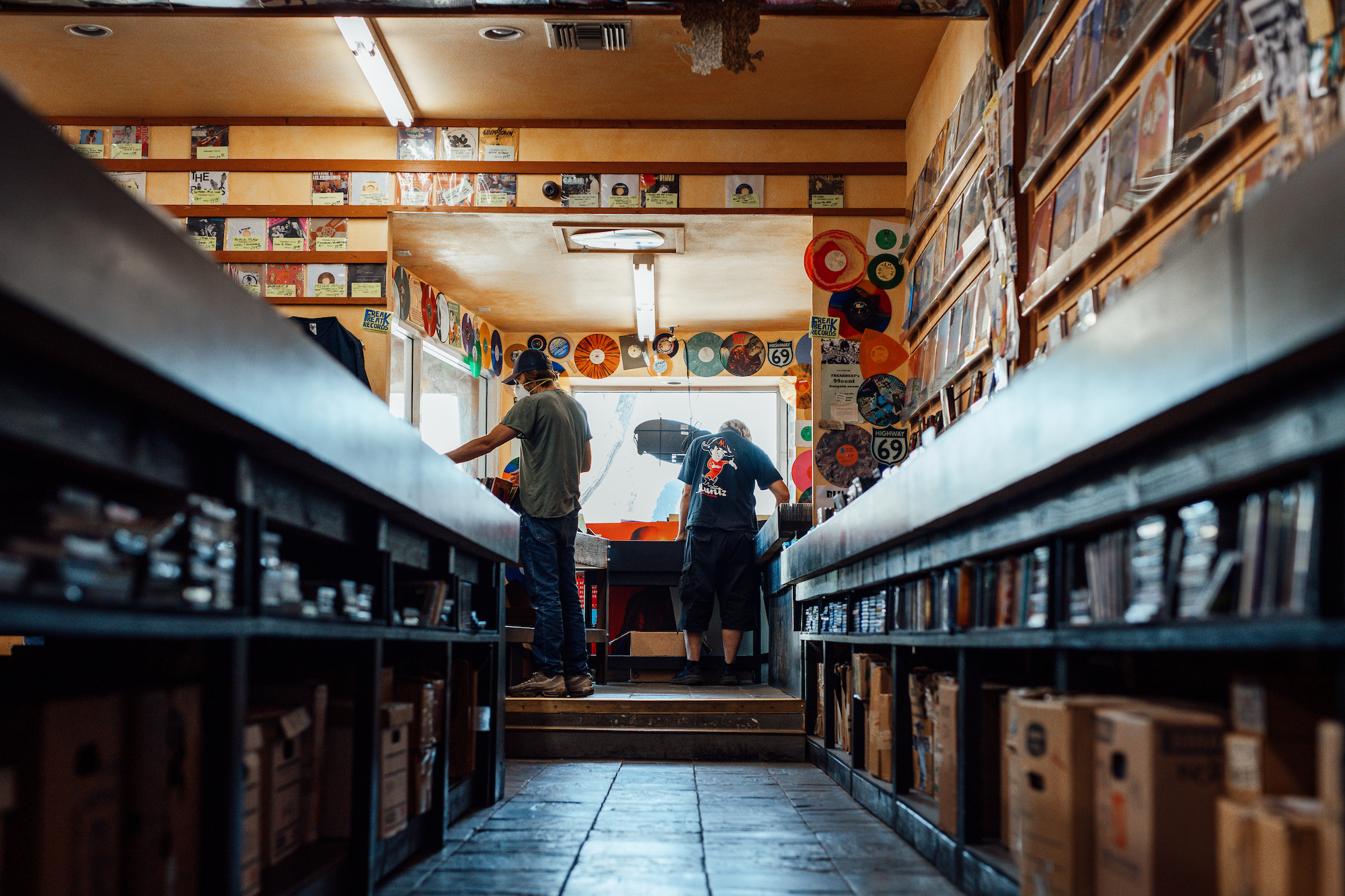 "I think it has really maintained that kind of quality at the new space really well," Weinstein says. "The demographics of the average person walking around there are somewhat different than they were at Sunset. We get a lot more straight-up tourists who are very interested to see a real live record store again. That means we're selling a lot more posters and T-shirts. I think once people come in here, they're fully entertained."
One thing that thrills Cook at Gimme Gimme Records, which he opened in New York in 1994 and moved to LA in 2012, is the multi-generational shoppers, the moms and dads with their kids. "They're excited about records and have their own little collections," he says. "I never saw that before. It's great because there's fresh blood, fresh excitement about the whole thing."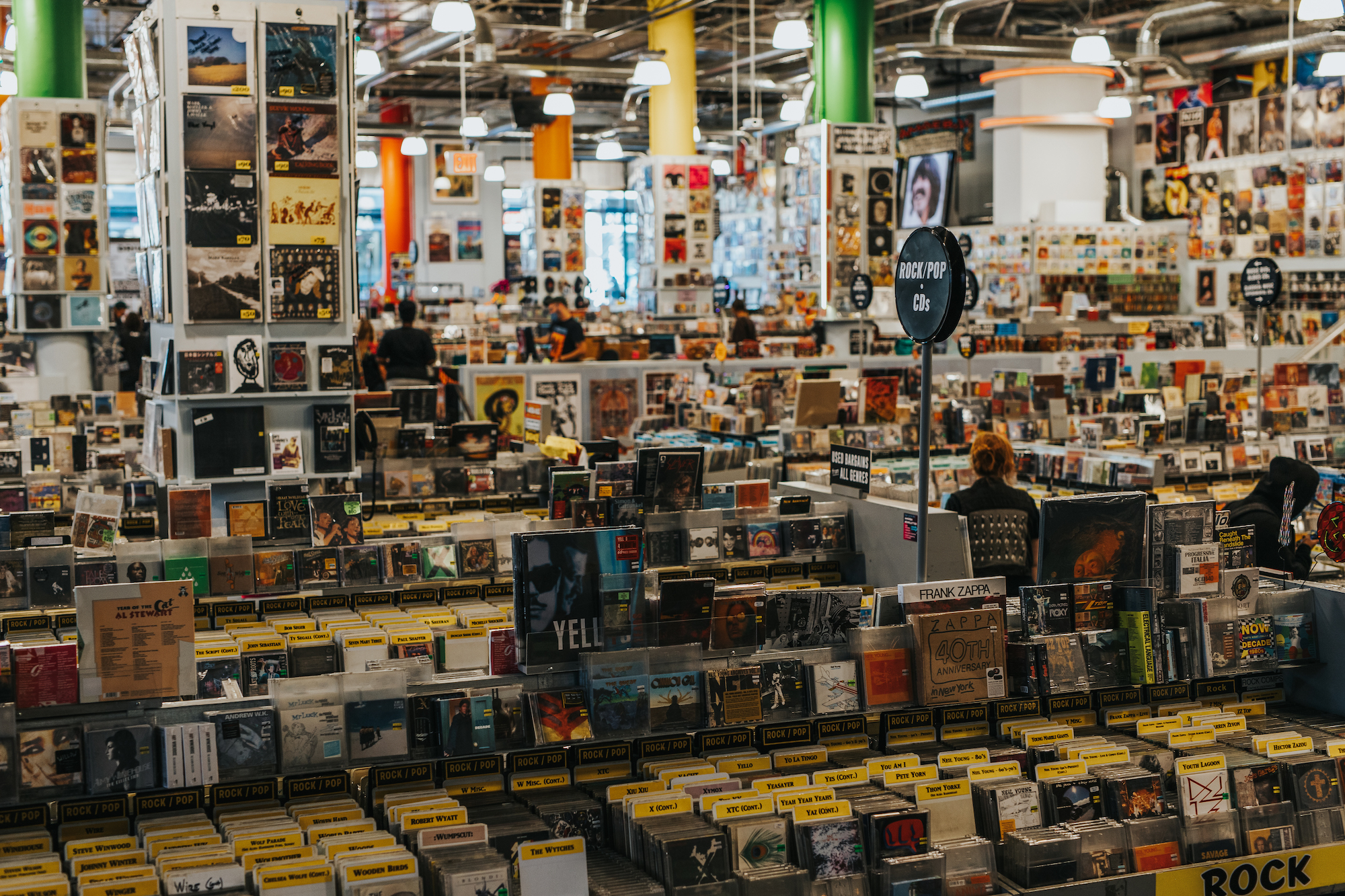 LOS ANGELES RECORD STORE GUIDE
Amoeba Music (6200 Hollywood Boulevard, Hollywood)
After 19 years on Sunset, the city's dominant music retailer moved up a block in April 2021 to Hollywood Boulevard. The floor space is nearly identical to the old location, though the vinyl revival has led to Amoeba devoting an increasing amount of space to LPs. They continue to hold in-store performances.
The Artform Studio (5611 N. Figueroa Street, LA)
Need a haircut? Need a record? Want to be around DJs working the turntables? The Highland Park outlet owned by producer Adrian Younge and stylist Sherry Younge is your place. The boutique is loaded with rare vinyl and books, the specialties being hip-hop, jazz, rare soul, and psychedelic world music.
Atomic Records (3812 W. Magnolia Boulevard, Burbank)
With a classic long and thin record store layout with scores of albums covering the walls, the longtime vinyl-heavy outlet specializes in jazz, punk rock, soul, blues, exotica, and soundtracks. Closed for a long time due to COVID, Atomic is once again back in business, albeit with limited store hours.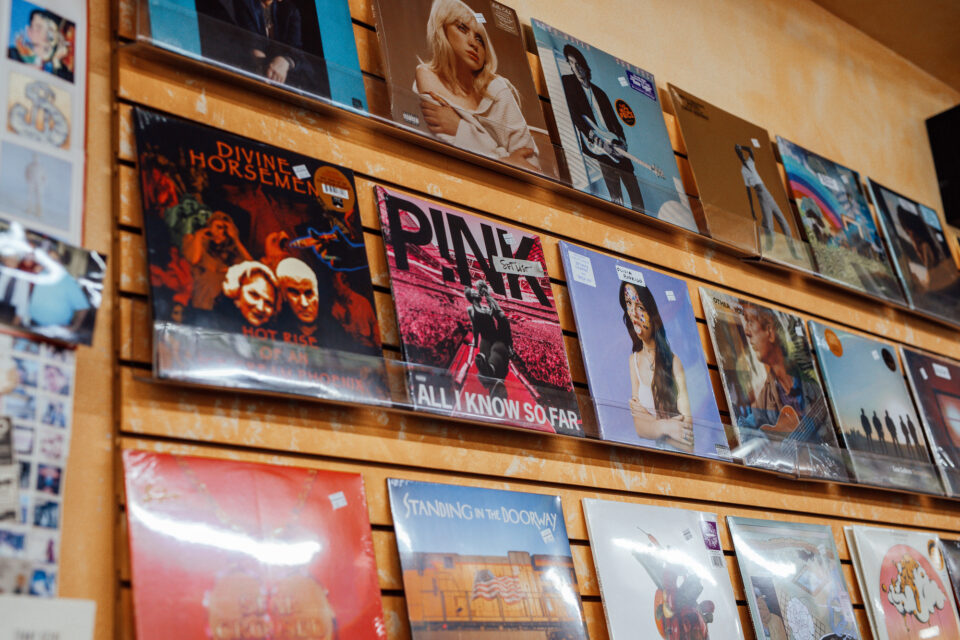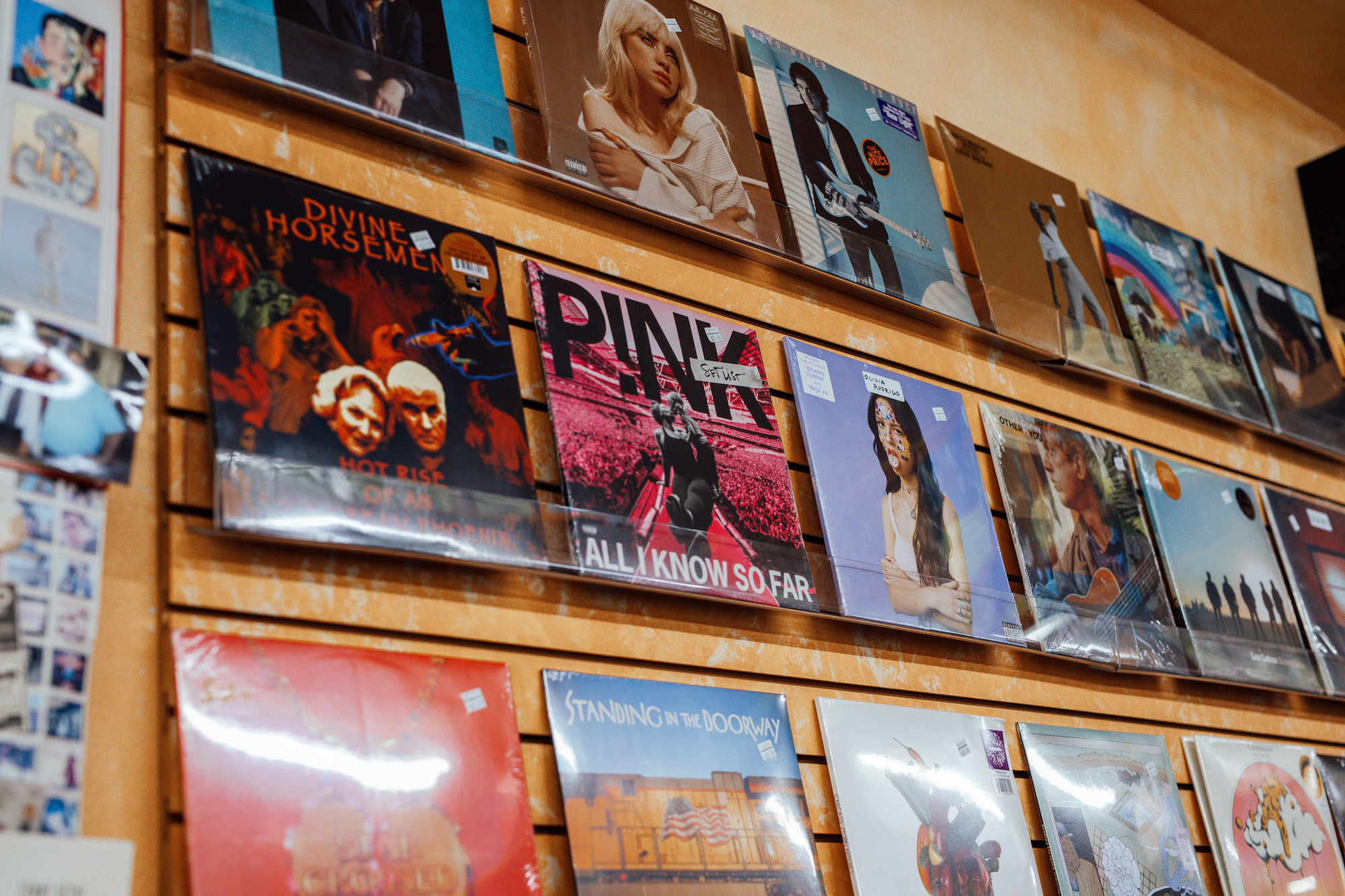 Avalon Vintage (106 N. Avenue 56, LA)
Vintage clothes and vintage LPs are the specialties of this Highland Park shop. Recent finds there include used T. Rex, Marantz, and David Sylvian T-shirts, plus a version of Brian Eno's Before and After Science with the four art prints in the initial pressing.
Cosmic Vinyl (2149 Sunset Boulevard, LA)
A vegan café and record store in Echo Park, Cosmic also offers an assortment of audio gear and clothing.
Fingerprints Music (420 E. 4th Street, Long Beach)
Rand Foster's store is celebrating its 30th anniversary in 2022. The 8,000-foot space is loaded with LPs, CDs, eight-tracks, books, DVDs, and more, and is also famed for its in-store performances.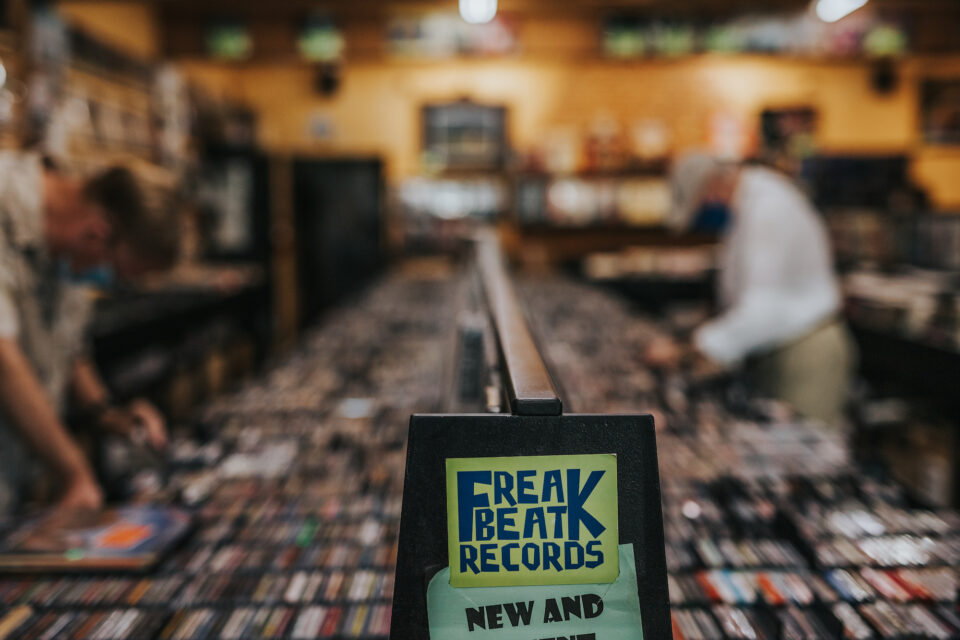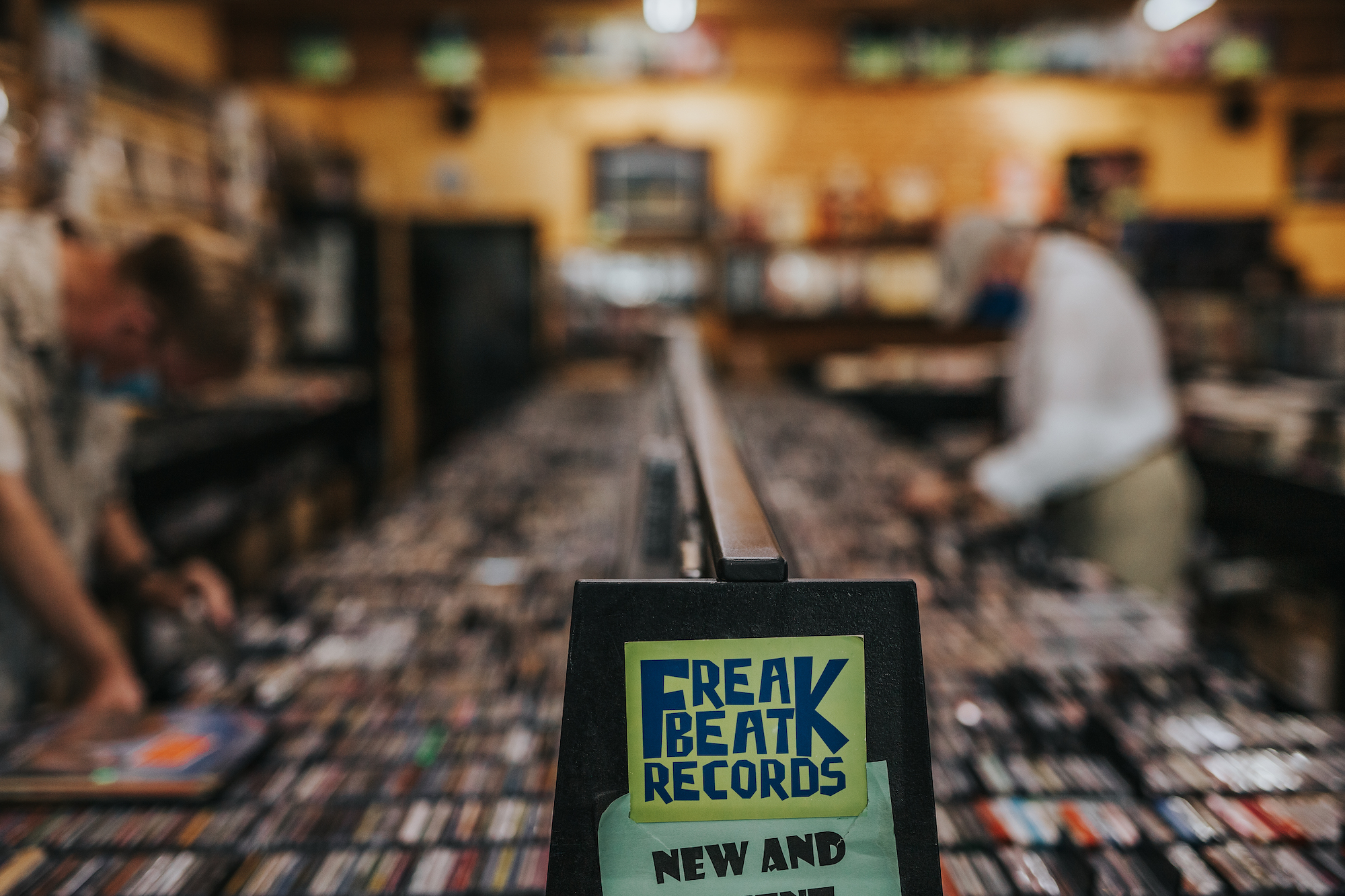 Freakbeat Records (13616 Ventura Boulevard, Sherman Oaks)
Bob Say, a former owner of Moby Disc, opened Freakbeat in 2003, hoping to stay open for 10 years. Collectible LPs were key to keeping the lights on as CD sales began to wane a decade ago; nowadays, Say notes that he's doing about 25 percent of his business via the internet. LP sales are still thriving at the San Fernando Valley hotspot, which is a long, thin store like the classic indie shops of yore.
Gimme Gimme Records (5810 N. Figueroa Street, LA)
New Yorker Dan Cook got into selling used LPs in the East Village in 1994, and moved his operation to LA's Highland Park in 2012. Gimme Gimme moved to its current and largest location in 2014, where the emphasis has increasingly been on new vinyl.
Going Underground Records (356 1/2 E. 2nd St. LA)
The LA outpost of the massive Bakersfield flagship, this Melrose shop earns raves for its selection of indie rock, punk, metal, hardcore, and soul music.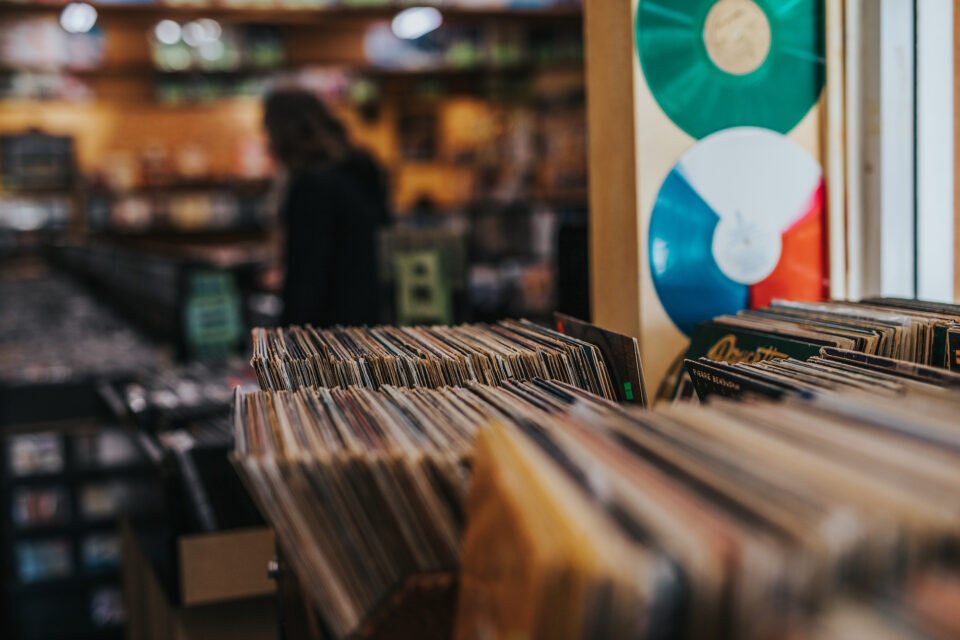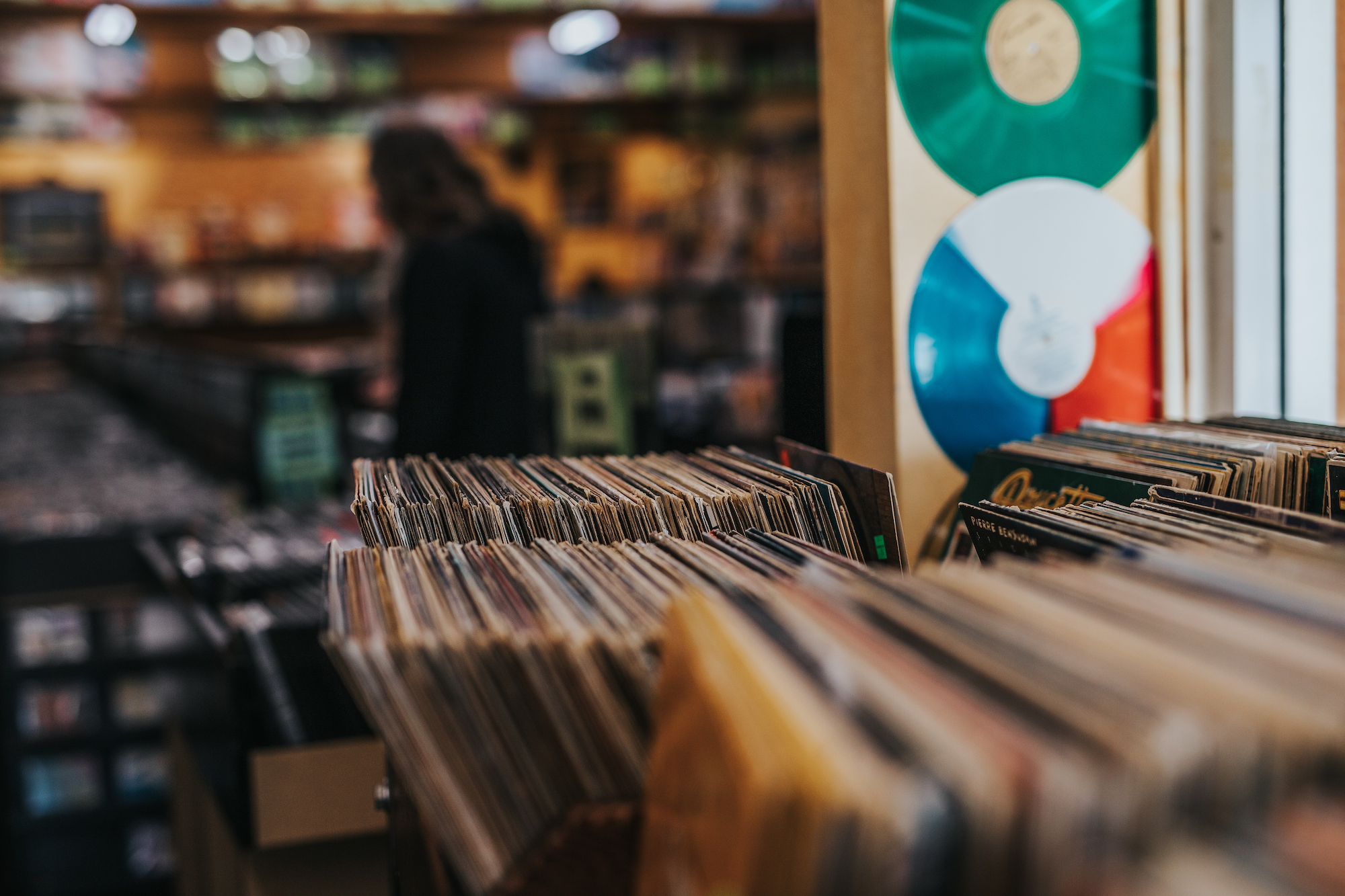 In Sheep's Clothing HiFi (436 N. Fairfax Avenue, LA)
In Sheep's Clothing HiFi is expanding from an exclusive online record club into a brick-and-mortar location in conjunction with the cannabis lifestyle brand Mr. Green. The newest record store in LA debuted in November 2021, and co-owner Bryan Ling says the store will host album release parties and "other experiences that add to the analog culture."
Mount Analog (2217 Hyperion Avenue, LA)
The former Highland Park specialty store moved to a new Silver Lake location in September 2020, opening with a display that featured albums by The Weekend, Nicolas Jaar, Hiroshi Yoshimura, IDLES, and others. Open Friday to Sunday, Mount Analog is also home to an artist management company and booking agency.
Record Surplus (12436 Santa Monica Boulevard, LA)
Record Surplus has called their all-used space "the last record store" for decades, and the place has long been a goldmine for unearthing bargains. This crate-diggers' paradise has more than 100,000 LPs and CDs in stock.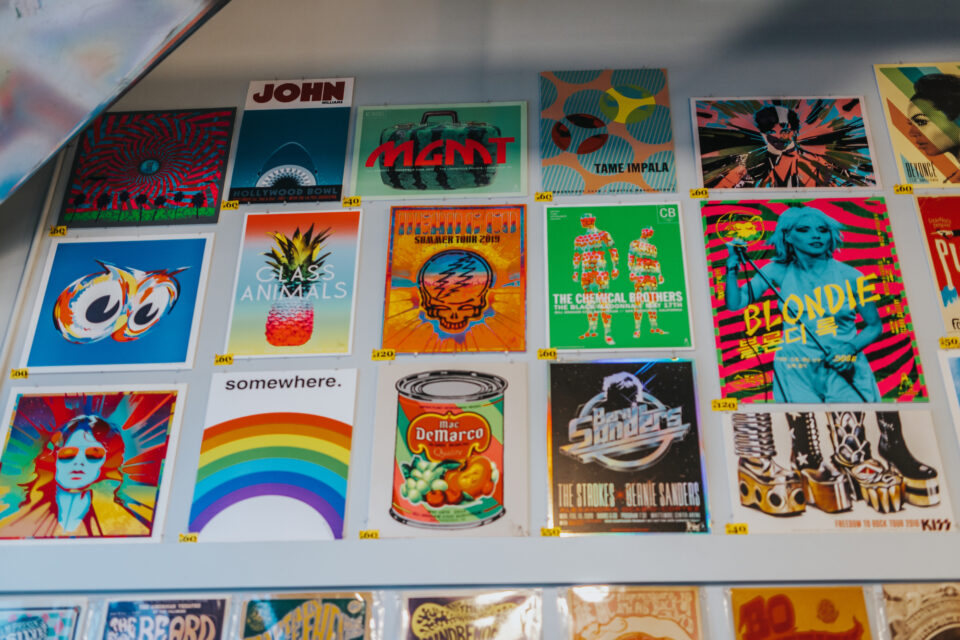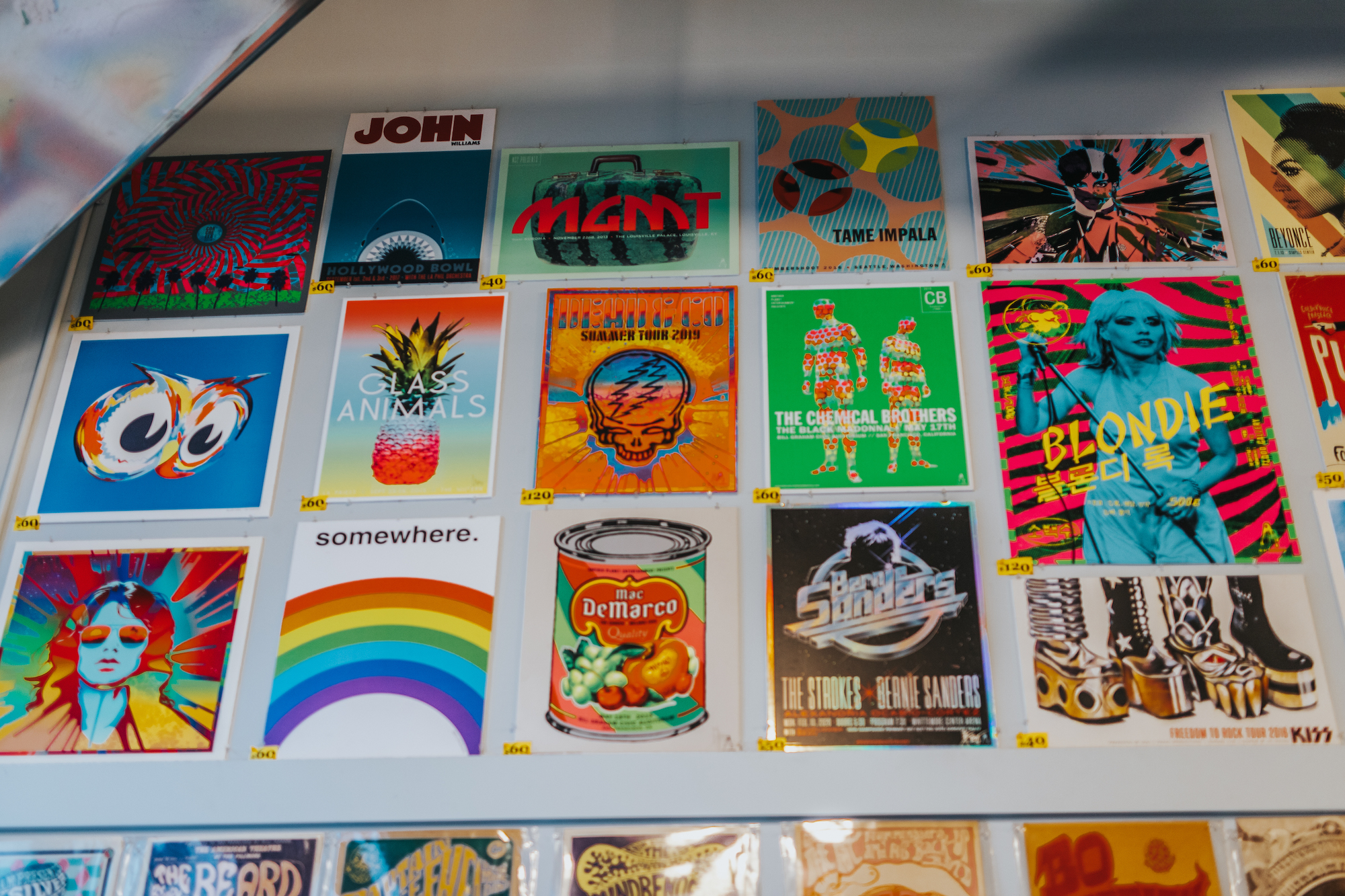 Rockaway Records (2395 Glendale Boulevard, LA)
What was once a mecca for promo CDs has shifted its emphasis to memorabilia and collector's items. Open by appointment only, the Silver Lake shop is offering instruments, posters—they recently acquired a massive Pearl Jam collection —T-shirts, and rare records. If you have a spare $700,000, they also have a piece of the Ed Sullivan Theater signed by all four Beatles.
Sick City Records (1381 Sunset Boulevard, LA)
This vinyl and T-shirt shop in Silver Lake is also a barbershop specializing in classic rocker cuts. (Think Elvis and Joe Strummer.) All the niches of post-punk are covered, from new wave to shoegaze to Britpop.
Supervinyl (900 N. Sycamore Avenue, Hollywood)
As record stores go, Supervinyl is the sleekest and cleanest looking of them all. Lucky Brand Jeans co-founder Barry Perlman opened the store in 2019, and sells new and used LPs here in addition to high-end audio equipment from companies such as Rega and McIntosh. In October 2021, the store went big promoting the 40th anniversary edition of The Rolling Stones' Tattoo You—and Ronnie Wood even stopped by to say hello.