It's almost relentlessly dark, but Moderat have made the electronica album of the moment. MORE D4TA, their first LP in over half a decade following an extended hiatus, is the Berlin trio's new roughly hour-long record that gives sound to the loneliness of the ongoing coronavirus pandemic before providing solace and catharsis. A deeply intuitive group, however, Moderat has made a work that transcends this dark period and explores such timeless themes as alienation, panic, and, ultimately, love.
"I'm not a super optimistic person," instrumentalist/singer Sascha Ring readily offers over Zoom from his Berlin home. "I'm also trying to not see everything in the worst possible way." Specifically, Ring is talking about the information overload of modern society—which he believes is a trend that the world will likely maintain—but more broadly, he's conveying his brighter worldview. With his boyish curls and snapback hat, the 43-year-old Ring is, after all, the heart of Moderat.
The band started 20 years ago, not long after Radiohead ushered in the complexity of the new millennium with Kid A and showed artists like Ring what could be done with just a computer. For Moderat, which is rounded out by fellow Berliners Gernot Bronsert and Sebastian Szary, their connection formed organically when, after performing a solo set at a festival under his Apparat moniker, Ring witnessed Bronsert and Szary play as the duo Modeselektor and struck up a conversation with them. "We all kind of had the same social and cultural upbringing," Ring says. "We're from [East Germany], and when the Wall came down and Germany was reunited, there was this void. The police didn't know what was allowed and what wasn't allowed, and there was a lot of illegal techno parties, so that was us in the '90s. And even though Modeselektor grew up in a totally different place in East Germany, when we met in Berlin, we noticed that we had all of this in common."
"When the Wall came down and Germany was reunited, there was this void. The police didn't know what was allowed and what wasn't allowed, and there was a lot of illegal techno parties, so that was us in the '90s."
Ring, whose wall of palm trees above his head reveals his inner mellow, continues that he and Modeselektor got tired of the techno of the time and wanted to put more emotion into the genre. "We'd been listening to that since the mid-'90s, and that was a crucial period—our whole youth, basically—so at some point when we were in our early twenties, we were looking for something else," he says. Always an innovator, Ring pulled this other sound from everyday objects. "It's not very romantic, but I was a nurse back then and I programmed a system that allowed computers to sync very seamlessly for electronic live performances," he says. "I had a very simple idea: I programmed an environment that made it possible to jam for electronic musicians, and [Bronsert and Szary] were just really fascinated by that. So basically we started playing shows together because we were able to."
After releasing their debut EP At the Cost of Health in 2003—its title commenting on the interpersonal strife they bumped into during recording—Moderat unveiled their first proper LP six years later. Emblazoned with a cover image of a woman comically punching herself in the face and including such fast-yet-calming tracks as "Rusty Nails" and "3 Minutes Of," 2009's Moderat showed a band more at ease with both themselves and the keys at their fingertips. If the EP wound up being a project that took some years to recover from, the self-titled LP was a blast and a harbinger for their celebrated sequel records that followed in 2013 and 2016.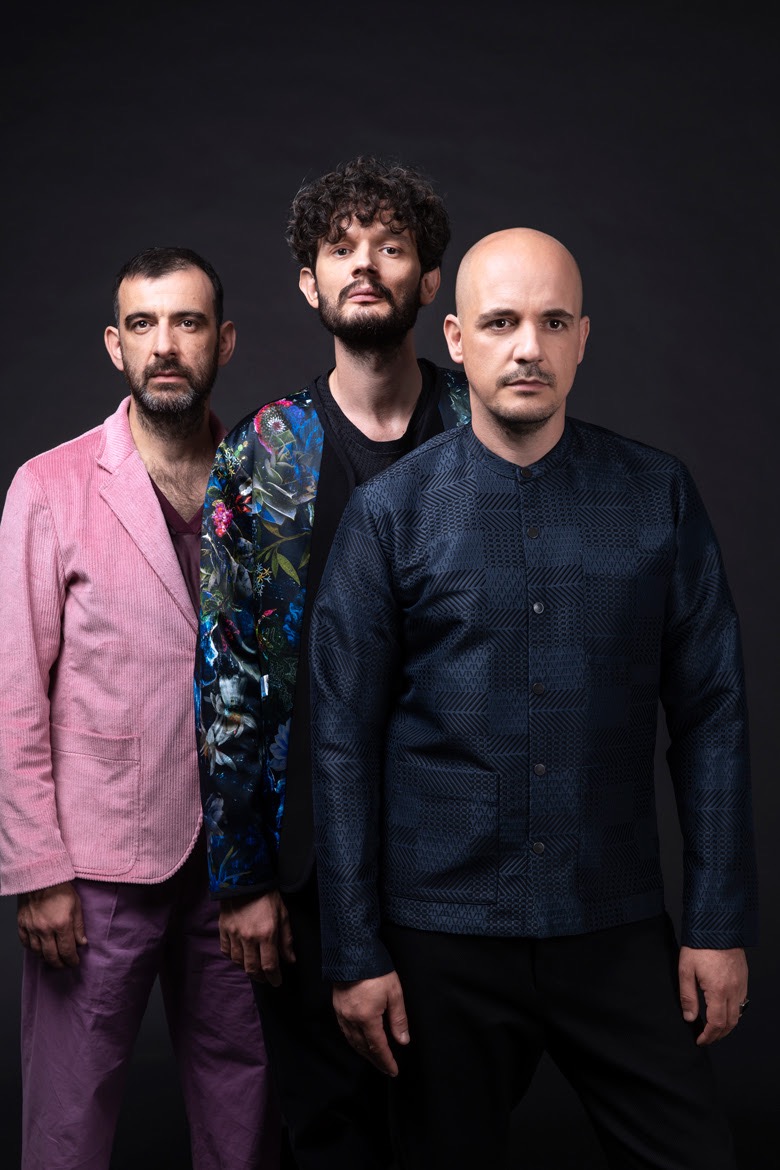 By the time all three records dropped, the band had played a hometown show before an audience of 17,000 people—about 3,000 shy of Crypto.com Arena or Madison Square Garden at full capacity. It was stadium electronica, to be sure, and apparently one hell of a show. To the dismay of fans, however, the concert would be Moderat's last for the foreseeable future as the band announced they were taking a break.
"Moderat used to be our side project and was meant to be some sort of contrast to our solo efforts," Ring says of the hiatus. "Whenever we got tired of our solo life, we would make a Moderat album just to make life more interesting. At some point Moderat became just too big and it occupied us for a long time. We also did two albums in a row, which we hadn't done before, and that meant more or less four or five years of continuous touring. In the end, it was just too much." He clarifies that it wasn't so much that he and his bandmates needed a break from each other so much as Moderat itself. "Maybe we felt that if we continued, it would have been bad between us. At that point we were still all super cool with each other, and it wasn't an emergency split or whatever, but maybe everybody sensed that it was time—before we start hating each other somehow."
"Whenever we got tired of our solo life, we would make a Moderat album just to make life more interesting. At some point Moderat became just too big and it occupied us for a long time."
It was a break, not a breakup; after two years, the band reconvened and started sessions for a new record. As with other bands, the fact that new work met a global pandemic was a coincidence. "It was completely, unintentionally synchronized with the pandemic," Ring says. "It's a bit of a cynical coincidence. For most of us, the pandemic was the first real crisis we were witnessing."
MORE D4TA, consequently, retains the darkness not only of the pandemic but of all sorts of plagues. After trip-hop opener "Fast Land," the album segues into "Easy Prey" on which Ring sings, "I am just a low-hanging fool" as he conveys widespread helplessness with shattering clarity. Later in the album, on "Undo Redo," he whispers, "I fight the past to be erased"—and if the record then sounds downright sad, Ring follows with the bright "More Love" before ending with "Copy Copy." Through a web of murky effects on that final track, he repeatedly sings of life "in a glass cage" as light breaks in and Moderat begins anew. FL