BACKSTORY: Dual songwriters Etta Friedman and Allegra Weingarten first met back in high school, forming the duo that would become Momma out of pure necessity. Since that time they've released three records of nostalgia-tinged alt-rock heavy on hooks and earworms
FROM: Brooklyn via Los Angeles
YOU MIGHT KNOW THEM FROM: Their awesome music video output
NOW: Momma has just released their third record, Household Name, on their new label home of Polyvinyl Records
The music video for Momma's recent single "Rockstar" is, at its core, an exercise in nostalgia. We see the band perform at the kind of Battle of the Bands that likely exists more in the public consciousness than in real life before quickly transitioning to their rise through the ranks, featuring a wonderfully rendered VH1 Behind the Music spoof. "It takes a lot to admit it," they sing as the band collects gold records and tops charts. "Yeah I got what they want, I'm a real rock star."
For Momma, the Brooklyn-based indie-rock trio made up of dual songwriters Etta Friedman and Allegra Weingarten as well as multi-instrumentalist/producer Aron Kobayashi Ritch, "Rockstar'' sits somewhere between a wish and a promise. Their new record Household Name treads similar ground throughout, blending a confident swagger with an earnest playfulness always with a keen eye toward the past. These rock stars might not be household names just yet, but give it time and they may just surprise you.
"We've all had conversations where we talked about how we're going to do this forever."

— Allegra Weingarten
Of course, the goals weren't always so lofty. Momma first formed back when Weingarten and Friedman were still in high school, mostly out of necessity. "I got asked to do a show and I didn't have a guitarist so I asked Allegra to do it," Friedman told me during our recent conversation. From there the two become inseparable—playing shows, recording, and, writing together non-stop. "It would be on Allegra's bedroom floor with fairy lights on and we probably smoked weed," says Friedman of their early songwriting, a technique which quickly led to their debut record Interloper in 2016. Early on, that record largely represented the goal the two had for the band. "I don't think we were thinking about getting signed or anything," says Weingarten. "I think we just wanted to play shows, make music, and maybe a couple of music videos."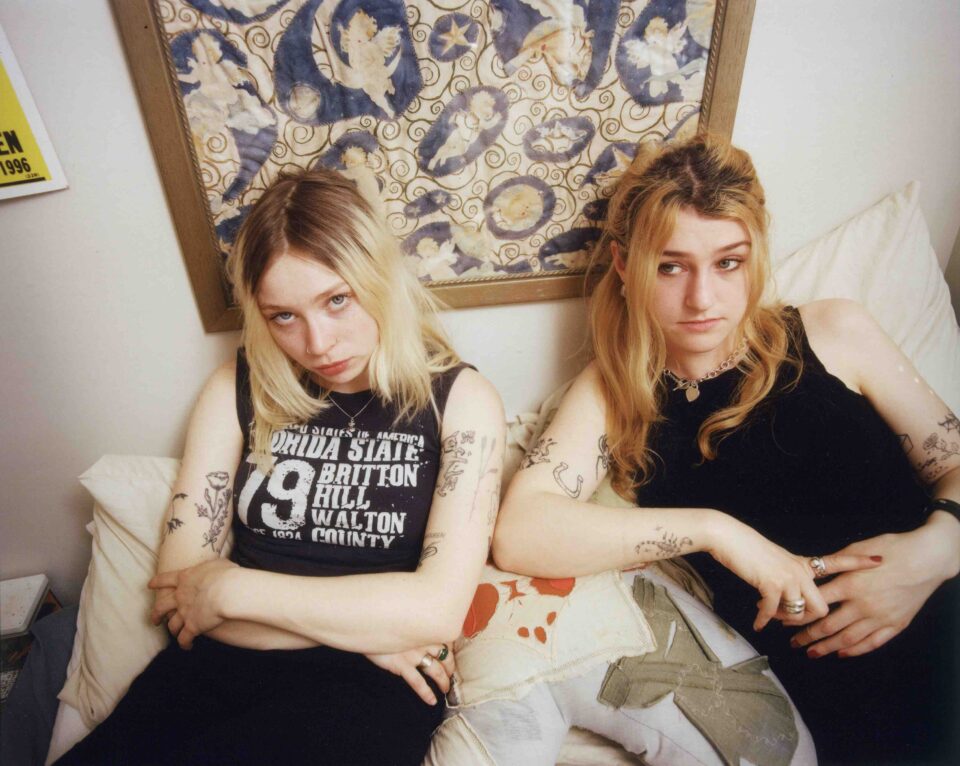 Those modest goals started to shift around the release of Momma's second album, Two of Me, a record of laid-back indie rock which garnered significant attention, even if the timing of its arrival—June of 2020—made it difficult to fully realize its success. However, this didn't dampen the excitement for Polyvinyl Records, who signed the band prior to the release of Household Name. "It's super surreal," says Friedman of the idea of signing with a label the band had followed since high school. Friedman and Weingarten both recently finished college, but you get a sense this felt like the true graduation for the two budding songwriters, an acknowledgement that what they're doing has the potential to come with long-term success.
It also fundamentally changed the way the band worked, opening up opportunities not available in the past. This was most prominent when it came time to record Household Name. For previous albums, recording was done between everything else, a rushed process with the express goal of having something done as quickly as possible. This time, they were allowed to linger, demo songs, rework them, and demo again.
"This is the first record where we think we made something that sounds how we've been meaning to sound the whole time."

— Etta Friedman
"We're on a label and had some sort of budget, so then we really had to figure out what that meant for us," says Aron Kobayashi Ritch. Where before songs were written and recorded in a fairly straightforward manner, the tracks on Household Name were in constant flux, continuing to morph as the band was given time to arrive exactly where they wanted. The result is Momma's tightest collection of songs to date. A song like "Speeding 72," with its decisive riffs and weaving chorus, is not a seismic shift in the way Momma has always operated, but it's hard to argue that this isn't the best version of that sound.
Despite all the bluster of a song like "Rockstar," Momma still feel like they have something to prove. Household Name marks a big opportunity for the band, who know the time and money they've been afforded does come with its own set of expectations. That said, any outside pressure pales in comparison to what they place on themselves. "We want to see how far we can take this," says Kobayashi Ritch. "To see what happens when we really work on it a lot and really think through things." 
The band are fully committed to Momma as a career in a way that's impressive for such a young group of artists. The fact that this may be as nostalgic as anything in the "Rockstar" video, or their heavily-'90s-indebted new record as a whole, is not lost on Momma, who admit the constant grind of full-time day jobs is a significant hurdle. That said, they remain undaunted by the future. "We've all had conversations where we talked about how we're going to do this forever," says Weingarten. "There's nothing holding us back," adds Friedman.
And when you listen through Household Name, or, for that matter, their discography as a whole, it's hard to find a reason to doubt them. "This is the first record where we think we made something that sounds how we've been meaning to sound the whole time," says Friedman with a smile toward the end of our conversation. And they're right—they sound like rock stars. FL