On her debut record Blush, Maya Hawke sang that "Childhood is over, and it wasn't enough." Two years later, she's reevaluating that proclamation on her follow-up album Moss. As she's grown up, Hawke has dipped her toes in many undertakings. She's an actor, a model, a poet. But it's her affinity for music that's endured the longest. With a soprano voice like a certain warmth that spills from department store speakers, she's established a sound that's wholly her own and still blossoming. If Blush was a guitar and piano record where Hawke found her footing, then Moss is her dynamic turn of vulnerability, a confident landscape of sonic heartbeats, and a document of a Zoomer growing up in a world stunted by COVID. At 24 years old, Hawke has the entire world in her hands; but on Moss, she's zeroed in on making sense of her own. 
Being a working musician while performing in a ubiquitous TV series can be a balancing act that's challenging to maneuver, but Hawke is comfortable with having an audience that first knew and loved her from Stranger Things. "I think it's cool that when I play shows, young queer women who love Robin can come and connect to my music, too," Hawke tells me. "There's a lot of cohesion there. I don't feel like they're so disjointed, or I need them to be different in the same way that I don't need people to pretend I don't have famous parents. I love Stranger Things! I love Robin. I love my parents. I love writing music. And I'm me in all of those situations."
Because Hawke's parents—Uma Thurman and Ethan Hawke—were both actors, and would eventually file for divorce when she was seven, music became a communicative element for her as a kid. "My parents worked all the time, so I [spent] a lot of time away [from them]," Hawke says. "I was always missing somebody." Her dad used mixtapes as a way of staying close and teaching her life lessons. He made mixes of Elvis, Madonna, Kris Kristofferson, Bob Dylan, Joni Mitchell, and Joan Baez, among others. His Beatles installment, which he dubbed "The Black Album," was an assemblage of the band's solo work and can be seen in the 2014 movie Boyhood, which he starred in. "[The mixtapes] all had some meaning at the moment, some thing he wanted to communicate," Hawke adds. "American history or feminine power or masculine power or sexuality or change or longing. They had little lessons, like how everyone, even when they're broken apart, is strong, and can still come together and speak to each other."
"I think it's cool that when I play shows, young queer women who love Robin can come and connect to my music, too. There's a lot of cohesion there."
Communication is a central theme in Hawke's music. When she started writing lyrics in junior high, it was her attempt at expressing feelings and emotions to others. Origins of her Blush song "Goodbye Rocket Ship" date back to age 14 when she wrote the lines "You didn't know how to raise me / Any more than I know how to grow up" while coping with the boundaries of parenting and teenage independence. "I was just like, 'I don't know how to tell you how I'm feeling, but I think that if I make you get quiet and take this in as art, you'll be able to hear me better,'" she says. "I've never been a good rhetorical arguer or essay writer or anything like that. But I've always been pretty good at taking a feeling and putting it into a poetic object, whether it's a character in a movie or a song or a poem, and being like, 'This is the feeling. Agree with it or disagree with it, but it's not a point or an argument or a thesis.'"
Hawke is in her Folklore era, emotionally and sonically. Taylor Swift's sound palette on that record (which Hawke calls "soothing") influenced the framework for Moss, where Hawke balances a body of sad and poppy songs. The two singers explore the what-could've-beens and navigate interpersonal relationships at their own paces, delivering detailed and vivid verses that cull unforgettable imagery. Hawke also cites Big Thief vocalist Adrianne Lenker's solo album songs as a beacon she looked toward when searching for a blueprint on cohesiveness. "I found myself wanting to put my headphones in and click play from the beginning," she says. "I wanted the record to have this cohesive sound. We made sure that every sound we used on the record we used three times. There's no instrument that was only used once."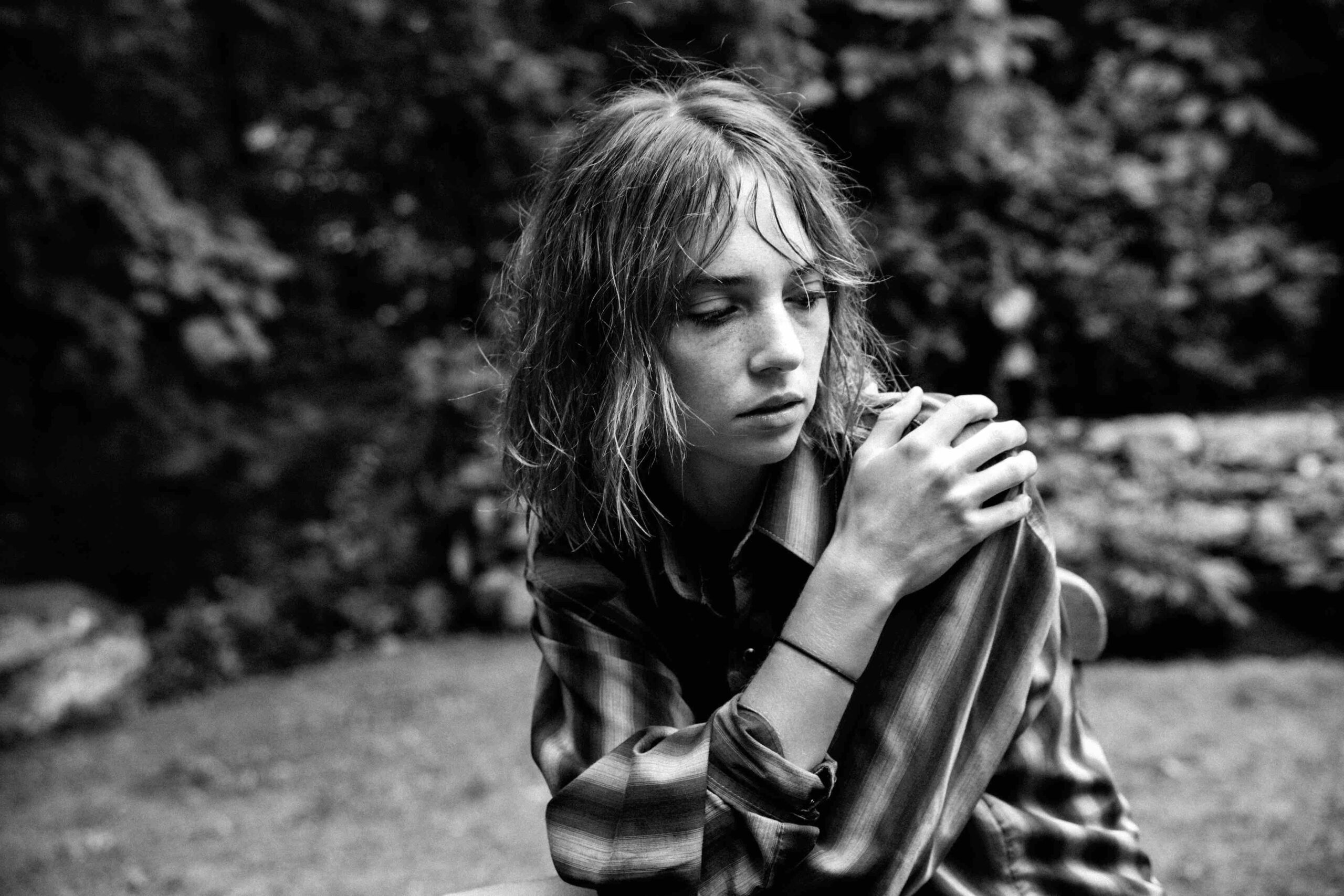 Moss was made with longtime Phoebe Bridgers collaborators Christian Lee Hutson and Marshall Vore, composer and multi-instrumentalist Benjamin Lazar Davis, GRAMMY-winning engineer Jonathan Low, and guitarist Will Graefe (Hand Habits' Meg Duffy also makes a cameo on "Backup Plan"). There are no drums on the record, though you might catch a few handclaps in "South Elroy" if you listen closely. Hawke wanted to make an album-length version of Bridgers' "Garden Song," which features a sidechain beat and an absence of sound that creates a strong pulse. "There's this smoothness without it being soft," she says. "I didn't want [the record] to have a beat. I wanted it to have a pulse. I think I pulled up a guitar solo from a Hannah Montana song one day and was like, 'I want it to sound like this!'"
"I didn't want [the record] to have a beat. I wanted it to have a pulse. I think I pulled up a guitar solo from a Hannah Montana song one day and was like, 'I want it to sound like this!'"
But on top of Hawke's experimental, collaborative agenda, the guitar- and piano-heavy arrangements inspire a very natural component across the record. Her lyrics almost always begin as full-length poems that Davis then turns into songs. On "Sweet Tooth" you can hear her laughing in the outro; "Restless Moon" is like a campfire sing-along; there's almost a demo-ish tinge to her vocals on "Mermaid Bar." Many of the compositions were created through Hawke and Graefe's unique songwriting partnership, where she would use emotional and actor languages to instruct him like a director would instruct her in a performance. "We sat together and danced and moved and I spoke to him, because I can't play guitar like that, and I was like, 'I know what the feeling is,'" Hawke says. "I think I just have more confidence in using the skills that I do have as an actor, as a poet, as a speaker, to communicate through music."
On a recent Tonight Show appearance, Hawke called Moss a "back to school" album. While she tracked a lot of her childhood and present-day relationships on Blush, Moss finds her going back to formative moments she left behind half a decade ago. "High school was a really intense time for me," Hawke says. "There were things I started figuring out [then] that I stopped figuring out when I left and muted myself. Pain I went through that I was like, 'Great, that's over, I'm now a perfect adult.'" When the pandemic hit, Hawke found herself retracing her steps and reconsidering what parts of her past she might have dismissed too quickly. "I was like, 'Oh, I've gotta go back there, back to puberty, back to my sexuality, back to my education'—back to all these things that were mine and figure out what weeds I have to pull out so the flowers I'd forgotten about can bloom. I'm going back to school. I feel like a teenager again, whereas when I was 19 I felt like a very old woman."
The synopsis for Moss is that Hawke's been gathering a lot over the last two years. She conjures the "rolling stone gathers no moss" metaphor, but calls bullshit on it. "I've never been sure about that metaphor, about whether it's a positive or a negative," she says. "Do you want to be a rolling stone? Movement is cool, but moss is fucking beautiful. And there's this idea that independence, movements, drive, and loneliness is how you make art, that being a rolling stone, being by yourself, is how you make art. The way a stone makes art is by sitting still and letting nature act upon it. I just feel like there's another way of looking at how we exist as creatives in the world."
Hawke has been doing a lot of gathering of her own and transplanting it into an unmistakable voice at a time when we've all lost so much. But she's not just a rolling stone, she's a beacon that Gen-Z so desperately needs. COVID stunted Zoomers and we're still picking up the pieces. For a lot of us, we had to graduate college from behind a webcam and enter our job fields from home, if there were even any jobs to be had. A lot of time was, and still is, being spent in bed and on couches, alone, mulling over every detail of our lives. Hawke's taken that truth and parlayed it into another unshakable one: We still have time to reclaim the parts of us that we left behind and make them new. "In that time period, old feelings that I thought didn't matter anymore resurfaced and I was like, 'Oh, wow, I still feel that way, I'm still a kid in this way,'" Hawke says. "And then new feelings and new personal understandings started to grow and develop and change. I feel so much stronger than I did when I was 19."
"I was like, 'Oh, I've gotta go back there, back to puberty, back to my sexuality, back to my education'—back to all these things that were mine and figure out what weeds I have to pull out so the flowers I'd forgotten about can bloom"
Hawke's turn as a musician stands out in part due to the visual accompaniments she lends to her songs. On Moss, she returns with more explicit on-screen renderings of her music. On the newly unveiled second single "Sweet Tooth," Hawke turns her poetry into a movie. She roams through a city while nursing an old school ice pack on her jaw and singing about affection. The video's digital camera–esque filter mirror's the song's jubilant mood, as Hutson's keys, Graefe's electric guitar, and Davis' nylon strings pair well with the grainy, sunshine-splashed optics. And while Hawke's oeuvre often features abstract set pieces, the visual diary for "Sweet Tooth" is much more on-topic, as an abundance of oversized fake teeth take center-stage across a metropolitan backdrop.
In the video for the album's lead single "Thérèse," Hawke and a handful of naked strangers engage in an orgy in the woods. The video is palpably shot, as cinematographer Trevor Tweeten's use of light and camera cuts mirror the song's theme of women's bodies and their choice of how much of them they elect to share with the world. The entire production, from the song to its video, pulls heavily from its source material: Thérèse Dreaming, a 20th-century painting by French artist Balthus that's been petitioned for removal from The Met because of its depiction of a young woman in her underwear, legs apart, with some menstrual blood visible. The song's chorus, "It's tactless, it's a test," mimes the protesters' outrage, while "It's just Thérèse" is Hawke's response to their huffs.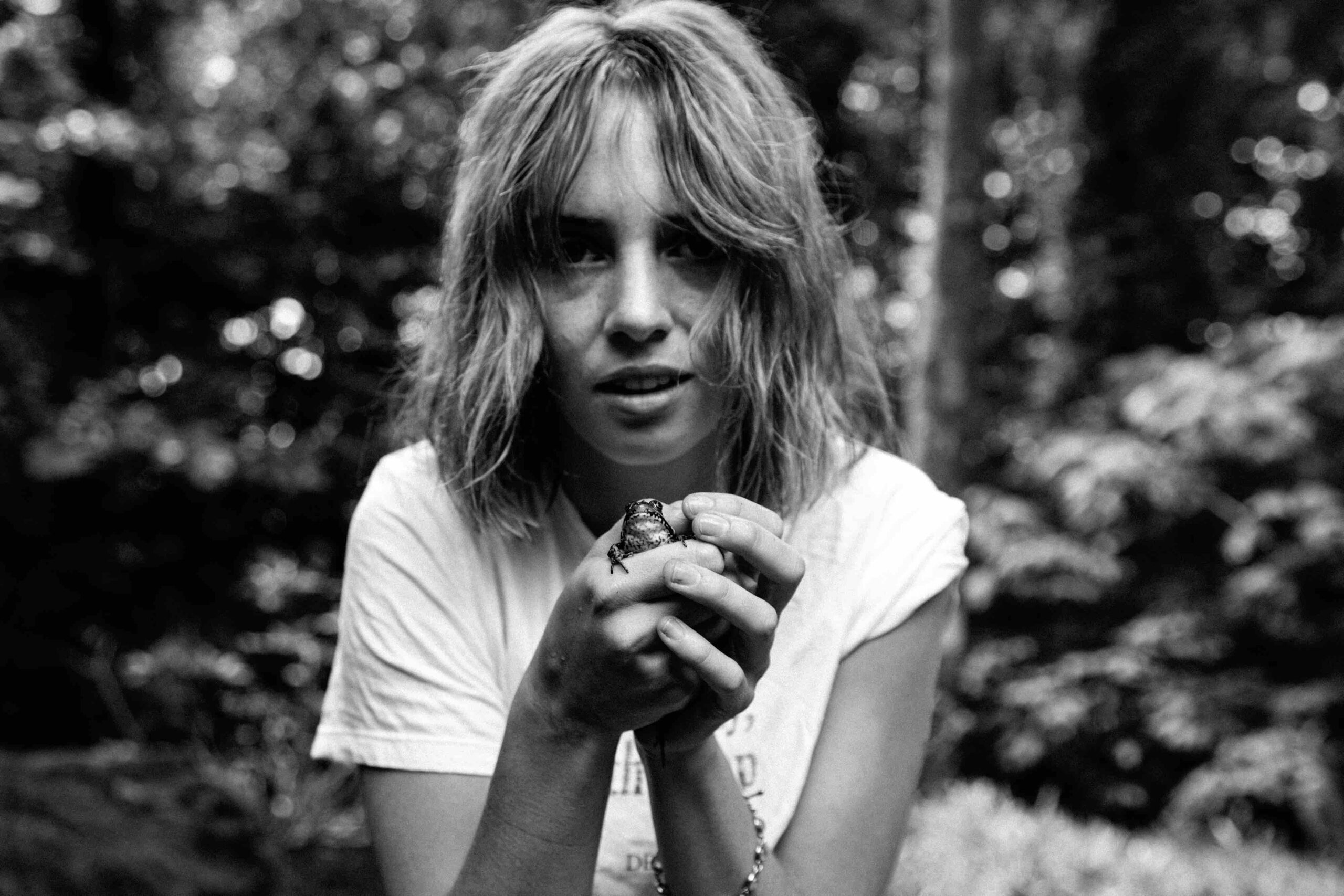 When I found Blush in 2020, it came to me sounding exactly like what I was affectionately longing for: A landscape of people sharing warmth and loving each other. Fresh off of a virtual college graduation and knee-deep in a long distance relationship strained by quarantine, my head gazed upward not in search of someone who would tell me how to process everything, but rather in search of someone who would ask me to not give up on parts of myself; someone who encourages their listeners to give generous space to what they're feeling and who they are inside. Zoomers are endlessly looking for storytellers who inspire us to hold onto what joys we encounter and to carry far the hope of what pieces of us can still become. We're looking for a voice from someone our age who knows what it's like to not have everything sorted out. Hawke has heeded our calls and tenderly asks us to embrace the parts of ourselves we don't yet understand. 
Maya Hawke is also a shapeshifter who demands her artistry not be relegated to just one box. Yes, she stars in Stranger Things. She's been the face of Vogue, AllSaints, and Calvin Klein campaigns. She's the daughter of Uma Thurman and Ethan Hawke (though she cheekily claims to be Tony Hawk's daughter in her Instagram bio). She's set to make starring turns in Jennifer Kaytin Robinson's Hitchcockian Do Revenge and Wes Anderson's Asteroid City. But on Moss, Hawke is all of those things but also so much more. She compares herself to Depression-era artwork, navigates womanhood, the presentation and perception of bodies, sexuality, and romance, and often retreats to the parts of her past that have remained dormant for four or five years. The album is not just a gentle testimony of grandeur, but a sharp, album-length excavation of second chances and autonomy. When we reach the end of Moss, Hawke has fully stepped into the version of herself that she's always dared to become. FL