It's hard to believe it's been nearly 20 years since we lost The Clash's singer/guitarist to heart failure on December 22, 2002. This coming Sunday, August 21, would have been Joe Strummer's 70th birthday, and we're celebrating his profound legacy with a massive six-hour special on FLOOD FM, featuring 70 of his favorite songs curated by his widow Lucinda Tait with input from friends, family, and bandmates, plus a selection of pinnacle tracks and rarities from Strummer and The Clash. From A Tribe Called Quest to Lee Perry to Woody Guthrie, Strummer's favorite tracks provide incredible insight into the mind and inspirations of the forever cool punk poet, musician, and style icon. The Joe Strummer celebration will air from 12 p.m. to 6 p.m. PST only on FLOOD FM.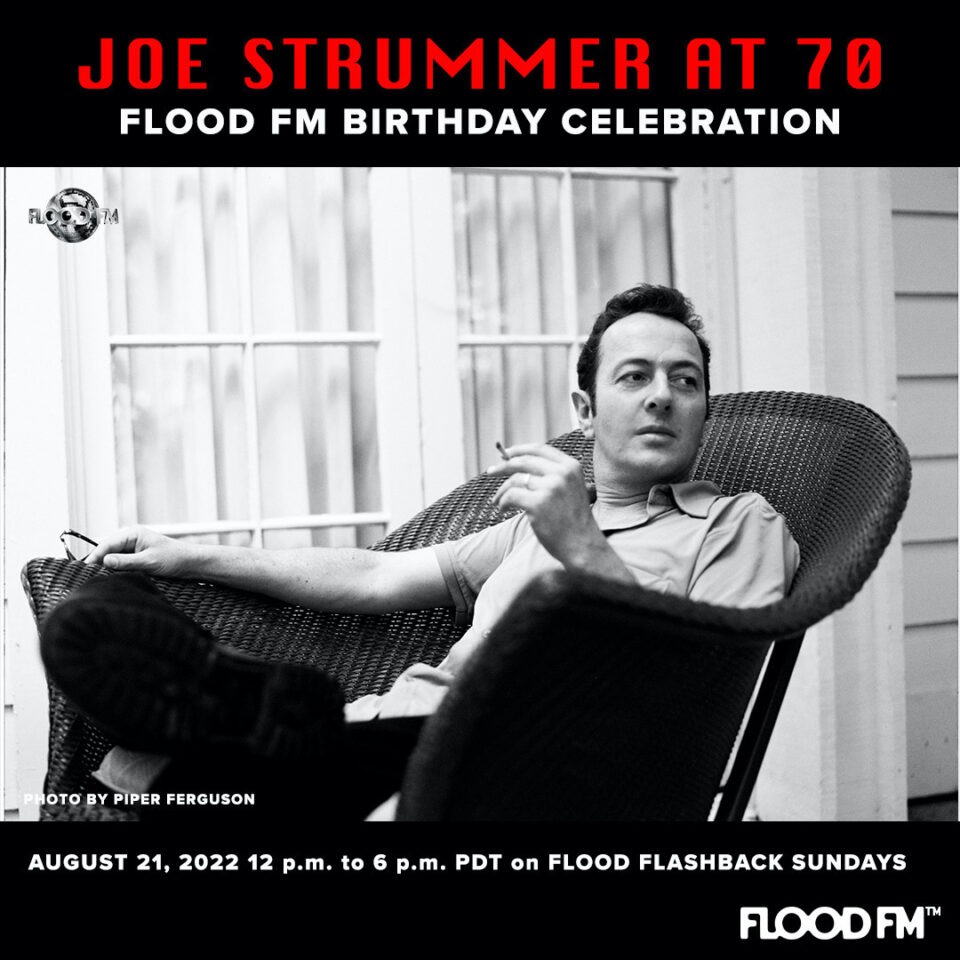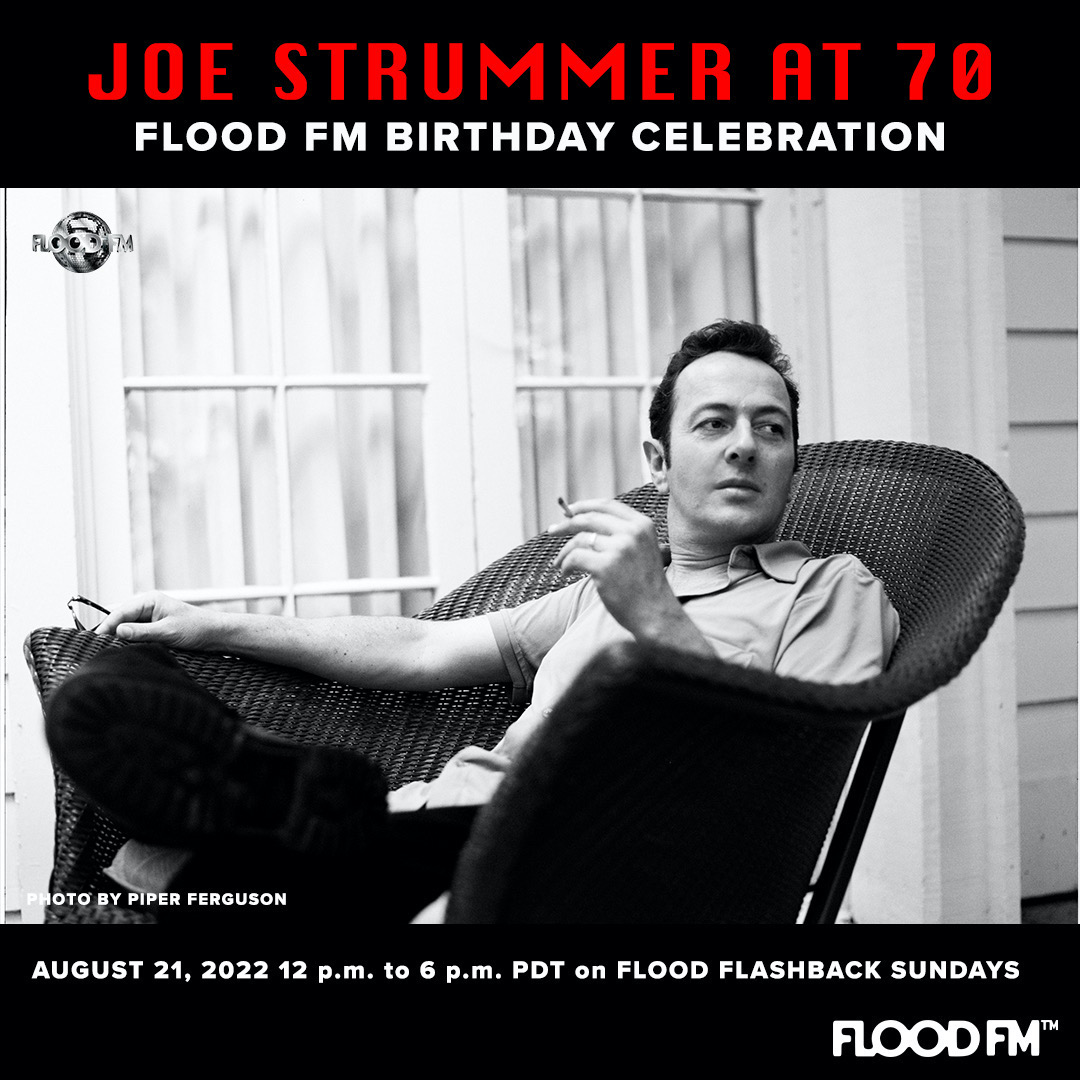 Dark Horse Records is also commemorating the occasion with the unveiling of "Fantastic," a previously unreleased track from Strummer's final studio sessions, recorded shortly after after his post-Clash band The Mescaleros played their last-ever live show at Liverpool University on November 22, 2002. The track will be featured on the upcoming Joe Strummer 002: The Mescaleros Years, a comprehensive collection of Strummer's work with The Mescaleros, including all three of their studio albums, 15 rare and previously unreleased tracks, and extensive liner notes with lyrics, drawings, and photos. The box set will be released on September 16.
"There's so much great music that Joe left us in his archive," says Tait, who served as Executive Producer on the project. "He was so excited to work with The Mescaleros and the reception he got from the press and fans was incredible. It gave him a whirlwind of energy and confidence and he was creatively fulfilled and happy. His words are so beautiful and honest—and together with The Mescaleros, some fantastic tunes were created."
Along with a brand new cover of The Mescaleros' "Long Shadow" by Eddie Vedder, check out the full list of Strummer's favorite songs below, and make sure to tune in to FLOOD FM on Sunday for this special 70th birthday celebration.
1. A Tribe Called Quest - "The Pressure"
2. Ajejo Duran - "Alto Del Rosario"
3. Alabama 3 - "Ain't Goin' to Goa"
4. Alfred Brown - "One Scotch, One Bourbon, One Beer"
5. Andres Landero - "Cumbia en la India"
6. Augustus Pablo - "Chain Gang"
7. Austin Pitre - "Two Step de Bayou Teche"
8. Ben E. King - "Spanish Harlem"
9. Billie Holiday - "Strange Fruit"
10. Billy Stewart - "Summertime"
11. Black Grape - "In the Name of the Father"
12. Bo Diddley - "Nursery Rhyme"
13. Bob Dylan - "Dignity"
14. Bryan Ferry - "Carrickfergus"
15. Captain Beefheart and his Magic Band - "The Dust Blows Forward 'n' the Dust Blows Back"
16. Chet Baker - "Almost Blue"
17. Chuck Berry - "Promised Land"
18. Cornershop - "Good to Be on the Road Back Home Again"
19. Creedence Clearwater - "Bad Moon Rising"
20. Dandy Livingstone - "Suzanne Beware of the Devil"
21. David Bowie - "Suffragette City"
22. Dean Martin - "Little Old Wine Drinker, Me"
23. Dobie Gray - "The 'In' Crowd"
24. Elvis Presley - "Crawfish"
25. Errol Dunkley - "The Scorcher"
26. Etta James – "Something's Got A Hold On Me"
27. Horace Andy - "Living in the Flood"
28. Ian Dury - "Sweet Gene Vincent"
29. James Waynes - "Junco Partner"
30. Jimi Hendrix - "Castles Made of Sand"
31. Jimmy Reed - "Baby What You Want To Do"
32. John Holt - "Stick By Me"
33. Johnny Cash -  "Folsom Prison Blues"
34. Junior Murvin - "Police and Thieves"
35. Ken Boothe - "Freedom Street"
36. Kitty Wells – "It Wasn't God Who Made Hony Tonk Angels"
37. Leadbelly – "Goodnight, Irene"
38. Lee Perry - "Roast Fish & Cornbread"
39. Leftfield - "Open Up (feat. John Lydon)"
40. Lefty Frizzell - "If You've Got the Money I've Got the Time"
41. MC5 - "Kick Out The Jams"
42. Monkey Mafia - "As Long As I Can See The Light"
43. Nina Simone - "Don't Let Me Be Misunderstood"
44. Perez Prado - "Mambo no 5"
45. Primal Scream - "Loaded"
46. Prince Buster - "Don't Throw Tones"
47. Pulp - "Sorted out for E's and Whizz"
48. R. Dean Taylor - "Gotta See Jane"
49. Ramones - "Blitzkrieg Bop"
50. Ritchie Valens - "La Bamba"
51. Sonny Terry and Brownie McGhee - "Stranger Blues"
52. Tenor Saw - "Ring the Alarm"
53. The Beach Boys – "Good Vibrations"
54. The Beatles – "Here Comes The Sun"
55. The Chemical Brothers – "Leave Home"
56. The Drifters - "Save the Last Dance For Me"
57. The Heptones - "Book of Rules"
58. The Monkeys - "A little Bit Me, a Little Bit You"
59. The Pioneers - "Long Shot Kick De Bucket"
60. The Pogues - "A Pair of Brown Eyes"
61. The Rolling Stones - "Not Fade Away"
62. The Who – "My Generation"
63. Them – "Gloria"
64. Tony Joe White – "Polk Salad Annie"
65. Toots & The Maytals – "Pressure Drop"
66. U-Roy - "Control Tower"
67. Underworld - "Rez"
68. Van Morrison - "Madame George"
69. Woody Guthrie - "This Land Is Your Land"
70. Wu Tang Clan - "Gravel Pit"