I was talking to a friend recently, bragging about the access I'd received to the new documentary, The Elephant 6 Recording Co. (yes, I am aware of how lame a brag this is, especially because the film is publicly available to stream now). We then proceeded to name some of the most notable bands of the titular collective: The Apple in Stereo, The Olivia Tremor Control, Elf Power, Neutral Milk Hotel. "Wait" said a third friend listening nearby. "What the hell are you guys talking about?" 
Elephant 6, a collective of musicians and artists who came to prominence in the early 1990s, can be like this sometimes—a kind of secret language, important to those who know and care while at the same time absurd and ridiculous to those who don't. At its best, The Elephant 6 Recording Co. provides viewers with the feeling I had when I first came upon Neutral Milk Hotel and eventually the rest of the sprawling collective, one of mystery, amazement, and genuine excitement at an artistic world that seemed at odds with nearly every other part of the '90s independent music scene. 
But before we get into what works and what doesn't about this film, I must make a disclosure in the name of full transparency: I am the owner of an In the Aeroplane Over the Sea tattoo, inked prominently on my inner arm. And I refuse, even for a minute, to cringe in the way the internet may want me to, even after the film itself features a montage of exactly the same tattoo inked on dozens of other arms. I earnestly love Neutral Milk Hotel and will to the day I die, no matter how uncool that might become. This documentary is, if I am being honest, mostly for people exactly like me.
Elephant 6 Recording Co. does not shy away from the kind of mythologizing and self-aggrandizing that might turn off casual fans, and even I must admit some of it came across as a little heavy-handed. You can't avoid nostalgia in these types of endeavors, but to act like everything this wild, unwieldy collective created was groundbreaking and breathlessly imaginative is to shade things in a golden-hour hue. I'm sure much of the experimental performance art happening every night in Athens, Georgia during this time was revelatory and rewarding, but I'm pretty certain some of it was overly indulgent (one silly bit of the film tries to make a woman banging on home appliances seem particularly important).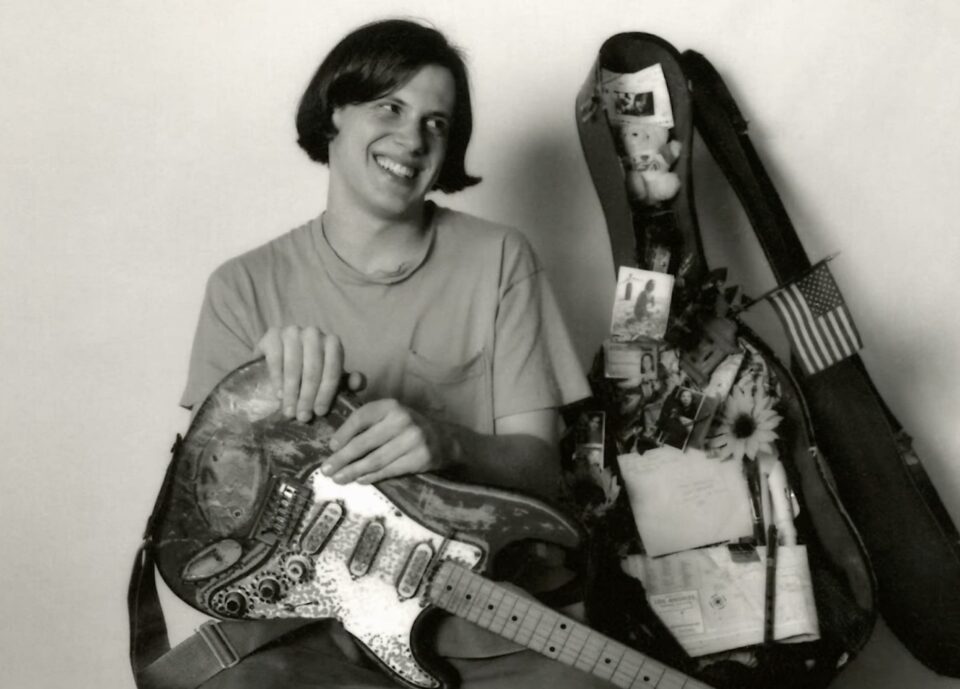 To the doc's credit, it does manage to identify the pieces of the collective that were most essential, namely its three most influential bands: The Apple in Stereo, The Olivia Tremor Control, and, of course Neutral Milk Hotel. You could argue the film's director CB Stockfleth actually puts more focus on the first two bands in that list, but much of that might be to do with Jeff Mangum's notable absence from the movie's talking-head interviews. 
Regardless, I found the sections elucidating the convoluted histories of The Olivia Tremor Control and The Apple in Stereos most effective. Perhaps no two characters better represent Elephant 6 than tape wizard, pop-music savant, recent PhD graduate, and Apples frontman Robert Schneider and OTC's Will Cullen Hart, perhaps the most creative and animated of the collective's sonic scientists. The film seems to recognize this as well, letting their bursting creativity lead us down many a twisted rabbit hole. Mangum, on the other hand, represents the more enigmatic side of Elephant 6, shrouding everything in a bit of mystical secrecy which, of course, makes you want to know even more about its inner workings. 
Ultimately, The Elephant 6 Recording Co. is probably a better historical document than documentary. There's some fantastic live footage here, and getting this varied cast of characters to sit down for some talking-head interviews is a feat in itself. But there's little in the way of point of view in the film, with little to say about this essential moment in independent music other than it did, indeed, happen. That's mostly OK, though, because the heads—those of us with permanent marks of fandom forever inked on their bodies—will find lots to enjoy here. FL