Over the past decade, numerous supergroups have risen to the forefront of contemporary music: Run the Jewels, The Smile, Kids See Ghosts, boygenius. They're all beloved heatseekers with unfathomable chemistry, however, the one supergroup I think about most often is The Arcs. Started by Dan Auerbach, Leon Michels, Nick Movshon, Homer Steinweiss, and Richard Swift in the early 2010s, the band quickly embodied a perfect mixture of neo-psychedelia and soul. They weren't out to capitalize on popularity with sold-out shows in big venues. They played lowkey gigs in landmark clubs across America, like The Orange Peel in Asheville and the Civic Theatre in Auerbach's hometown of Akron.
The way The Arcs came to be is not your quintessential "let's start a band" fairytale between five of the most talented musicians in the country. Around 2012, Auerbach wanted to make a follow-up to his debut solo record Keep It Hid. He'd just put out the Black Keys records Brothers and El Camino back-to-back, and both Michels and Movshon had joined him and Pat Carney on tour in 2010. Whatever Auerbach's second personal project would become, he was going to surround himself with musicians he trusted. "As soon as it was me, Dan, Nick, and Homer, we did a lot of recording sessions together, just for the hell of it, and there wasn't anything attached to it," Michels recalls. "Then, when Swift got involved, that's when it really felt like, 'OK, this is a band.' It became clear very quickly that it was its own thing." 
Auerbach's second solo record wouldn't come until 2017, and Waiting on a Song was lightyears away from what he had made with The Arcs: songs torn from the cuffs of Captain Beefheart's Safe as Milk and the hip-hop that inspired The Black Keys' 2009 rap project BlakRoc. The Arcs were making music that became unique in how so many familiar parts stacked on top of each other to make a singular sound, which came from the guys spending countless days together just laying down whatever sounds came out of their instruments. 
The first Arcs record, 2015's Yours, Dreamily, was especially built out of intense session work. The band would spend two to three weeks together every month, writing and recording nonstop. When the quintet got inspired by the Floyd Mayweather Jr. vs. Manny Pacquiao fight, they composed what would become their first single, "Stay in My Corner," which was coupled with the B-side "Tomato Can." Suddenly, there was momentum transcending the confines of their private jamming. For The Arcs, it was about throwing a bunch of different techniques at the wall and harnessing whatever textures oozed from that. 
"We always listened to a bunch of records, usually soul records, sometimes hip-hop, got inspired, and then went into the studio to jam for a while until something cool happened."
Yours, Dreamily was an amalgamation of the band's immediate interests, drifting across different genres with sublime finesse. Michels made music with Wu-Tang Clan and was also accompanied by Movshon on Sharon Jones & the Dap Kings and Charles Bradley records; Steinweiss' soul revival roots put him in the studio with Amy Winehouse, whose album Back to Black features him on drums. And of course, Auerbach's history with blues cannot be overlooked, but it's his technical prowess on guitar that helps Yours, Dreamily transcend. "We always listened to a bunch of records, usually soul records, sometimes hip-hop, got inspired, and then [went] into the studio to jam for a while until something cool happened," Michels adds.
The Arcs are special because every member of the group is a producer—or, as Michels affectionately calls everyone, "studio rats"—which has only widened their musical capabilities in the studio. Songs on their debut like "Outta My Mind," "Velvet Ditch," and "Pistol Made of Bones" may have fragments that fit on a Black Keys project like El Camino or Turn Blue, but it's clear that The Arcs' songs were gleaned by each member equally. Their second album, Electrophonic Chronic, is just as psychedelic as Yours, Dreamily was, except it's much more harmonious and electronic.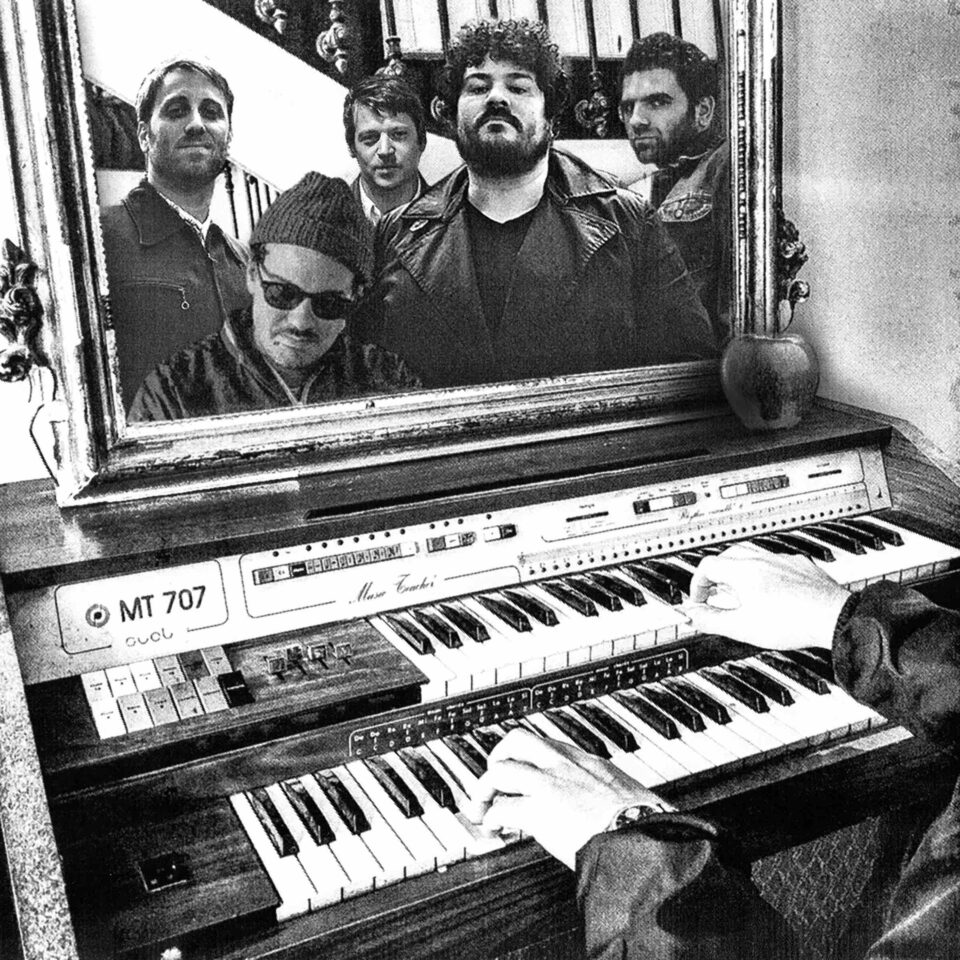 How Electrophonic Chronic came to be so different from its predecessor is simple: "The first record was studio stuff. Then we started touring and we got to learn how each other plays live," Michels says. The first song on the new album, "Keep on Dreamin'," is almost as old as The Arcs' existence. When they debuted the track, it was unrecorded, but it was clear that it was the blueprint for the direction the band would take next. "We opened up with that song every single time we played until our last show," Michels adds. "And that song used to be seven minutes long. It would go into all of these crazy fucking solos and shit. I think the psychedelia [of Electrophonic Chronic] was a product of us trying to capture the live aspect." 
The Arcs have always had ridiculous chemistry, but it's on the songs that make up Electrophonic Chronic where they ascend to an apex. Many of the compositions reach toward different ideas: "Eyez" is a pop cut influenced by Swift's obvious mastery of the American Songbook; the power ballad "Love Doesn't Live Here Anymore" is guided by Michels' glowing organ and Auerbach's soulful vocals, while "Behind the Eyes" finds him conjuring a lower octave before hitting a face-melting blues guitar solo; "Sunshine" is a sun-soaked breeze catalyzed by the rhythmic duet of Movshon's bass and Steinweiss' drums.
"Dan started sending me Dropbox links of old songs that we had and it felt so good. Then we made a decision like, 'Fuck it, let's just finish this record.'"
At first glance, it might have seemed like The Arcs' announcement of Electrophonic Chronic meant that Auerbach, Michels, Movshon, and Steinweiss returned to the studio to make a new record after the death of Swift on July 3, 2018. But that's not the case. All of the tracks on the new record were made in the time between when The Arcs began touring for Yours, Dreamily and 2017. "We just continued recording," Michels says. "While we were touring, in-between touring, we would get together, whether it was in Nashville, New York, Oregon, LA, and we'd just keep making music." Michels has gone on record in the past saying that The Arcs laid down almost 100 songs together. Many of those tracks are still tucked away somewhere.
There had been rumblings of a second Arcs album as far back as the band's first tour together. After playing over 60 shows from August 2015 to September 2016 and recording regularly afterward, the band took a break with the intention to resume playing together again in the near future. "It was a little bit of a burnout," Michels says. "It was an eight-month period where we weren't really doing anything. We always had that music and the idea was, 'We're gonna come back to it.' We recorded that music for the purpose of putting out a record. It wasn't all fun and games."
In that time, Auerbach was expanding operations at his Easy Eye Studios, producing and playing on records by A$AP Rocky, Cage the Elephant, and The Pretenders; Swift began making his last record, The Hex, in addition to hitting the studio with artists including The Shins, Foxygen, David Bazan, and Sharon Van Etten; and Michels worked on projects from The Olympians, Lady Wray, and Chicano Batman. 
Before The Arcs could get back and master their second LP, Swift passed away after having complications from hepatitis. His death left a gaping hole in the hearts of his bandmates—any plans for a second Arcs record were shelved immediately as a way for them to process and recover from the grief of losing him. After three years, Auerbach and Michels decided that the time to return to the work was nigh. "In 2021, Dan started sending me Dropbox links of old songs that we had and it felt so good. Then we made a decision like, 'Fuck it, let's just finish this record.' It was a natural process of both of us being ready to revisit The Arcs."
As reflected in the way his passing deeply affected the contemporary rock landscape, Swift's presence lingered everywhere when he was alive. "The thing about making music with Swift was you fucking fed off of his energy," Michels adds. "It was to the point where if he left the room, the energy left the room." In turn, Electrophonic Chronic is a bittersweet record. On songs like "Heaven Is a Place" and "Sunshine," you can hear Swift's harmonies clearly behind Auerbach's. He counts the band in on "River," and his versatile instrumentalism can be felt from "Keep on Dreamin'" all the way to "Only One for Me."
"The thing about making music with Swift was you fucking fed off of his energy. It was to the point where if he left the room, the energy left the room."
Michels first met Swift when the two musicians were hired by Auerbach to play on Ray LaMontagne's 2014 LP Supernova. Swift played drums, while Michels played keyboards, along with six musicians neither of them had met before. "Everybody worked up the song," he says, "and, when it was time to record it, the way [Swift] counted off the song, he, in this room full of strangers, went 'A-one, a-two, a-I-love-mu-sic,' and we all started playing. When I think back on it, it was the perfect example of how Swift was in the studio. It was so joyful and it was obviously his favorite place to be in the entire world."
When Electrophonic Chronic was announced, Auerbach called it a goodbye to Swift. Though most of the songs on the LP are about yearning, love, truth-seeking, and sacrifice, there's an immense melancholy lingering in the background. It's a bittersweet project, as fans of the band get one last moment with Swift, and his impressions on Electrophonic Chronic are so gravitational.
Where The Arcs go next is most likely nowhere. The band didn't have to record anything new for the album, and Michels had always been determined to get the music in front of everyone. He and Auerbach just waited for the right time, when their grief from Swift's passing pushed them to get that last record they made together out into the world. "I always knew [Electrophonic Chronic] was great, at least to my ears," Michels says. "I was going to make sure this music came out, because I always liked it. And I hate when you have music that just sits around and no one gets to hear it." 
Michels is hesitant to say Electrophonic Chronic is the last Arcs record, but it's hard to see a future where The Arcs exist without Swift involved. There are no plans to tour these songs, though Michels and Auerbach will be DJing a release party for it. "If we were to play live, it just wouldn't be as good as it was," Michels says. "I'd rather remember The Arcs at its glory than without one of the key players." Michels doesn't deny that he won't make music with Auerbach, Movshon, and Steinweiss again. In fact, he sounds rather hopeful about it. "If I was going to make music with Dan, Nick, and Homer, we'll just fucking call it some other name," he adds, chuckling. "The listeners can figure out what's different. Led Zeppelin can do it with John Bonham because big bands like that, they're this huge business. For us, it's not like that. It's more personal." FL