Between the recent release of the documentary adaptation of Lizzy Goodman's oral history of New York City's early-'00s garage-rock revival scene Meet Me in the Bathroom, the current release of the band's The Singles - Volume 01 box set, and the impending 20-year anniversary of their sophomore record Room on Fire this October, The Strokes are going through quite the career retrospective.
While Sony Music's new collection of singles and B-sides from the era spanning 2001's Is This It to 2006's First Impressions of Earth take us back to the sounds of the band's earliest chapter, we asked our friend Piper Ferguson, who was on the ground for the band's rise to prominence, to share some of her photos and memories from that era. Browse what she was able to dig up below.
THE STROKES @ THE TROUBADOUR (2001)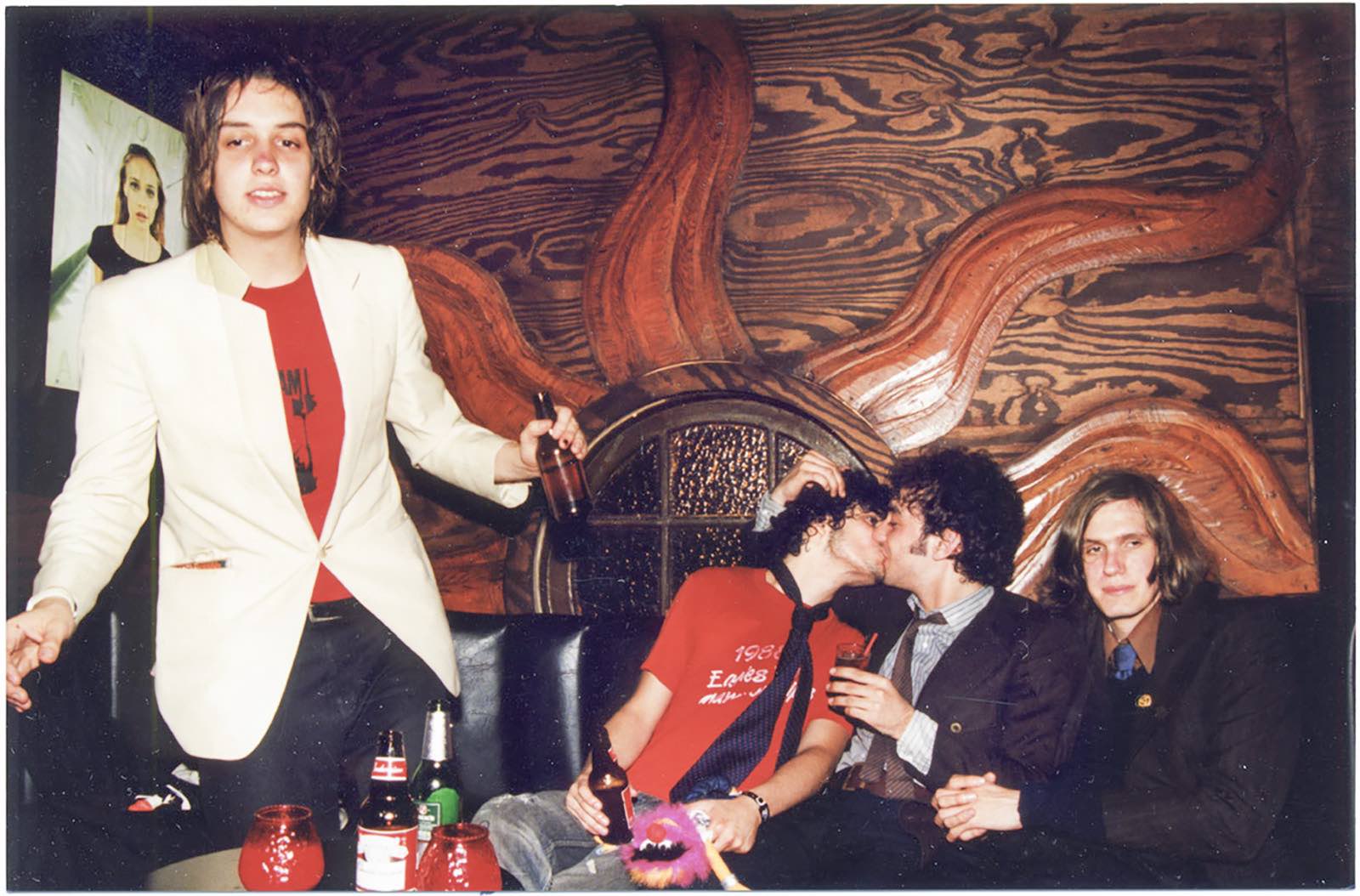 Was this it? It certainly felt that way. The Strokes were such a hot buzz at the exact moment I did this shoot. It was an amazing time for them and everyone who was in the mix around them. The excitement about the music was impossible to ignore. Suddenly there was something new, a massive moment and a huge change. This may sound like a bold statement, but it's true, and it was it. Yes, there had been those moments before, when a band emanates a sound for the people that have unknowingly—or knowingly—come to save rock 'n' roll from the plastic pop explosion dominating the airwaves. The band that did it before them was Nirvana. But this was the time for The Strokes.
I was beyond excited to get the call to go photograph them for Rolling Stone. I honestly hadn't even been shooting photos that long, so I was pretty green at these sorts of assignments.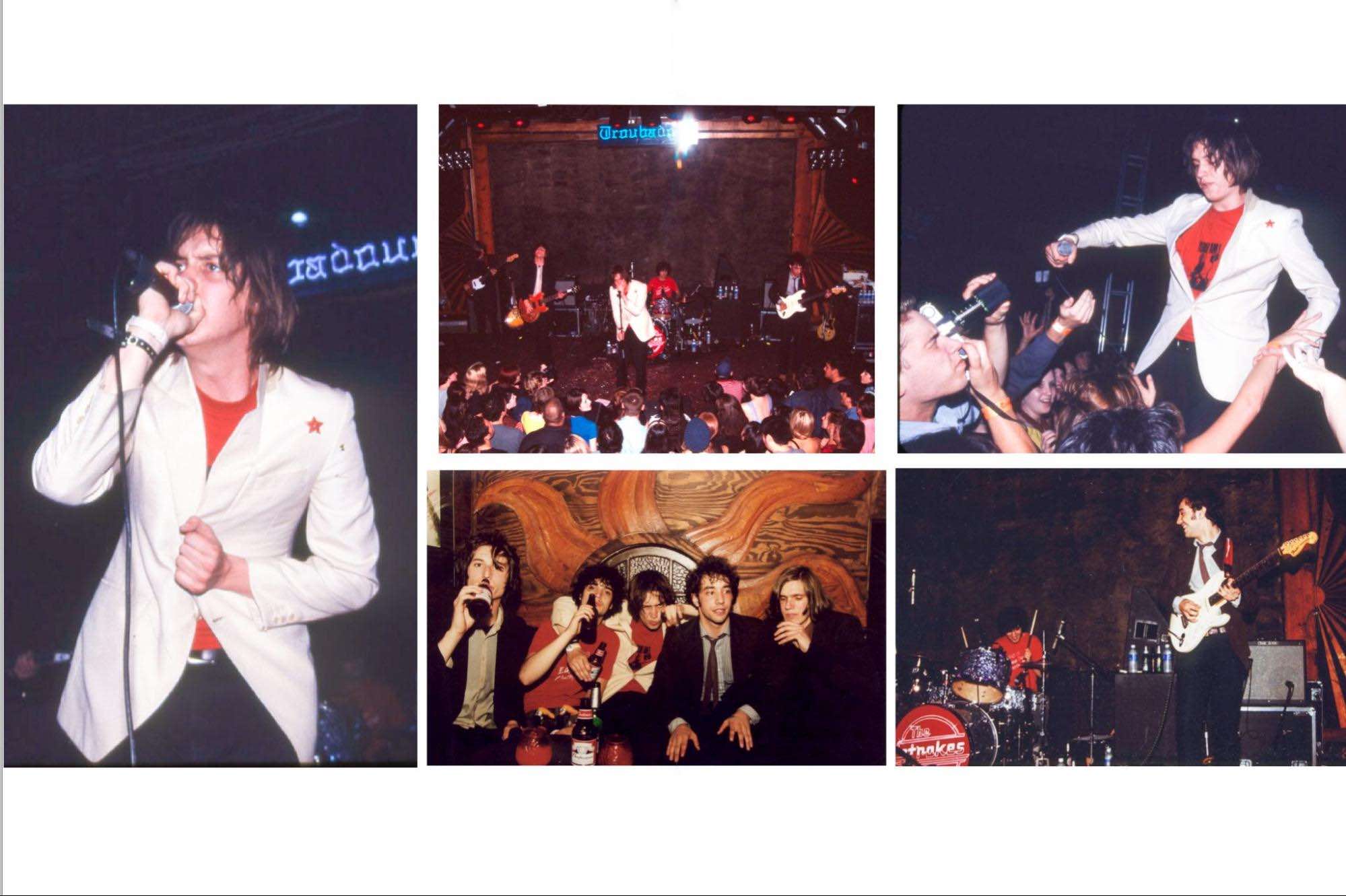 The show was definitely a scene, a who's-who of hip Hollywood. I remember seeing Spike Jonze and Sofia Coppola. Joe Strummer, who I had also recently photographed, asked me to introduce him to Julian. I ran over to Julian and said, "Joe Strummer wants to meet you!" It felt so much like passing the torch, even though he flipped me off when I took the photo. Joe and Julian really do share the indie fuck-you spirit. And no one can deny that—it's a kind of knowing, of power. Of art! "You can't rush art, baby!" From Joe's mouth to mine.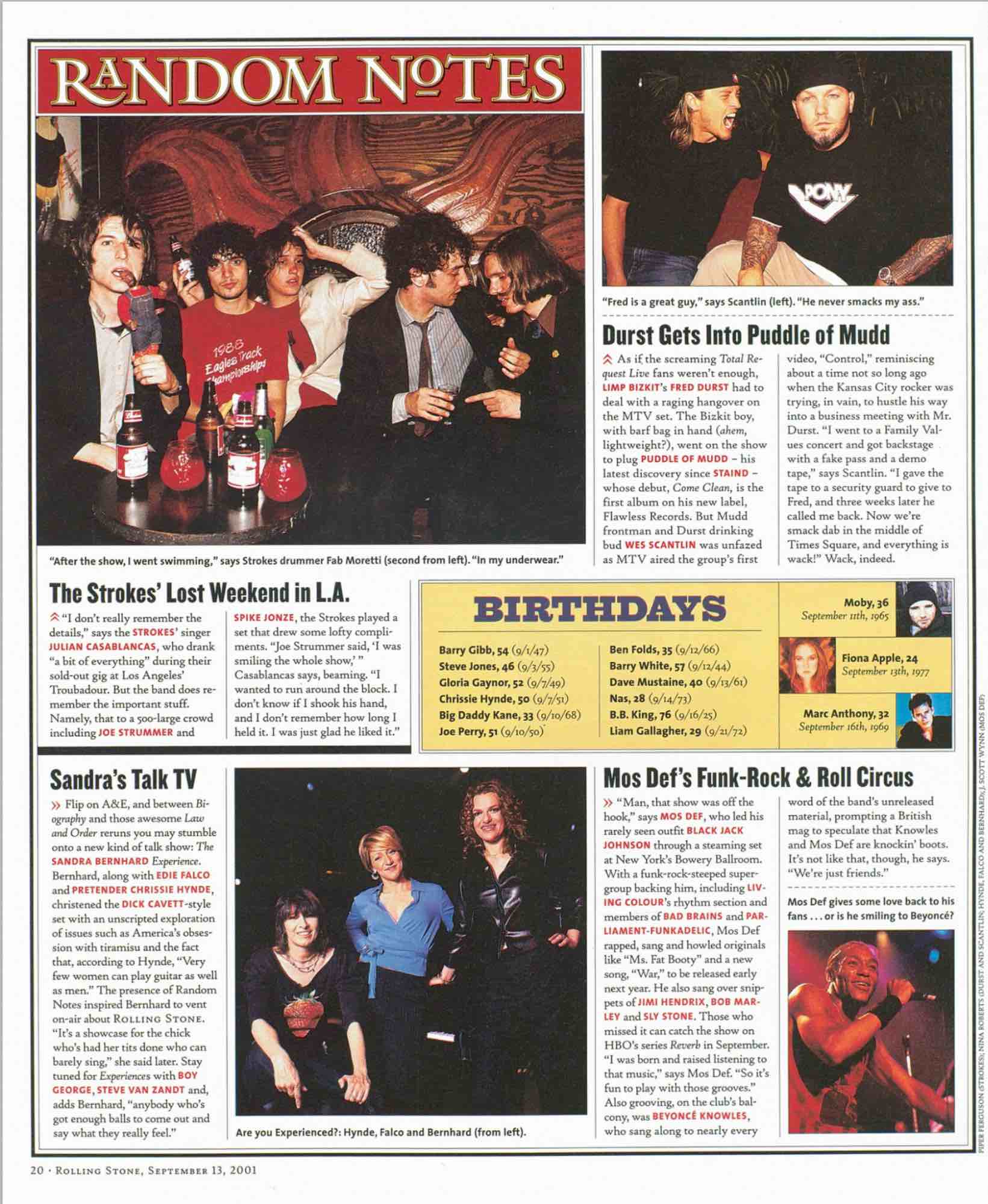 I needed to get a great portrait of the band for the magazine, and I admit I was so nervous. After the gig upstairs at the Troubadour was a raging afterparty. The band had all become pretty inebriated and I couldn't corral them into doing the photo. They were enjoying the excitement of their initial rise to stardom, to Hollywood—East Coast taking over the West. Thankfully my ex-boyfriend Ric Moon was there. He approached one of the guys and said, "C'mon man, you're not going to do a shot for Rolling Stone? My band would die to get that chance. Just let her get the picture." I wasn't there for this but apparently said band member was like, "Yeah, alright then, sure," and gathered up the guys and I tossed them into that booth and shot off so many fun moments with just a bunch of young boys who were great friends and, along with my good friend producer Gordon Raphael, made amazing records together.
THE STROKES @ LEVI'S ANTI VMA PARTY NYC (AUGUST 30, 2002)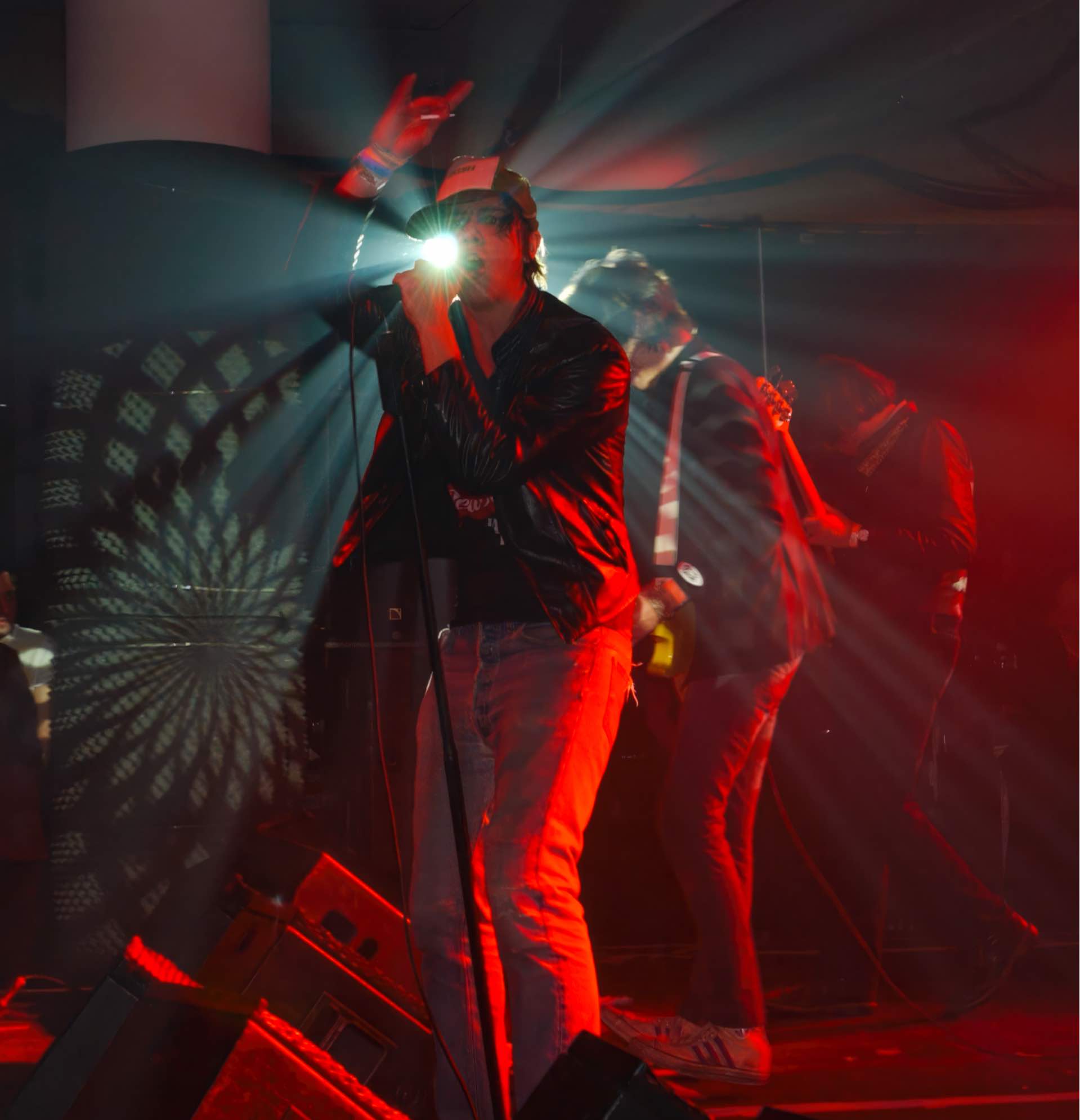 This was a legendary party! Everyone who was anyone was there. Levi's threw the party during MTV's VMA Awards event and called it "The Anti VMA Party." What had been building on TRL and MTV at the time, the station was riddled with artists like NSYNC, Britney, Christina, etc. Don't get me wrong, I will dance to that overproduced music any time, not a hater. But this party was the dark, dirty, underbelly of rock 'n' rollers celebrating what was the start of something  cool, new, indie, and so much fun.
NIKOLAI FRAITURE, ALBERT HAMMOND JR., AND RYAN GENTLES @ SXSW (2002)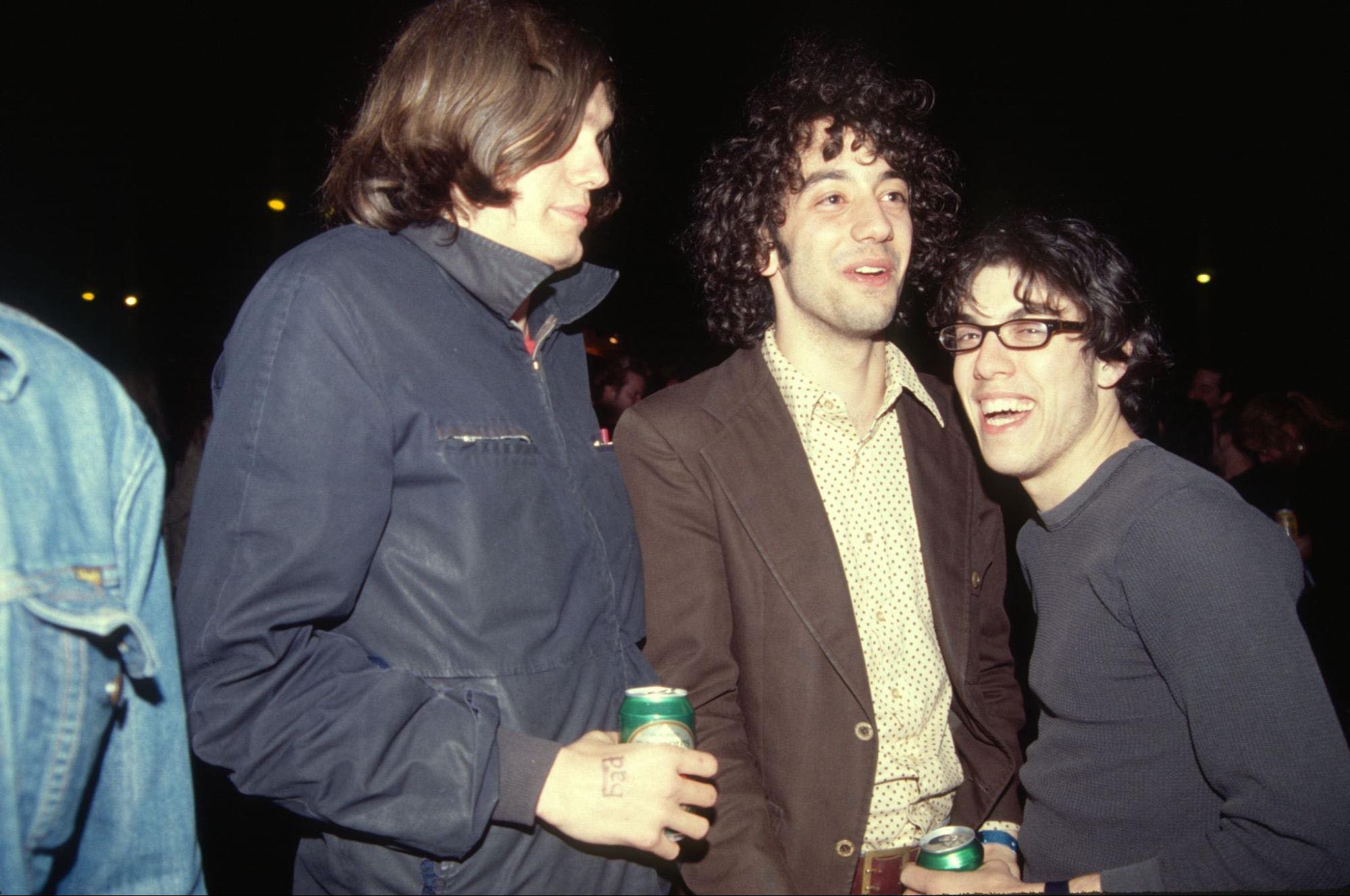 I found this random slide recently looking through my files for something else. I must have been walking around the streets of Austin that night and saw this lot hanging out somewhere. I'd shot them before, so I of course knew who they were, but I also kind of didn't yet. Or maybe I yelled, "Strokes"! I can't remember too well—those were pretty blurry times. The best of the blurry times.
THE STROKES AT COACHELLA (2002)
The Strokes set at Coachella was, as the kids say now, fire. They brought Lower East Side Manhattan to the desert and had the crowd going off for an early afternoon set. I really wish I could relive this moment because now, 20 years later, I realize I was in such a special, coveted place which I am grateful for.
I remember seeing The Strokes hanging out talking to Beck backstage, and since I was not a paparazzi I was unaware I could take a photo of something like this. I clocked the casual moment and took a snap. It made me happy to see these boys who make so many people happy so relaxed and have some camaraderie around their music, lives. I dunno what they were talking about, but I wanted to be there too. FL