If you've been following the Showtime vs. David Lynch debacle, you're probably aware that for the most part, it's actually been David Lynch vs. David Lynch, with Showtime simply standing outside of the ring shrugging, ever-insistent that they just want to make the show, and have no idea what the crazy Mulholland Drive director is talking about.
And just as it was about to look like the too-good-to-be-true Twin Peaks reboot was just that (with hoards of the original cast stepping in to plead for Lynch's involvement), it appears that the presumably money-based issue has been resolved, and Lynch is back on board. (You know, just like he said he was last October.)
Dear Twitter Friends, the rumors are not what they seem ….. It is !!! Happening again. #TwinPeaks returns on @SHO_Network

— David Lynch (@DAVID_LYNCH) May 16, 2015
Lynch himself tipped off fans to the news on Twitter, and Showtime president David Nevins confirmed it with the additional information that the production will now be longer than the initially-planned nine episodes.
So, basically: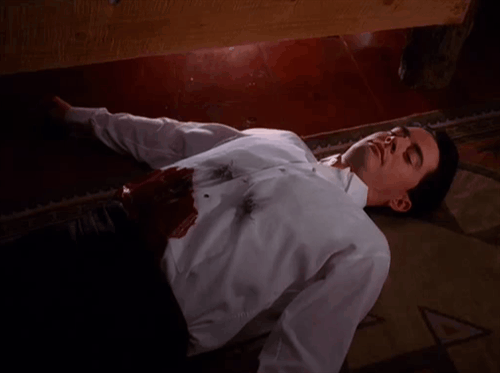 Nothing else has really been divulged, but it would seem that previous cast confirmations still stand, and that despite the delay, a 2016 release date will likely be met—though at this point you'd be wise not to hold your breath.
(via The Los Angeles Times)
Originally published May 18, 11:37 a.m.
---
Updated: July 8, 11:00 a.m.: Hope you took our advice not to hold your breath…
Speaking at the National Baseball Hall of Fame and Museum (¯\_(ツ)_/¯), Twin Peaks co-creator Mark Frost may have inadvertently revealed some very disappointing news, saying that, despite production being scheduled to start in September, the show will not air until 2017.
Frost did mention the new year somewhat offhand, and so far he's the only person to have announced the delay, so it's likely that he simply misspoke. If so, it's just a matter of time before Showtime steps in with their very, very tired PR team to explain that no TV show in the history of mankind has taken a year and a half to go from production to air.
More updates to come, owls are not what they seem, yada, yada.
(via FACT)