The first song Lou Barlow ever wrote was called "Lou's Anxiety Song." He didn't name it that himself—the singer of his first band, Deep Wound, screamed the phrase as the band was recording the track, and the name stuck. This is the way Barlow's official bio for Brace the Wave, begins, and it's perhaps a too-tidy summary of the singer's public persona, a nod to the idea that J. Mascis' overbearing personality caused Barlow to initially leave Dinosaur Jr to pursue solo work in the first place. The group reunited, of course, and has been on a run ever since.
Not that any of this is what you'll get from the trailer for Brace the Wave, Barlow's first solo LP in six years. The short video finds Barlow and producer Justin Pizzoferrato, who produced Dinosaur Jr's three most-recent albums, tooling around Sonelab Studios in Easthampton, Massachusetts. "Outmoded Melody Review says, 'Brace the Wave is a triumph of physical coordination. It would be hard to imagine something somewhere quite this as this,'" Barlow says in a dry voice. The music that plays below the monologue, however, seems to be serious and revealing, introspective but open. You can hear for yourself in the album's trailer below.
Barlow will also be embarking on a solo tour following the completion of Dinosaur Jr's current stateside trek. See those dates below Brace the Wave's track list.
Brace the Wave track list
"Redeemed"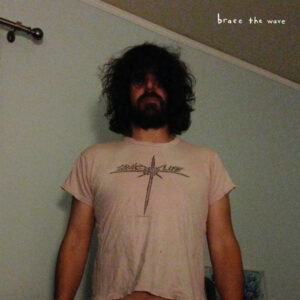 "Nerve"
"Moving"
"Pulse"
"Wave"
"Lazy"
"Boundaries"
"C & E"
"Repeat"
Lou Barlow tour dates
September
8 – Boston, MA @ Great Scott
9 – Brooklyn, NY @ Rough Trade
10 – Philadelphia, PA @ Johnny Brenda's
11 – Washington, DC @ DC9
22 – San Francisco, CA @ Bottom of the Hill
23 – San Luis Obispo, CA @ SLO Brewing Co.
24 – San Diego, CA @ Casbah
25 – Pioneertown, CA @ Desert Stars
26 – Costa Mesa, CA @ Wayfarer (early show)
Brace the Wave is out September 4 on Joyful Noise