On a sweltering evening last month, Parquet Courts singer and guitarist Andrew Savage held his first solo art exhibit, Color Studies, at The Shop on Howard Avenue in Brooklyn. Tucked away on a largely residential street deep in the borough, The Shop operates part-time as a gallery for up-and-coming artists and full-time as Drive By Printing, a print shop with its own traveling press. The gathering in the little space had the feel of a house party, with beers on ice and sweat on brows. Neighbors popped in to check out Savage's sometimes-unsettling work that's inspired by punk flyers and the likes of Raymond Pettibon and John Wesley. It's a completely unpretentious scene that celebrates the DIY aesthetic.
"We plotted a midsummer show, and gradually it evolved into me publishing all of his most recent illustration/drawing work as multicolor translucent silkscreens," said The Shop's Kevin Reed, an old friend of Savage's. "It really felt like such a benevolently symbiotic relationship, with him providing such rich images and trusting me to articulate them into full scale prints."
FLOOD caught up with Savage between Parquet Courts gigs to talk about a few of his—and our—favorite pieces.
---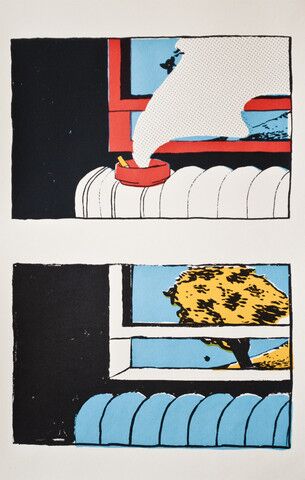 Before/After
I do a lot of pictures of windows. Windows are a cool symbol—they represent a portal, a passage of time. They're a threshold between two places, and everyone has had a threshold between themselves and something else at some point. I imagined someone walking around a room smoking, leaving their cigarette on the radiator.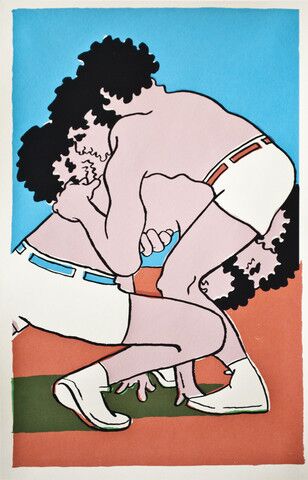 Two Men In Love
This is one of two in a series (the other being Men Dancing (No Heads)) I did on men's wrestling. I kind of like the erotic undertones of two men wrestling, and both the literal and non-literal representation of struggle. The wavy lines represent movement; the multiple heads are moving. This is one of the first images I did with wavy lines.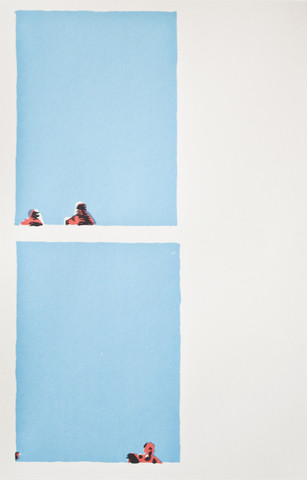 Stonehenge
This is actually a drawing of a picture I took of Stonehenge, of two tourists from a distance. I had a crazy-long zoom lens. We were on tour and driving by. Negative space is important—the star of this image is the blue space.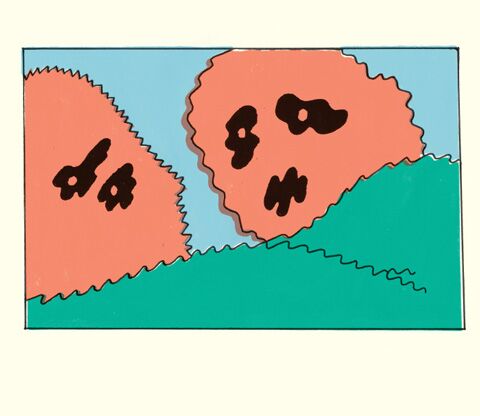 Confession
This is the most emotional. It's supposed to represent a confession; it looks like two lovers in bed, but it's open to interpretation. I like making facial expressions out of simple shapes. The confessor is on the right, and you can kind of see his body, and the confessee on the left represents the tension in the situation. I like the way the blue background takes on an hourglass shape. The negative space is as important as the image.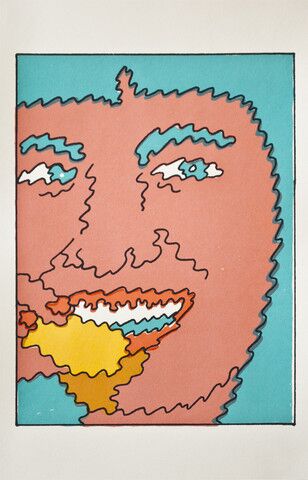 Heather Consuming Chicken
This is another one that's really special to me, another early one from around the time of Two Men In Love. I felt like I was off in a good direction, and noticed a good change in my hand. It was different from something like Pitcher [one of his earlier works] with its arabesque, round lines. It was a freeze frame of a moment—I see [my pictures] as a moment in time, so they're always changing and always open to interpretation, which is very important to me. FL
---
Color Studies runs through September 1 at The Shop, 181 Howard Avenue, Brooklyn, NY. Signed and numbered prints are available for purchase at The Shop by Drive By Press.
Or, if you happen to be in the Cologne, Germany, area on September 24, stop by GOLD + BETON to check out Color Studies. Renamed Farbstudien, it will feature the same works plus some never-before-seen ink drawings.
Parquet Courts' EP Monastic Living (Rough Trade) is out November 13. And duh, Savage did the artwork for that, as well.