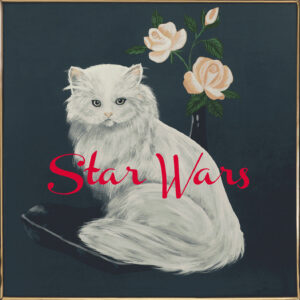 Wilco
Star Wars
DBPM
8/10
After Uncle Tupelo broke up in 1994, Jeff Tweedy took the first opportunity available to publicly lament—on A.M., Wilco's debut—about how much he hated being relegated to the passenger side. He belonged in the driver's seat, as we all found out, but with the lineup changes heading into 2007's Sky Blue Sky (most prominently the addition of Nels Cline on guitar), the second decade of Wilco found Tweedy stepping back a degree, and subsequently cramming his talented band into the front seat with him.
On Star Wars, the band's eleventh LP, Tweedy has pushed forward as the definitive, driving force of Wilco again—and by no coincidence, it's his best set of music since the 2004 classic A Ghost Is Born. Each song contributes (yes, even the instrumental freak-out opener "EKG") to the portrait of a painfully professional songwriter, and each arrangement seems to emanate from a place of relaxed focus on behalf of the rest of the sextet. Nothing feels forced, and that's likely because there was little to prove on this—a surprise, free album.
"If I had known / I would have never believed," sings Tweedy on "The Joke Explained." Same here.