Timmy Vulgar is a longtime Detroit scene legend, having played with Epileptix and Clone Defects in the late '90s. He's played with a bunch of other bands you haven't heard of unless you, too, have been a fixture in the Motor City's underground since Jack White was upholstering furniture, but if you've been subject to Tyvek's relentless pound, or The White Stripes at their most primal, then you know something of the sound that birthed Vulgar's latest project, Timmy's Organism.
"Weather Woman," which we're excited to be premiering today, is taken from Heartless Heathen, which is being put out by White's Third Man Records. That he'd find a lot to like here isn't at all surprising. The Detroit factory stamp is definitely visible—the guitar sounds are so thick you feel like you could hold on to one like a tube—and the clap-along rhythm of the verse and the fling of piano that sprints across the chorus almost come across like garage parody. But then there's Vulgar's voice, drawn with a slight tremble from the same depths that brought you Sabbath-era Ozzy Osbourne. The whole thing teeters on the edge of false spooky, but like The Cramps before them, Timmy's Organism know how to play this game.
You can check out "Weather Woman" below, along with Heartless Heathen's artwork and track list. Vulgar will also be taking his band on a cross-country trek beginning next week; those dates are below, too.
Heartless Heathen track list
1. Get Up Get Out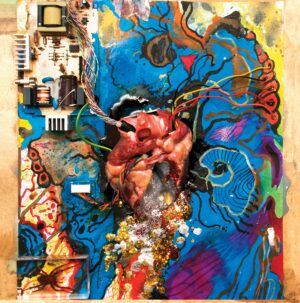 2. Heartless Heathen
3. Please Don't Be Going
4. Mental Boy
5. Wicked Man
6. Back in the Dungeon
7. Weather Woman
8. My Angel Above
9. Hey Eddie
10. Wounded White Dove

Timmy's Organism tour dates
October
21 – Detroit, MI – Pitchfork Radio (3–4 p.m. EST)
29 – Louisville, KY – Nachbar
30 – Nashville, TN – Devil's Night
31 – Atlanta, GA – The EARL
November
1 – New Orleans, LA – Port (w/ Weather Warlock)
2 – Austin, TX – Hotel Vegas
3 – El Paso, TX – Monarch
4 – Tempe, AZ – Yucca Tap Room
5 – San Diego, CA – Tower Bar
6 – Los Angeles, CA – The Satellite
7 – San Francisco, CA – Record In Store
8 – San Francisco, CA – Hemlock Tavern
10 – Portland, OR – Star Bar
11 – Vancouver, BC – Fox Cabaret
12 – Seattle, WA – Chop Suey
14 – Reno, NV – Holland Project
15 – Las Vegas, NV – Dive Bar
16 – Tucson, AZ – Flycatcher
18 – Dallas, TX – Crown and Harp
19 – Memphis, TN – The Buccaneer 
20 – Indianapolis, IN – State Street Pub
21 – Bloomington, IN – 21ST Block House
22 – Lafayette, IN – The Spot
23 – Chicago, IL – Reckless Records
25 – Detroit, MI – UFO Factory
Heartless Heathen is out 10/30 on Third Man.