With the recent release of Sam Smith's snooze of a Bond theme, the Internet has been wistfully thinking back to 2012—when Adele's powerful "Skyfall" ruled the airwaves. Until this morning, it had been three long years since we've heard any new music from the British songstress (and four since 21), but now she's back with a new album due out in less than a month. Kleenex executives rejoice!
Skipping ahead straight to the music video phase of the rollout plan of her upcoming third LP—the appropriately named 25—today, Adele dropped a sepia-toned clip for lead single "Hello." Themes of broken hearts and promises, failed reconciliations, and open emotional wounds swirl around the five-minute track, which features Adele's inimitable pipes and a whole lot of grand orchestration. The accompanying video (directed by Xavier Dolan) visually tells the story of a crumbling relationship…and a fictional Adele who still uses a flip phone.
Prepare yourself for the emotional video and make sure to check out the album art and track listing for 25 below.
25 track list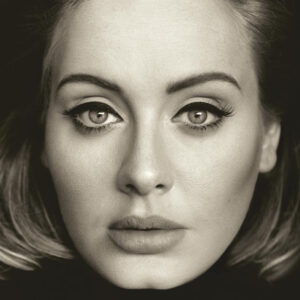 1. Hello
2. Send My Love (To Your New Lover)
3. I Miss You
4. When We Were Young
5. Remedy
6. Water Under The Bridge
7. River Lea
8. Love In The Dark
9. Million Years Ago
10. All I Ask
11. Sweetest Devotion
25 is due out on November 20 via XL/Columbia.