Not exactly makers of the ghoulish, midnight-black music that you might expect from a band with their name, The Casket Girls are actually a colorful indie-pop outfit originating from Savannah, Georgia. Working with Black Moth Super Rainbow member Ryan Graveface, the sisters Elsa and Phaedra Greene have released two LPs in the last few years, as well as a recent digital-only minimalist release known as The Piano Album ("Consider it LP 2.5," the band wrote via Facebook).
With a third proper album due sometime in 2016, the group is staying busy with non full-length releases, and has an upcoming split EP with Stardeath and White Dwarfs to be released on Record Store Day (a.k.a. November 27, Black Friday). Entitled What Keeps You Up At Night, the release features a pair of tracks from each band. We're excited to premiere "Western World," one of Casket Girls' contributions, this morning. It's a fast-moving, dirty piece of Broadcast-inspired psychedelia, driven by a fax-machine blip-track and a devil-may-care attitude regarding mankind's future (or lack thereof).
Speaking of the meaning of the song, Phaedra explains the band's mindset as such:
"Western World" is an anthem for the end times. Are we already in them? Would we even know if we were? As we medicate and plug in, the old ways change to new ways, and we are watching history unfold as if we are merely spectators. But if you take off the rose-colored glasses, you might find you need a new prescription.
What Keeps You Up At Night track list
1. Casket Girls, "Western World"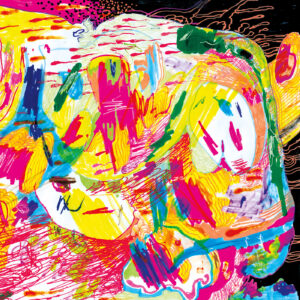 2. Stardeath and White Dwarfs, "Egostatic"
3. Casket Girls, "Deep Time"
4. Stardeath and White Dwarfs, "What Keeps You Up At Night"


What Keeps You Up At Night is out November 27 via Graveface Records.