It's a classic story: an internationally known tattoo artist and a karaoke-night host named TV gang up with a hard-chugging bassist and a drummer who has a history of taking off his shirt. Alas, you can only live the story that you're given, and kudos to Seattle's Gazebos for being willing to do just that. The quartet of scene lifers are releasing their debut album Die Alone next month on the esteemed Sub Pop offshoot Hardly Art, and we're pleased to be premiering "Just Get High," the album's opening track, this morning.
It's a fitting opening gambit for the self-described "whoa-pop" group. Singer Shannon Perry loosely warps her voice around the edges of a finkish groove in a Kate Pierson–like taunt one minute, then tosses off a handful of bomp-bomp-bomps alongside guitarist TV Coahran in the next. It's not hard to imagine these guys sharing a sock-hop stage with labelmates Shannon and the Clams, and as with that group, there's more going on here than the doo-wop snarl that sits front and center might scare you into believing. Dig how Coahran hammers his guitar into tin in the verses, all those monotonously timed upstrokes mimicking the boredom in Perry's voice as she offers up getting stoned as the least awful idea she can muster, and the way all the sound behind her seems to suck backwards in response.
Die Alone was recorded to eight-track tape in Coahran's basement, and the uncomfortable hermeticism of that space disturbs—though, importantly, doesn't interrupt—the swinging party it contains. While you polish your dancing shoes, check out the album's artwork and track list below.
Die Alone track list
"Just Get High"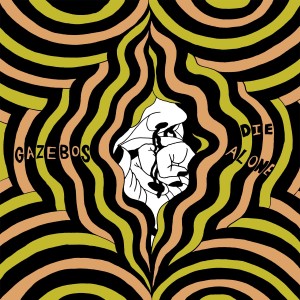 "Maintenance"
"I Don't Wanna Be Here"
"Blend"
"Ere Specka"
"Sauna"
"There Are Worse Things I Could Do"
"Not Allowed"
"Boys I Like"
Die Alone is out February 19 on Hardly Art.