Last night, Dirty Projector's Amber Coffman opened up old wounds and accused major music publicist Heathcliff Berru—the founder of Life or Death PR & Management—of sexually assaulting her at some point in the past. Coffman's bravery in sharing her story along with actually naming Berru outright has motivated several other women within the music industry to speak up about the abuse they have encountered and experienced at his hand. Now, Berru has stepped down from his position as CEO of Life or Death without making a personal comment about the alleged misconduct. [Update: Read his personal statement below.]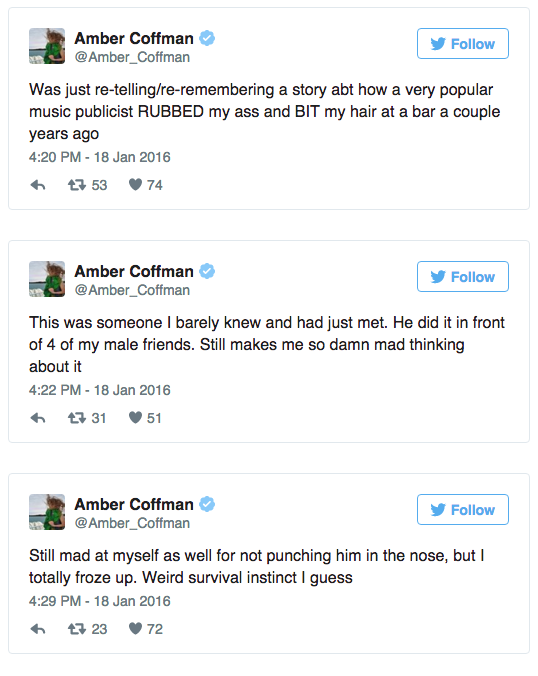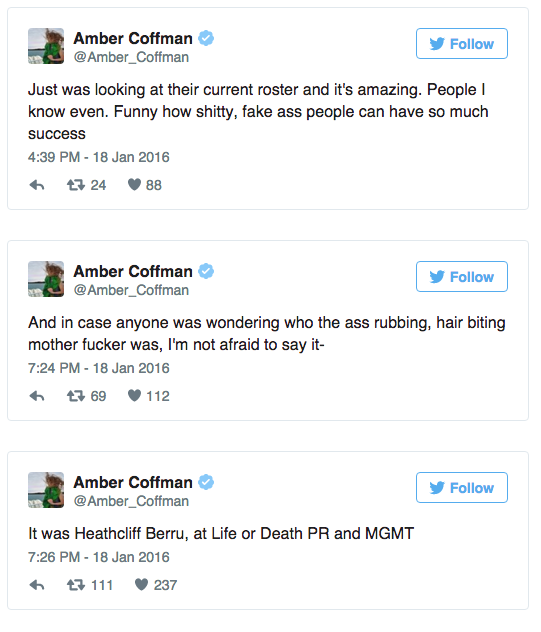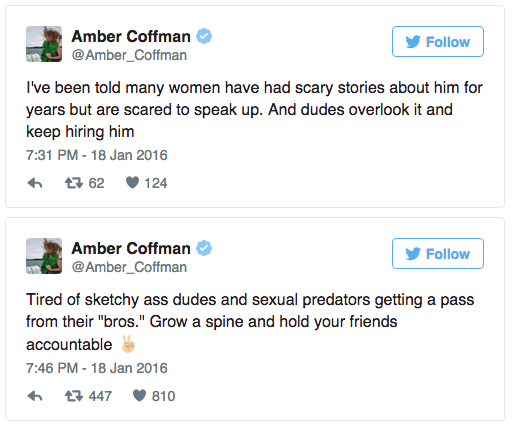 The outpouring of support for Coffman and her strength came from all across the industry, including from fellow artists like Bethany Cosentino of Best Coast, Deradoorian, and Tearist, as well as from multiple publicists, event coordinators, and more. This morning, Coffman expressed the upstanding support she received from her label, Domino, once she made her claims known to them years ago. Once the news broke, several of Life or Death's clients severed ties with the company including Wavves, DIIV, and Speedy Ortiz. At time of publication, the PR company still reps D'Angelo, Odd Future, King Krule, and more.
After Wavves announced their separation from the company, Life or Death announced that Berru would step down from his position:
Life or Death has a zero tolerance policy for the type of conduct alleged in today's on-line postings. We take these allegations very seriously.
The men and women who make up this company do not, and will not, condone or tolerate any conduct described in the on-line postings. Life Or Death is 3 men and 3 women who are committed to promoting art and serving the clients that we're so privileged to represent. We are taking measures to ensure that the alleged behavior did not, and will not, make its way into company operations or impact our commitment to promoting art and assisting our clients.
We are grateful to Heathcliff Berru for all the work he's done to date and his creative vision at the company. We appreciate and support his decision to step down as CEO of Life Or Death.
While Berru's resignation is the most immediate form of action that has been taken from this morning's movement, Danger Village's Beth Martinez spoke to the future of keeping people in the music industry accountable in her follow-up statement to Fader:
None of this was meant to bring Cliff Berru down. I replied to Amber's tweet because I had had a similar experience and I wanted to share my story. I think it's very important for young women in the music industry—and all industries—to know that unwanted sexual attention is not their fault and not appropriate. You do not have to give in to anything you don't want to do in fear of not moving higher on the ladder. This is not just the work of one sexual predator—this is the culture in our society of how women are treated that needs to change. I'm glad this story is getting out in the open now, because women have been silent for years about the harassment we face on a daily basis. Every woman I know has multiple stories of harassment and/or sexual assault. The stories you are hearing about Cliff today are not the exception. This is what we deal with as women every day when we leave our houses. What's unusual here, maybe, is that so many people have faced harassment at the hands of one man. But we'll start hearing more stories soon from women who face these same situations all the time. And I know that people are listening now, finally. I've been dealing with these issues with myself and my friends since I started college in 2000. This is not new. What is new is that we are finally being heard.
I tried to tell my story about getting roofied on Twitter in 2012, and I lost hundreds of followers. I was not heard then, so I wrote a book about it in order to have a way to share my experiences with other women. I never spoke publicly about it again until now, and finally things are changing. People are listening. This is good.
Hopefully this safe and welcoming climate will continue not only in the next few days, but into the foreseeable future, in order to create real change. We should all be working together to keep the talented and dedicated women that we work with and love safe within this industry.
Full disclosure: FLOOD works with Life or Death PR & Management regularly on editorial coverage with artists that they represent.
Originally published January 19, 5:12 p.m.
---
Updated: January 20, 10:06 a.m.: Over the course of the evening, more individuals and groups—including artists Beach Fossils and Kelela along with Mixpak record label—have announced that they have dropped Life or Death PR via Twitter. Sky Ferriera, a former LoD client, also stood in solidarity with the alleged victims' accounts. Fader has also reported that a representative for D'Angelo told them via email that "Life or Death does not represent D'Angelo at this time."
Killer Mike, on the other hand, tweeted his support of the agency while condemning the acts of his friend, Berru: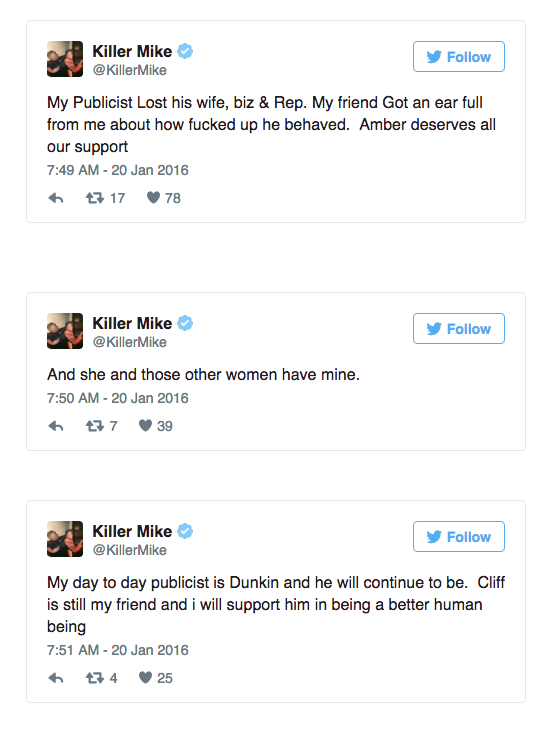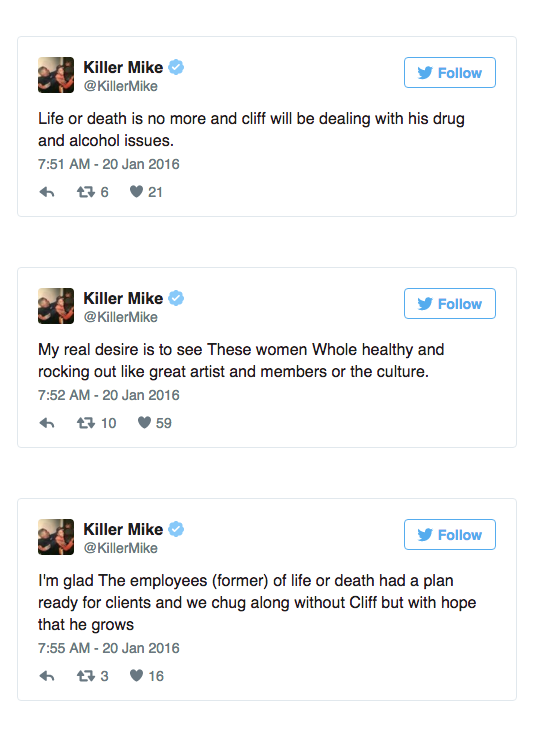 Life or Death PR & Management's website is currently "under maintenance," but the plan that Killer Mike mentions in his series of tweets is roughly outlined in Berru's official personal statement, which was given to Billboard late last night:
There have been several reports about my alleged inappropriate behavior which deserve a response. I am deeply sorry for those who I have offended by my actions and how I have made certain women feel. If I crossed the line of decency or respectfulness in situations when I was drunk and under the influence, there is no excuse of course. To be clear, while my conduct may have been inappropriate, I have never drugged anyone or engaged in that type of behavior. Nevertheless, I do not want to be the type of person who would let drugs or alcohol take command of his life and compromise how he treats people. Yet I have been this person and it's time to put a stop to all of this. Create a world with one less inappropriate man.
I have been fighting a losing battle against drugs and alcohol for many years and will be checking into a rehabilitation facility in the hope that I can improve my chances of winning that fight. A year ago, I was confronted by a peer and began to try to clean up and make things right with therapy and with an eye towards quitting the addiction. The shame and sadness feels as strong now as it did then and I am making an immediate change.
In no way do these allegations reflect on Life or Death PR, its staff, or anyone associated with the company. These are my issues, not theirs. I could not be more proud of the company and what it stands for. That being said I have stepped down as the CEO and relinquishing all responsibility to the current president, Nick Dierl. The company shouldn't have to deal with this distraction and I want Nick and the rest of the team to continue to do their good work while I take care of myself.
We will continue to update this post with any relevant news.
Originally published January 20, 10:06 a.m.

---
Updated: January 21, 10:36 a.m.: This morning, the full staff of Life or Death PR & Management have collectively resigned from the company. They have released this statement about the end of the firm:
In light of recent events, the remainder of the Life or Death staff is leaving the company today. We are saddened by the circumstances under which we are departing but are grateful for the opportunity we had together. There will be a new venture imminently that bears no ties to Heathcliff Berru or the Life or Death name.
More soon from Bradley, Linda, Duncan, Emily and Nick.
(via Paper)
Originally published January 21, 10:36 a.m.
---
Updated: January 27, 10:46 a.m.: Less than a week after the abrupt ending of Life or Death PR & Management, Nick Dierl and fellow former LoD employees have announced the start of their brand new company Liberal Arts. In an interview with Billboard, Dierl and publicist Duncan Will spoke about their new venture (Killer Mike and Wet are both onboard), what they knew about Berru's past addictions and behavior, and how the events of January 19 shook down for all who worked at LoD.
When asked if he had ever seen Berru's inappropriate behavior, Dierl stated that he knew about the former CEO's extramarital affairs, but believed that they were consensual:
I never witnessed any nonconsensual behavior. I don't really think it's my place to say, but I also think it's important to say, that there was an awareness of him engaging in consensual sexual activity outside of his committed relationship with his wife. I knew some time after I started working for him. I think from the outside there is a perception that because there was an awareness of that, we would have known about any nonconsensual engagement. I don't want us to seem like we didn't have any awareness of anything he did, because that's not the case. But there is a huge delineation between what someone is doing in their personal life consensually versus what's nonconsensual.
Liberal Arts will be run by Dierl along with Will, Bradley Bledsoe, Emily Mullen, and Linda Valenziano. It is currently being financially supported by Knitting Factory Entertainment, which used to have an investor profit share in Life or Death PR.