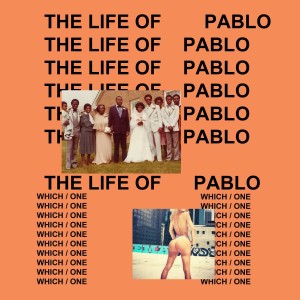 Kanye West
The Life of Pablo
G.O.O.D. MUSIC/DEF JAM
8/10
Kanye West's God Complex is finally complete. If My Beautiful Dark Twisted Fantasy represented his Holy Spirit—swollen with life and resurrection, celebrating transcendent populism—and Yeezus his Son (all broken and lousy with solipsism), then The Life of Pablo is his Father: a mighty weird "gospel album" wallowing in contradiction, a collection of music that acts as if music itself couldn't have possibly existed before it.
Look to its opening track: Kanye is barely on "Ultralight Beam," but the weight of his presence is felt everywhere, the track carefully navigating around his massive ego through several guest appearances, the blasphemy reeking like a pall permeating everything. Chance the Rapper even pays his benefactor tribute by name, as if he's not right there in the room—"I met Kanye West, I'm never going to fail"—and spits one of the best verses of his career. So it goes for the rest of T.L.O.P., as feature-heavy as most of Kanye's albums; prominent guests like Kendrick Lamar, Rihanna, Frank Ocean, and experimental vocalist Caroline Shaw extol the virtues of Kanye's creation by sharing in the ebullience he's engendered, turning out sound too indelible to ignore.
Though ignoring Kanye is what he deserves. An obnoxious album roll-out followed by worrying public displays of mental instability have plagued what would otherwise be a complex LP more than able to speak for itself. But Kanye can't leave well enough alone, which is why he undercuts brilliant production with idiotic lyricism ("Father Stretch My Hands Pt. 1") or an aching admission of serious chemical dependency ("FML") with allowing The Weeknd, whose career is unapologetically bent on excess, to sing the flawless hook. Then there's "Real Friends," there's "Wolves," there's André 3000 only singing the title of "30 Hours"—there is evidence that Kanye can make music as life-affirming as he thinks it is. It's just a shame that life is Kanye's and no one else's.