Andy Shauf's 2015 LP was recorded in his basement in the town of Regina, which at roughly 200,000 citizens is what passes for a large city in the inarguably large Canadian province of Saskatchewan. Which is to say that The Bearer of Bad News was birthed in utterly obscure circumstances. But Shauf's uncanny ability to craft delicately arranged and artfully presented pop songs elevated him out of the prairies and into the spotlight, where he was discovered and signed by Anti- Records.
Now, he's preparing to release his third album, The Party, on May 20, and he's given us a glimpse in the form of lead single "The Magician." While Shauf's trademarks are still present—peep the clarinet that pops up halfway through—it's clear that having a budget and access are exactly what this guy needed. Though it goes down easily, "The Magician" is a sophisticated piece of high-class pop reminiscent of Lee Hazelwood and Harry Nilsson.
You can give "The Magician" a listen below and see The Party's track list and artwork. You can also see the dates for Shauf's upcoming jaunt opening for the recently announced case/lang/veirs supergroup.
The Party track list
"The Magician"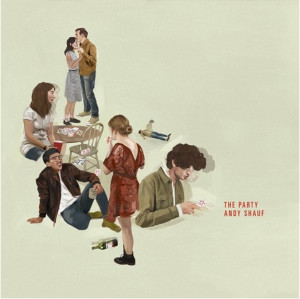 "Early to the Party"
"Twist Your Ankle"
"Quite Like You"
"Begin Again"
"The Worst in You"
"To You"
"Eyes of Them All"
"Alexander All Alone"
"Martha Sways"
Andy Shauf tour dates
June
22 – San Diego, CA @ Humphrey's
23 – Los Angeles, CA @ Greek Theatre
25 – Saratoga, CA @ The Mountain Winery…
30 – Seattle, WA @ Woodland Park Amphitheatre
July
02 – Portland, OR @ Oregon Zoo Amphitheatre
05 – Bend, OR @ Athletic Club of Bend
26 – Brooklyn, NY @ BRIC Celebrate Brooklyn!
27 – Washington, DC @ Lincoln Theatre
29 – Atlanta, GA @ Atlanta Botanical Garden
August
02 – San Antonio, TX @ Tobin Center for the Performing Arts
03 – Austin, TX @ Long Center for the Performing Arts
09 – Bayfield, WI @ Big Top Chautauqua
The Party is out May 20 on Anti-.