Kumail Nanjiani's one-man show Unpronounceable ended prematurely after he received death threats from religious extremists. A not insignificant number of gamers think Nanjiani is a "fucking idiot" for the opinions he's expressed on his video game podcast The Indoor Kids. Donald Trump is winning primaries, and not in a fun way. And despite the fact that it is not Nanjiani's birthday, he keeps getting congratulated. Shit is, as he says, "complicated."
Nanjiani has no answers for the rise of Donald Trump ("he's made it OK for people to say bigoted things in public forums without feeling shame…and that's really frightening") and no immediate plans to resurrect his video game podcast ("but I hope it does come back"), but he does have an explanation for why it is that on February 21 of every year, Twitter rises as one to congratulate him on another year of life—despite the fact that his real birthday is on [REDACTED].
Say again, it is on [REDACTED], and it is very definitely not on February 21.
This is not a joke.
Or if it was (it wasn't), no one laughed. Three years ago, after spending time in Iowa (the state), Chicago (the city), and New York (the longstanding heir apparent to Old York), Nanjiani was working the What's Up, Tiger Lily? comedy show in LA, and on a random night in February he walked into the venue and found himself surrounded by birthday decorations and tons of pictures of…himself. Put there, he guesses, by hosts Jon Dore and Rory Scovel.
He told them it wasn't his birthday. They did not respond. He told the other ten comedians in attendance that night. They did not care. He then went on stage and attempted to take control of the situation. "Guys, really, it's not my birthday." Audience: "[Silence.]"
"People did not think it was funny. They thought I was being bitter and ungrateful."
Today, on the third anniversary of that unhallowed day, Nanjiani awoke to birthday greetings from @UPROXX, @HBO_UK, and many more, to which he responded as he had before:
FYI it is NOT my birthday. I don't say this every day. I say it on February 21st every year. I don't know why this happens. NOT my birthday.

— Kumail Nanjiani (@kumailn) February 21, 2016
It is not his birthday. It is not a joke. But it is information that is on the Internet, and that's the end of that. February 21 is Kumail Nanjiani's Groundhog Day.
As a former philosophy major myself—and knowing that Nanjiani studied philosophy at Grinnell College—I was hoping that an observation like that might open things up to a discussion of Nietzsche's idea of eternal recurrence or, at the very least, a discussion of BIG IDEAS. But although Nanjiani did reveal that his Silicon Valley costar T. J. Miller is an unrepentant Nietzsche fan who references the German intellectual on stage and IRL, he himself is no such sucker, would not admit to reading philosophy, and likely does not engage in philosophical studies on the sly, considering that even video games are beginning to overburden his calendar at the moment.
That last part may sound a bit precious, but when play is work and work is play—when your X-Files podcast can lead to an X-Files acting gig (as it recently did for him) and your one-man show can lead to real-life threats—it's easy to see how a life of leisure can also seem like a life without a break.
Movies used to provide that break. But then the dozens of viewings of Groundhog Day, Four Weddings and a Funeral, Shaun of the Dead, and Guillermo del Toro's The Devil's Backbone eventually became a kind of filmic education. Then video games were the break, until those games gave rise to a podcast that gave rise to a few takes a few degrees too hot (or too contrary to public opinion), which gave rise to a lot of "fuck"s and a nearly equal number of "you"s. And now there is the one-hour commute to the Silicon Valley shoot and the one-hour commute back, and podcasts to fill the time.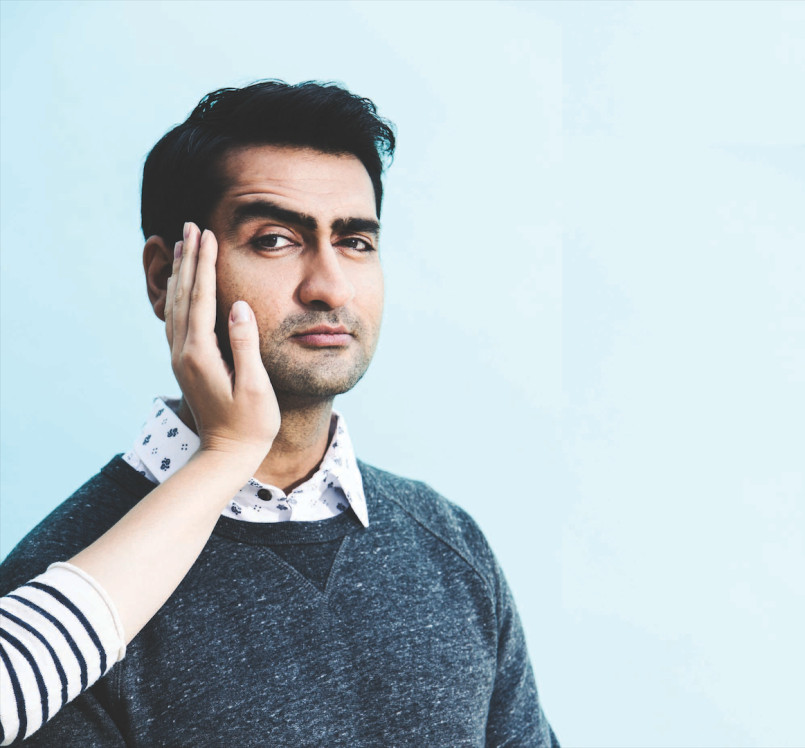 Nanjiani's current favorite for that hour-long reverie is NPR's Pop Culture Happy Hour (PCHH). "I like it because they're very passionate, very intelligent people. They've made me reconsider a lot of things, and [host Linda Holmes] has shown me that sometimes it's OK to not really have a take on something," he says. This seems especially important to Nanjiani after his experience with Unpronounceable, which included reflections on both pornography and his native Pakistan (among many other things), and ended when he felt like there could be repercussions for family members still in Pakistan. "I don't think anyone would watch that show and be upset by it," he says. "People are offended by the simplification that occurs via the game of telephone that we all play. Morally, I felt like I was right and in a perfect world I would have kept doing the show, but there were real consequences and I decided it wasn't worth it."
Nanjiani lived in Pakistan until he was eighteen, and the disjuncture between his youth and his adult life in America now fuels a lot of his comedy, but it's also hard not to see analogues between his past comments on that one-man show and his current comments regarding social media, where, as he puts it, "there's no nuance…people are either the best person in the world or the worst person; there is no in-between."
Nanjiani is a lively and engaged presence on Twitter (he has recently tweeted at Donald Trump, lauded Hitler's spelling abilities, and engaged in a dialogue with Linda Holmes about the moral weight of The Hateful Eight), but he doesn't see that world as distinct from our lived lives. In his view, "No one has changed their mind about something since, like, the mid-'90s."
"No one has changed their mind about something since, like, the mid-'90s."
But this is still a guy who wants to make his nut, entertainment-wise. No matter what the medium, he has his recent favorites. Book-wise, he's loved Paula Hawkins's The Girl on the Train and PCHH regular Glen Weldon's forthcoming "definitive history of Batman;" video game–wise, he's into Rise of the Tomb Raider, NBA 2K16, and SOMA; and movie-wise, he's all about Broadcast News (which fans of Silicon Valley might also very much appreciate) and Dog Day Afternoon. If he were to begin a new podcast project, it would be a series about the classic films that he has not yet seen (beginning, tragically, with The Deer Hunter).
This irrepressible passion for all things is, luckily, not immaterial to his work as an actor/podcaster/tweeter/comedian/activist/writer. He's about to start shooting his first major film project, The Big Sick, which is to be directed by Michael Showalter and produced by Judd Apatow, and was written by Nanjiani and Emily V. Gordon (his wife, copodcaster, and frequent collaborator). The film is based upon he and Gordon's lived experiences—and to hear him tell it, there were very few points at which the screenwriters did not have their favorite movies at the front of their minds. "Look at the great movies. Take Four Weddings. Every single character—and there's a lot of characters in that movie—every character finds love. Every single character has their own storyline. Every single character has agency. We also wanted to make sure that everybody's story [in The Big Sick] was interesting."
Nanjiani clearly wants to make a film in which there are no stereotypes (or at least fewer), in which all characters are actual participants, all worthy of their own films. This is more than just noble; it also sounds just about right. It sounds more entertaining, first of all, than the superhero blockbusters that Nanjiani clearly loves but in part still resents, in which so many characters are simply fulcrums, tools, and objects. But before it all sounds too noble and brave, he also has a ketchup metaphor at the ready:
[The Big Sick] is like a bottle of ketchup. There's, like, film on it and you've got to slam on it to get the coagulate out of the bottle before any other ketchup can come out.
Or, in non-tomato-based terms: there's no way out but through. This story—of his wife's very serious illness and its impact on their early relationship—is the story that they both have to tell. And although the subject matter may be messy, things could be worse when your mess is being produced by Judd Apatow.
As the ketchup metaphor suggests, the increasing wattage of his life isn't changing his approach. There's more ketchup in that bottle, and Nanjiani's gonna keep slamming. FL
This article appears in FLOOD 3. You can purchase the magazine here.