Omni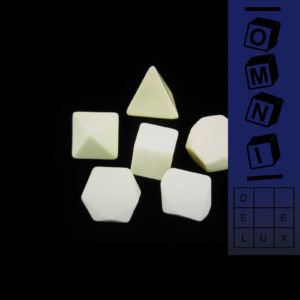 Deluxe
TROUBLE IN MIND
8/10
Naming your band "Omni" in 2016 is a bit like naming your computer company "Compu-Global-Hyper-Mega-Net" in 1998—it's actually so hilariously generic that you can't even knock it. As a word, "omni" seems to exist devoid of any real meaning (despite its obvious seventh grade biology definition), and everyone from hotel chains to science fiction magazines have used it for their own purposes, probably mostly because it sounds completely unoffensive. But if there's one primary "omni" that warrants being brought up specifically in reference to the stellar new Atlanta band that bears the same name, it's the Omni Coliseum, originally located in—wouldn't you know it—Atlanta, Georgia.
Once the home of the Hawks (before its demolition in 1997), the structure was a ridiculous stark-black futurist compound that, despite the structural flaws that led to its demise, was actually pretty dope (from an outside perspective, at least). No stadium would ever be built to look anything like it now, and partially because of that, appreciating the arena is much easier in hindsight. The band Omni, built for musical substance more so than industry functionality, will likely benefit from a similar reaccreditation at some point in the distant future (should they not find themselves selling out arenas of their own anytime soon, as they would deserve to be doing in some alternate universe).
Composed of guitarist/drummer Frankie Broyles (formerly of Deerhunter) and singer/bassist Philip Frobos (formerly of Carnivores), the duo makes use of the various parts of their previous acts—omnivores, get it?—by piecing together a new kind of post-punk jangle rock. And though Omni's diet is slightly less raw than its members' previous groups, the music is surprisingly ferocious when it needs to be (see: "Plane" and "Jungle Jenny").
The band's debut is named Deluxe, which almost seems to have been done to poke fun at the fact that it's truly something of a lo-fi album (recorded in a practice space known as "the Goat Farm," the only thing "deluxe" about this release is the songwriting). The guitars are dirty and the vocals are muddy; oftentimes, Frobos's lyrics are completely indecipherable underneath the weight of Broyles's rapid and dense riffs. But that's part of the fun, really, since the melodies of both players are deliberately intertwined, and the serpentine give-and-take approach has a pleasing uniqueness to it. Home-recorded guitar records are a dime a dozen these days, but rest assured you have not heard one that sounds quite like this in some time.
Or maybe ever? Barring a few notable examples, bands in the past with this much talent (particularly ones related to projects as substantial as Deerhunter) weren't relegated to recording their "studio" music in a practice space. You can validly compare Omni to Television, Wire, and Talking Heads, but there's a certain quality to this band that's heavily tied to where we are now with music and culture—a snapshot of what it means to be creative but not necessarily vocational in a post-digital economy.
In the face of the twenty-first century, the rusting Omni Coliseum was rendered obsolete mostly because it wasn't equipped with things like luxury boxes. Wisely, the band Omni has avoided putting themselves in the position of being required to have whatever the musical equivalent of luxury boxes is, and that will no doubt serve them down the road. Regardless of what happens, though, Deluxe will persist as a testament of smart, sharp rock—even if it can only be found hidden underneath a rock itself.