Matt Popieluch knows his way around the musical landscape. A former member of Foreign Born and The Cave-Ins who's also collaborated with Fool's Gold, Cass McCombs, and Sky Ferreira, Popieluch has released a couple of solo albums, and his new one, Life Dollars, has found a home on Danger Mouse's 30th Century Records.
But that's not to say that Popieluch's wandering days have ended. Far from it, if the video for Big Search's "Can't Understand the News" video is to be believed. In the clip, he wanders the California landscape over a jangle-crush guitar line that at first recalls R.E.M. at their most optimistic before a little of Kurt Vile's stoned shade blows in. "I'm going out alone, but I've got no place in mind," he sings, and while that might be a thrilling proposition for some—the solitary rambler!—you'd be remiss to not hear the hint of resignation in Popileuch's voice. Sure, jotting from place to place is good, but sometimes the journey takes over the journeyman.
Check out "Can't Understand the News" below, as well as a handful of upcoming Big Search dates.
Life Dollars track list
"Please Do Not Explain"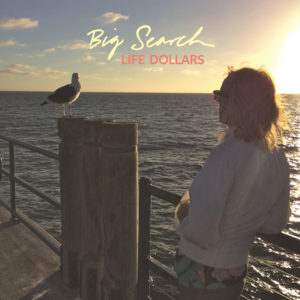 "Distant Shore"
"Can't Understand The News"
"Dream of Returning"
"The Only One"
"Don't Change My Eyes"
"Anna, Don't Go"
"I Feel Good"
"Warm Machine"
"Look My Way"
Big Search tour dates
8/14 — Los Angeles, CA — The Echo w/ Cairo Gang
8/26 — Los Angeles — Theater at the Ace Hotel w/ Beach House
9/16 — San Diego, CA — Casbah w/ Cass McCombs
9/17 — Phoenix, AZ — Valley Bar w/ Cass McCombs
9/19 — Austin, TX — The Parish w/ Cass McCombs
9/20 — Houston, TX — White Oak Music Hall Upstairs w/ Cass McCombs
9/21 — Dallas, TX — Three Links w/ Cass McCombs
9/23 — Denver, CO — Larimer Lounge w/ Cass McCombs
9/24 — Salt Lake City, UT — Urban Lounge w/ Cass McCombs
10/12 — Palm Springs — Ace Hotel and Swim Club Desert Daze Kick Off Week
10/13 — Los Angeles — The Echo w/ Ryley Walker, Circuit De Yeux
Life Dollars is out August 19 on 30th Century Records.