Pylon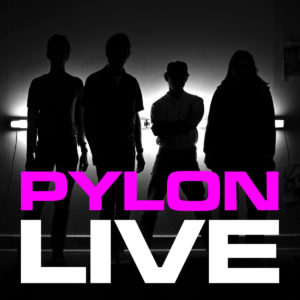 Pylon Live
CHUNKLET
8/10
Pylon never achieved the fame of its Athens, Georgia, contemporaries R.E.M. and B-52s, but its impact on the indie rock underground is undeniable. You can hear it in the terse rage of art punks Protomartyr and in the coiled dance strikes of bands on the DFA roster—and James Murphy's label acknowledged the debt by reissuing the band's debut Gyrate and sophomore album Chomp in 2007 and 2009, respectively. Deerhunter cites the group as a primary influence, with frontman Bradford Cox saying in a recent interview, "Pylon, in my humble opinion, has always defined 'art punk' perfectly."
Pylon Live, a recording of the band's final show at the Athens venue Mad Hatter in 1983, demonstrates the intense, spellbinding power the quartet—frontwoman Vanessa Briscoe Hay, drummer Curtis Crowe, bassist Michael Lachowski, and late guitarist Randall Bewley, who passed away in 2009—marshaled in their prime. Spearheaded by Henry Owens of Chunklet Industries (author of the hilarious 2011 book The Indie Cred Test and designer of note for labels like Light in the Attic and Numero Group) Pylon Live plays a vital role in helping listeners to understand the band, acting like Television's Live at the Old Waldorf or the Grateful Dead's Europe '72—vital archival documents that express the bands' live interplay in the way a studio record never could; "My favorite Pylon is live Pylon," Lachowski says of the record.
It's easy to see why. Opener "Working Is No Problem" and "K" sound more feral than their studio counterparts; Briscoe Hay's vocals come unhinged over Bewley's skittering melodies and the taut rhythm section. Songs like "Cool" and "Stop It" prove the group's elasticity, Lachowski's bass anchoring the group with heavy, steady riffs. Their sense of playfulness emerges with the bouncy "Feast on My Heart" and a cover of Neil Hefti's Batman theme, but Pylon sounds best engaged in raging songs like "Stop It," placing the band in league with PiL and Joy Division and inventing the format future bands like Savages would adopt and build on.
It's tempting to imagine a world where Pylon achieved the same stardom as its peers. When this set was recorded, that seemed possible—maybe even likely. The band had toured with U2 during its first stateside tour, as the Irish band's ascent was imminent (they too recorded an essential live document that year, Under a Blood Red Sky). Post-punk and new wave were blending and morphing into alternative rock, and Pylon, with its tight grooves, Briscoe Hay's incredible voice, and jangle-pop songcraft, could have recorded its own "Rock Lobster" and landed a hit on the radio. Instead, the band disbanded and the sounds heard here would be their last until reforming in 1988 to tour with R.E.M., whose members had loudly proclaimed Pylon's worth to anyone who'd listen. The band broke up again only three years later, but by that point its sound had already taken root in the American indie rock underground, mutating and spawning followers. Pylon Live thrillingly illustrates exactly why everyone was so enamored.