Morgan Delt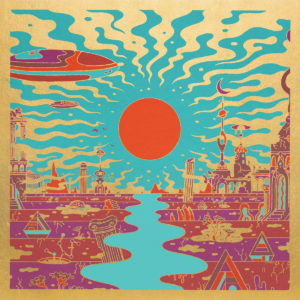 Phase Zero
SUB POP
6/10
Topanga Canyon singer/songwriter/producer Morgan Delt is often spoken of in the same breath as Ty Segall and Thee Oh Sees, and while there's certainly some pysch-rock overlap between their record collections, Delt's Sub Pop debut Phase Zero never gets quite as loud or swaggering as those acts often do. Even at its most rocking—songs like the squiggly "Sun Powers" or the twisting "Mssr. Monster"—Delt's second LP is defined by an immaterial dreaminess. While many of his contemporaries aim for T. Rex, Delt's more Tyrannosaurus Rex, given to elfishness and flights of acid-soaked fancy, echoing Syd Barrett–era Pink Floyd, The Zombies, Love, or The Notorious Byrd Brothers.
Like he did on his last record, an excellent self-titled affair released by Trouble in Mind, Delt resists the urge that trips up many bedroom-tinkering one-man-bands—he never forgets to leave spaces in the song, pushing back the impulse to cram each space with a strange sound. Which isn't to say there aren't plenty of those on the album: opening one-two punch "I Don't Wanna See What's Happening Outside" and "The System of 1000 Lies" pulses with frizzy, overdriven electric guitars on loan from the Joe Byrd's 1968 classic The United States of America; "The Lowest of the Low" sounds like it was recorded underwater; Delt's vocals sound phantasmagorically channeled from another dimension on the feverish "Another Person." But while these oddball production tricks are fun, they thankfully aren't all Delt has to offer. Underneath the swirling psychedelia, Delt's crafted thoughtful, literate pop songs. "I don't wanna see what's happening outside / Pull up the covers and let me hide," he sings, and anyone who's given CNN as much as a cursory glance over the last six months gets exactly where he's coming from.
As deft a synthesist as Delt is, his paisley visions sometimes blur and become hard to distinguish: "A Gun Appears" steers close to bland Tame Impala territory and "Escape Capsule" seems to float formlessly, which wouldn't bother much if Delt's best songs—the spooky, Jean-Claude-Vannier-arranges-Dungen "The Age of the Birdman" and album closer "Some Sunsick Day," with its Garth Hudson keys and incredible-sounding bass lead—didn't hit as hard and pleasantly as they do. At his best, Delt pens exceptional songs—the Summer of Love stylistic moves are just whipped cream on the pie.