Back in February, we premiered the video for "King Twink Rides Again" by Toronto krautrockers Fresh Snow. The group were working a new EP back then when the snow was indeed fresh—WON, which in addition to "King Twink" also featured the delightfully titled "Don't Fuck A Gift Horse in the Mouth."
Today, though, we have a gift for you: a brand-new Fresh Snow single taken from a brand-new Fresh Snow album. ONE, their second full-length following 2013's I, will be out on Friday via Hand Drawn Dracula. The album finds the group shifting between modes, from the gloomy and overdriven motorik rock of "January Skies" to the effortlessly smooth downtown sounds of "Mass Graves / Dance Caves."
"Three-Way Mirror," which we're bringing to you this morning, is a bit of an outlier: an earnest, aching love song. "Je prends un rendezvous avec mon homme dans la cinquième dimension, et je me regarde pour la première fois" a female voice says. "I'm making an appointment with my man in the fifth dimension, and I see myself for the first time." The band enfold that voice in lightly arpeggiating layers of piano, the sound cascading in a bright drizzle until, suddenly, we're off, click-clacking up to speed and out into space. It's a deft and affecting piece of music delivered with refreshing minimalism.
You can give "Three-Way Mirror" a listen below, and if you happen to find yourself in Hamilton, Ontario, on Saturday night, you can catch Fresh Snow at Supercrawl Festival. Torontonians, they have you marked down for September 22 at Small World Fest.
ONE track list
1. Olinda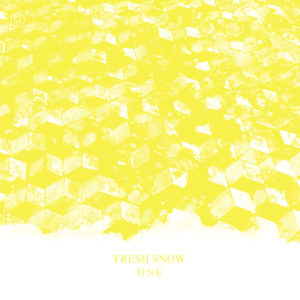 2. January Skies
3. Mass Graves / Dance Caves
4. Eat Me In St Louis
5. I Can't Die
6. Three-Way Mirror
7. I Am Smitten With Your Wrath
8. Anytime Minutes
9. Flat White
ONE is out September 9 via Hand Drawn Dracula.