Against Me!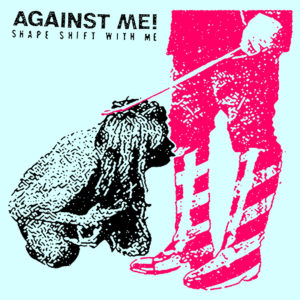 Shape Shift with Me
TOTAL TREBLE
6/10
Against Me!'s 2014 album Transgender Dysphoria Blues stands as a thrilling and preconception-razing example of how the idea of capital "P" Punk rock still has the ability to bring the people and ideas that exist outside the status quo to the front row. This year's follow-up, Shape Shift with Me, doesn't quite reach the ecstatically painful heights of self-excoriation and -realization its predecessor attained.
While Dysphoria allowed singer Laura Jane Grace to shed the metaphor and hidden intention of past Against Me! moments (see: pretty much the entirety of the Disco Before the Breakdown EP), this disc finds her careening around the world and bouncing off the walls of her heart. We find our heroine always in media res, slightly lost and ready for the next reckless moment in the arms of someone, almost anyone, even if only for an evening. Space-faring power-pop gem "Crash" and semi-standard AM!-style anthem "333" are the album's melodic highlights, while opener "ProVision L-3," with its surveillance state–inspired paranoid chant of "What can you see inside of me?," acts as the record's only overtly anti-authoritarian, old-school political punk moment.
As the band's figurehead and heartspark has evolved and changed, so have some of her political ambitions. Grace's coming out as transgender and her subsequent openness about her journey have exposed all kinds of people to a person and a story that we're only now beginning to see acknowledged by the wider culture. Shape Shift with Me, song for song, doesn't quite meet the standard that Against Me!'s previous albums set, but it is undeniably another important step in the story of Laura Jane Grace and her mission to tell the stories that set her heart all aflame.