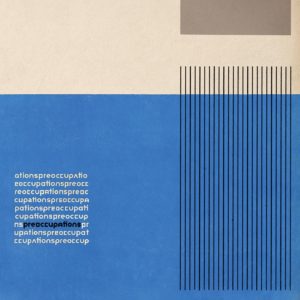 Preoccupations
Preoccupations
JAGJAGUWAR
8/10
Death has always loomed over Canadian post-punk band Preoccupations. "Death" was the title of the most demanding song on the band's 2015 debut, back when they were called Viet Cong, and the many deaths at the hands of the violent insurgent group from which the quartet derived its name caused enough public outcry to force the examination of four white western dudes naming a band after a terror group for its "bad ass" implications. And of course, before any of that, there was the untimely death of Christopher Reimer, who played guitar with Preoccupations bassist/vocalist Matt Flegel and drummer Mike Wallace in the short-lived but vital band Women. Death (and self-titled albums) linger in the band's short history.
So when Flegel spits out "All gonna die!" on "Stimulation," one of the nine songs which make up the band's latest, the words aren't surprising, but the throaty glee in his voice is. Never mind the new name: Preoccupations is a sophomore album in the classic sense, finding Flegel, Wallace, guitarist Daniel Christiansen, and multi-instrumentalist Scott Munro honing in on their established sound while pushing at its edges. The cavernous This Heat riffs are still there, but on the new album Flegel makes good on the charismatic vocal flashes that dotted songs like "March of Progress" and "Continental Shelf" in the past: tonally, you can hear echoes of The Psychedelic Furs's Richard Butler, but spiritually, his command further suggests the dark swagger of Nick Cave or Echo & the Bunnymen's Ian McCulloch.
Flegel's made a habit out of singing about dark corners, and a quick scan of Preoccupations' track list—"Anxiety," "Monotony," "Degraded"—confirms all goth credentials remain in place. But here the band balances the woozy consternation of past efforts with exhilarating pop songs. "Memory," which features guest vocals by Wolf Parade's Dan Boeckner, struts wildly, while "Anxiety," with its catchy hook about "deteriorating to great acclaim," could almost fit in on Turn on the Bright Lights. Album closer "Fever" achieves instant-classic status, sounding as close to Billy Idol as it does Joy Division. Its synth riffs evoke baroque romance—as captivating as it is spooky. Preoccupations has all the "dark and serious" art signifiers locked down, but its vitality makes the album a grower, death obsession notwithstanding.