"Transcendence is the key word," said David Lynch. Except, it wasn't David Lynch. It was John Malkovich portraying the influential director in one of the many strange and wondrous stagings at Festival of Disruption, a two-night celebration of film, music, art, and photography all curated by Lynch himself. Malkovich, an actor as curiously bizarre as the man he represented, portrayed Lynch and a half-dozen of his most famous characters in the short film Psychogenic Fugue, directed by Sandro Miller. The selection of scenes captured the wide range of Lynch's moods: humorous and a little weird (Special Agent Dale Cooper, The Log Lady, Lady in the Radiator) to deranged and frightening (Frank Booth, Mystery Man), ending with what he does best: combining those elements together (The Elephant Man's John Merrick).
If you've seen any of Lynch's films, you know this juxtaposition, and Festival of Disruption fully embodied it. Rather than a simple film or music festival, it gave ticketholders the experience of beauty and terror in all sorts of mediums. There were photography installations from Lynch and Blondie guitarist Chris Stein, a virtual reality experience, special dance choreography by Ryan Huffington, DJ sets from Questlove and KCRW's Jason Bentley, talks with Lynch collaborators and friends, and more.
Staged at the majestic Theater at the Ace Hotel, things started off with a screening of The Elephant Man, followed by a talk from the legendary Mel Brooks, who, unbeknownst to many, produced the movie. He told stories of making the movie, meeting Lynch for the first time at Bob's Big Boy in Burbank for burgers. At ninety years old, the comic legend has not lost his touch to bring an audience to uproarious laughter.
The afternoons were mainly for film, talks, and breaks for people to wander the photography and virtual reality exhibits. Stein, who shared the stage for a talk with his Blondie co-founder Debbie Harry, shared a collection of photographs he had taken during the band's heyday in the '70s. There was no direct correlation to Lynch, he explained—though they did have a chance meeting in the '80s when a friend of Stein's was working on releasing the soundtrack to Lynch's debut film Eraserhead—but what his installation shared with the festival was disruption itself. Disruption from the norm, from the expected.
On the second day, the audience got a rare glimpse into the making of one of Lynch's most iconic movies with Blue Velvet Revisited, a tone poem documentary directed by Peter Braatz. At one point in the film, Lynch himself works on applying the word "Lumberton" (the name of the movie's fictional town setting) in tape letters onto a bus, showing us just how immersed he is in his process.
That was followed up with a conversation with Lynch regulars Kyle MacLachlan and Laura Dern, who regaled audiences with stories of working on Blue Velvet and other works of his. They spoke of how collaborative he was, how he would direct not just the actors but the various crew as well, helping them to find their own personal connection and understand their contribution to the movies. As Dern put it, he wants to create a family with each film.
Then, in the evenings, there was the music, all selected by Lynch himself. Audiences were treated to a variety of acts as divisive as one could expect from such an event. There were the pulsing synth-scapes from electronic surgeons Jon Hopkins and Kaitlyn Aurelia Smith. The neo-R&B group Rhye lulled the audience in and out of lofty dreams. Even the most lukewarm of Led Zeppelin fans (e.g., me) couldn't help but be astounded by the immense power of Robert Plant's still-impeccable voice as he and The Sensational Space Shifters closed out the first night with a power-house of blues-infused rock.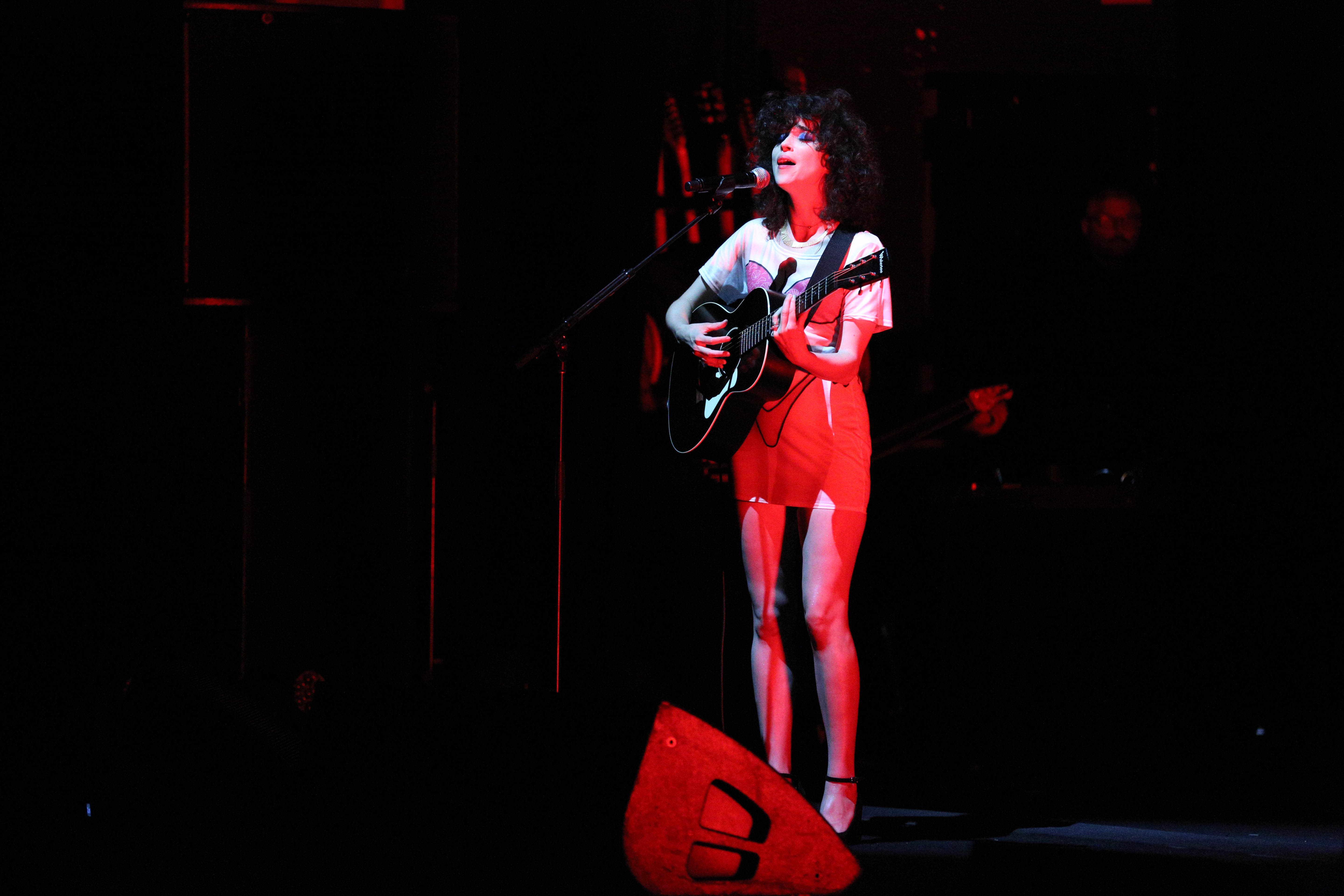 And, of course, there was St. Vincent. Already a Lynchian entity in her own right (though by no real affiliation until now), singer Annie Clark brought one of the event's strangest and most encapsulating acts to the stage. Pared down from her usual full band and accompanied by a keyboardist, a drum machine, two dancers, and her soaring voice and snarling guitar, she seemed to channel Blue Velvet's Dorothy Vallens and Twin Peaks' Donna Hayward. Between songs, she quoted lines from Lynch's movies, and in her final song, her dancers acted out the violence of Blue Velvet's Frank Booth in elegant and stirring choreography (though second to Huffington's later in the festival) all while Clark sang from a couch center stage in a glistening sequin robe.
Speaking of violence, it's something you often see in Lynch's work, frequently portrayed in unsettling ways. Which adds to another strange juxtaposition: The David Lynch Foundation. One hundred percent of the proceeds from the festival went to the foundation, which works to utilize transcendental meditation to help victims of PTSD, sexual violence, and other trauma throughout the world. You might not think that someone who was such an advocate for overcoming trauma would also be the director responsible for the scene behind the Winkie's Diner in Mulholland Drive.
You might not think that someone who was such an advocate for overcoming trauma would also be the director responsible for the scene behind the Winkie's Diner in Mulholland Drive.
That seeming contradiction is something the David Lynch Foundation often faces in their outreach, as the foundation's Chief Creative Officer Erik Martin explained. "Imagine it from the point of view of a school who we're going to help: kids and teachers in very rough situations. Maybe David Lynch's name doesn't resonate with the superintendent of the school, but [Lynch's] heart and his purity and his intention are—I guarantee you—one hundred percent there." And despite the macabre nature of much of its founder's work, the DLF has helped bring transcendental meditation to over 500,000 children and adults around the world, with measureable proof that the technique has helped them relieve themselves from stress and trauma.
At seventy years old, and with a decade passed since he's released a feature film, one might think that David Lynch's prime has passed. And yet, this seems to be the best time to be a fan of his. Within the last couple of  years, Mulholland Drive was re-released by Criterion, the soundtracks for Twin Peaks and Lost Highway have been reissued on vinyl, there's an upcoming documentary on his life, the band Xiu Xiu (who performed at the festival) released the album Plays the Music of Twin Peaks, he appeared in the documentary My Beautiful Broken Brain, he wrote and co-produced an EP for musician Chrysta Bell. And of course, 2017 will see the eighteen-episode return of Twin Peaks on Showtime, over twenty-five years after its untimely cancellation. This isn't a David Lynch renaissance. This is the apex.
And speaking of Twin Peaks, possibly his most beloved and lovable work, the festival ended with an hour and a half of music from and inspired by the show, including performances by recent Lynch muses Sky Ferreira and Chrysta Bell. Then, frequent collaborator and songwriter Angelo Badalamenti took the stage, performing haunting renditions of the show's classic score.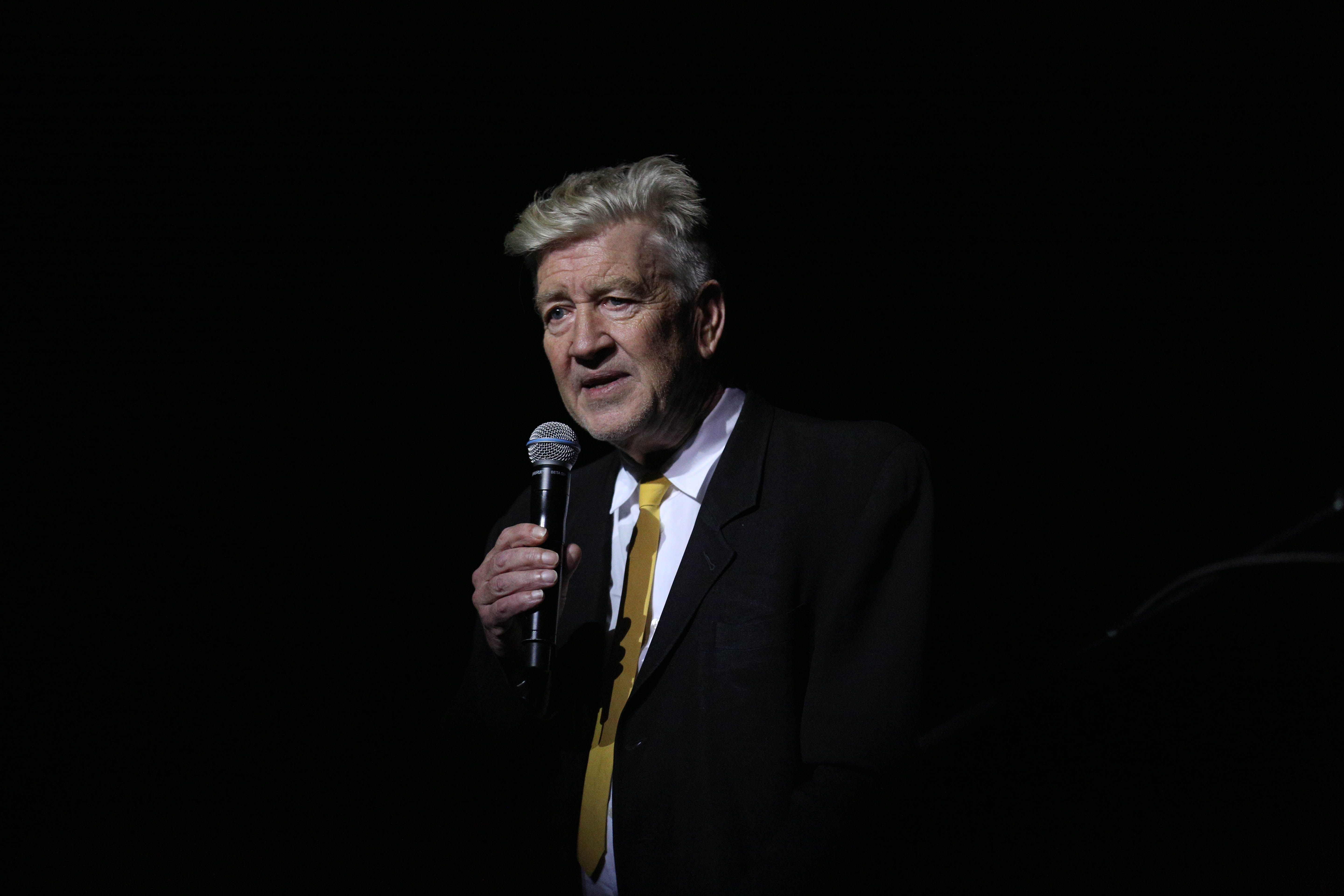 The final note of the festival couldn't have been more perfect. Rebekah Del Rio took the stage against the most Lynchian of settings: a softly moving red curtain. She performed "Llorando" as she did in Mulholland Drive. Her voice, soft and soaring, filled the entire theater with a gale of raw, ineffable emotion that no member of the audience was impervious to. We were all joined together in the beauty. When Lynch took the stage to thank everyone for supporting his foundation and being a part of the magical evening, it became clear that he was there for the same reasons we were. To find something strange and wondrous. It was, yes, transcendent. FL