Various Artists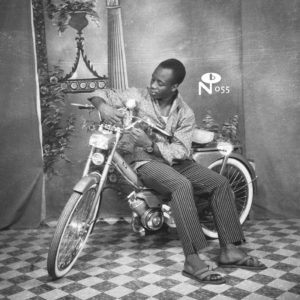 Bobo Yéyé: Belle Époque in Upper Volta
NUMERO GROUP
8/10
The latest project from Numero Group is part photography book and part album, and while each can be enjoyed without the other, they belong together. This triple-disc set (available as an LP or CD box) chronicles the pop sounds of the African country of Upper Volta in the '70s. Not only does this collection dive into the stylistic differences of groups like Volta Jazz and Dafra Star, but it presents the photography of Sory Sanlé, who captured many of the regulars of the live-music scene just before they hit up the clubs. Anyone who has ever spent time looking at snaps of musical hotspots from bygone eras—whether it's South Side Chicago or CBGB—knows that there is something magical about the way people look as they get ready to go out and show off the best people they could hope to be.
Besides the amazing clothes, hairstyles, and sheer presence shown off in these portraits, there is, of course, the music. Known as Burkina Faso since the early '80s, the area was a landlocked region that had been under French colonial rule in the first half of the twentieth century, gaining independence in the late '50s and exploding musically thereafter with a mixture of orgiastic jazz, R&B, and Congolese music. The group Volta Jazz express this all with their fusion of rhumba rhythms, incredibly sparkling guitar work, and sweet vocals. The Eastern side of Upper Volta gave us Les Imbattables Léopards, who unleash stunning, mournful ballads that could have come out of Ethiopia's much-chronicled Addis Ababa club scene of the same era. Echo Del Africa were a large crew with a miniscule recording budget whose salient "Yiri Wah" undulates with a Latin-tinged beat and a ripping fuzz guitar solo. Later, Volta Jazz founding member Coulibaly Tidiane formed his own group, Dafra Star, once he realized his old group weren't going to update their tried and true template of Cuban and Congolese traditional sounds. The Dafra Star tracks gathered here from the late '70s show off some of the most Western-influenced music of the lot, with songs like the French-pop-via-surf-music-inspired "Si Tu Maime."
Combining the stories, the music, and the images of Upper Volta in the '70s, Numero delivers a portrait of people establishing an identity after escaping their colonial ties, embracing their surroundings with a passion, and creating art both sublime and long-lasting.