A Tribe Called Quest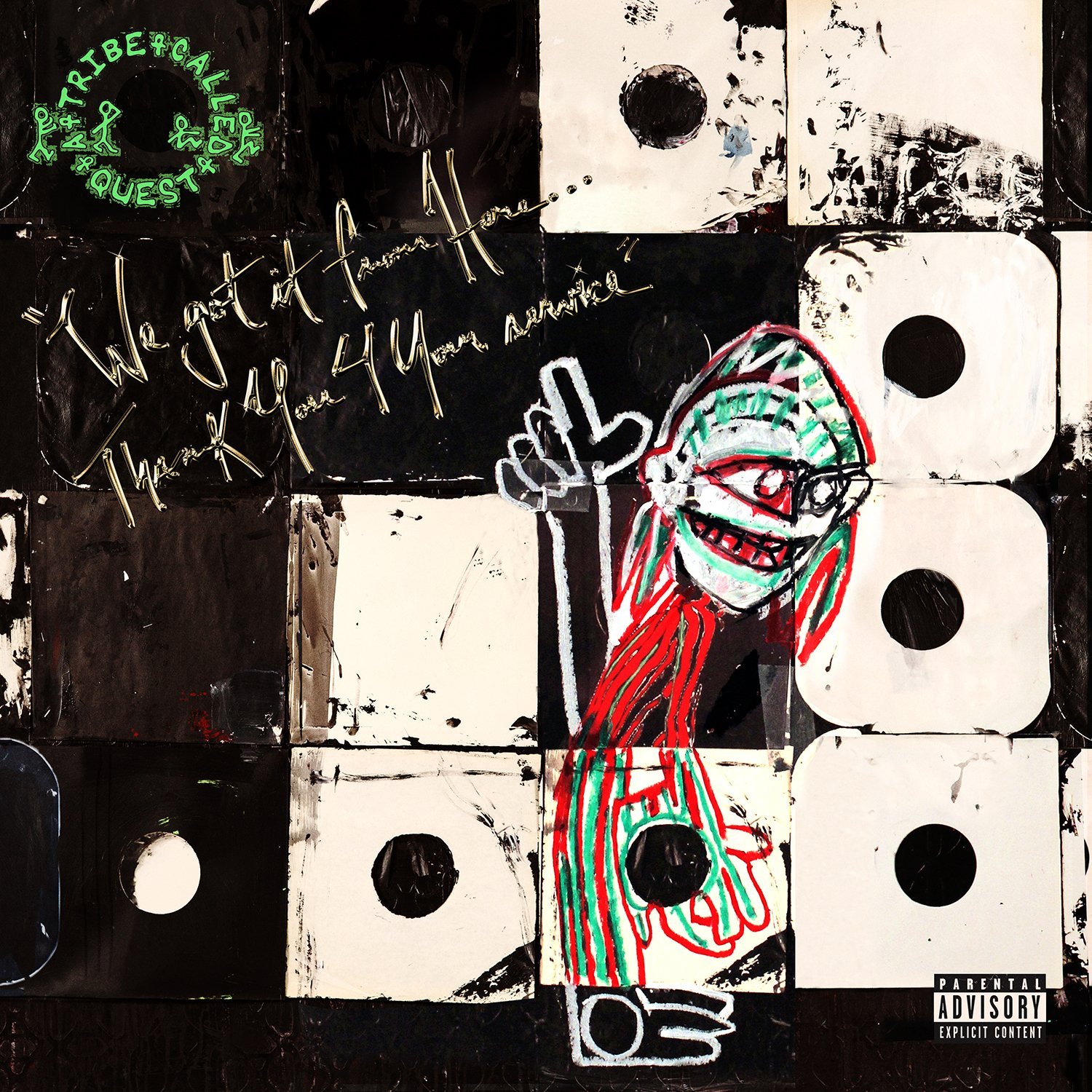 We Got It From Here… Thank You 4 Your Service
EPIC
9/10
On the day that A Tribe Called Quest released The Love Movement, OutKast released Aquemini. Jay Z put out Vol. 2… Hard Knock Life. Mos Def and Talib Kweli introduced themselves to the public as Black Star. Eminem was six months away from signing autographs at White Castle. Kendrick Lamar was twelve years old.
Following the commercial success of 1996's Beats, Rhymes, and Life, The Love Movement seemed like a fine return to the smoothed-out sound of the group's first three records, but in a world that made mega-hits out of an iconic Annie song and a hoedown rap named for a civil rights icon, it seemed overly serious and lacking in spirit (or, in the particularly harsh words of SPIN's Tim Haslett, "stillborn"). It was, in the way of most farewells, easy and unspectacular.
But hey, that's no way for one of the most influential groups in the history of hip-hop to say goodbye. And now we have We Got It From Here… Thank You 4 Your Service. As big and messy as that title, it arrived on November 11, eight months after the passing of founding member Malik "Phife Dawg" Taylor. Eighteen years is a long time between records for anyone, but no genre has undergone more change in the new century—or, hell, the past twenty-four months—as has hip-hop, and remarkably, Thank You manages to do the damn-near impossible and sound both as urgent as Atrocity Exhibition and as easy and effortless as The Low End Theory. Rare is the rap record in 2016 that makes a Kendrick Lamar feature feel like an afterthought.
Of course, Kendrick feels like the most obvious contemporary touchstone here. Q-Tip's production takes a page from the everything's-in collage work of To Pimp a Butterfly, but where that album's maximalist jazz felt like a constant pinch-zoom deeper and deeper into the heart of American darkness, Thank You stretches out in an easygoing sprawl. It's a rain-soaked sonic playground, where puddles of sound splash into one another on Tip's cue, where Busta Rhymes is given the freedom to start his verses over (twice!), where André 3000 can dash off a handful of fast-food joints whose wares are roughly as hot as he is.
Which isn't to say that Thank You is somehow unserious or unfocused. It is as much a product of American racial discourse as To Pimp a Butterfly or Vic Mensa's There's Alot Going On. Jarobi, the former part-time member who to this point had made a single appearance on a Tribe record, delivers one of the album's strongest runs in "The Killing Season," working his way around four different aspects of what it means to be a black man in America in as many lines: he is defeated, he is hated, he is objectified, he will be snuffed out.
For the most part, though, Thank You is a protest record in the reggae mode: it's not mad, and it's not stressed. If anything, it feels celebratory. Even the most outwardly political tracks ("Movin Backwards," say, or the all-timer "The Space Program") take progress as a moral given, if not yet a reality, and Tribe seem to find their animating spirit in that knowledge. The power of loss to cauterize into strength ("Marks and scars, we own it, only makes for tougher skin," as Jarobi puts it) manifests itself as sweetness, as appreciation and love. Phife delivers his best, most playful rap over the coppery beat of "Black Spasmodic," and Q-Tip answers with a eulogy ("Speak of the legacy for short people around the world"). Even Rhymes sounds reanimated by the group's reemergence, holding back for a bit before going full raptor halfway through "Dis Generation"'s last verse.
Maybe the sense of ease that permeates Thank You is a sense of accomplishment, of enjoying a job well done in the process of doing it. But that title could refer to any number of things: to Phife's life and legacy, to a world that's upheld the group's standing in their absence, to an industrial complex that relies largely on white consumers and white critics for the ratification of black artists. I don't know, and as one of the aforementioned critics I'm not sure that I need to. For one last time, it's enough of a pleasure to listen to A Tribe Called Quest do what they do.