BACKSTORY: A trained sculptor from the UK who has found her true calling in fine, handcrafted jewelry
FROM: Los Angeles via London
YOU MIGHT KNOW HER AS: The creator and founding director of her own brand of regal, stone-encrusted rings, necklaces, and earrings
NOW: Based in Downtown LA and going up against—and beating—the big guys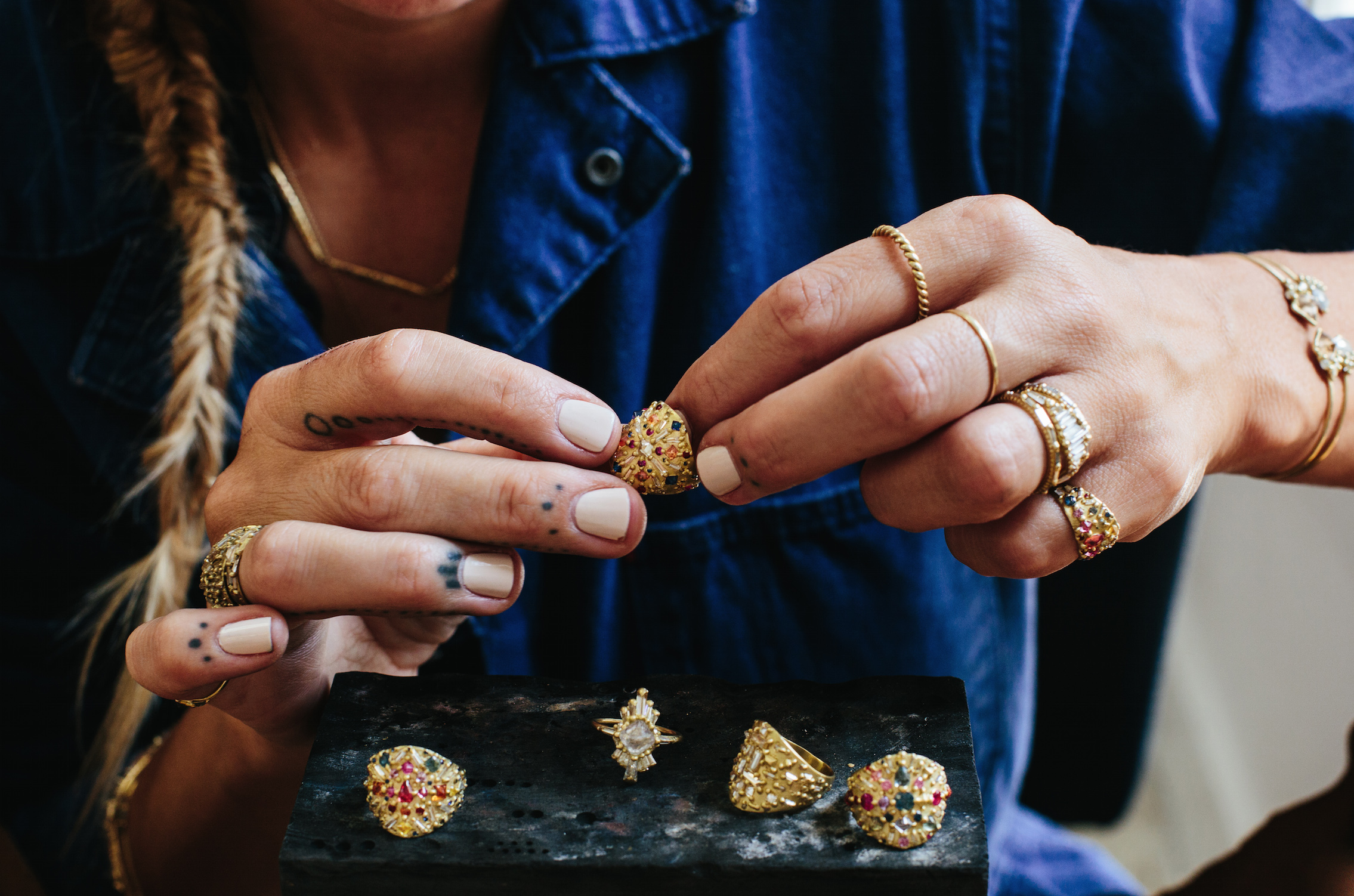 To hear Polly Wales tell it, the London-born artist's introduction into the world of jewelry-making was akin to deciding to get married at the end of a blind date—a swift, dizzying moment when everything was changed forever. A trained sculptor in her hometown of London, Wales found herself frustrated with the obtuse language of the fine art world. She began searching for a simpler, more direct way to express herself. Fond of rings, jewelry seemed like a good place to start.
"I went to an evening course and the instructor said, 'You shouldn't be doing an evening class, you should be doing a degree,'" Wales says. "By the time I left the first class I had enrolled in a degree course. So that was a bit unexpected."
Having previously started a degree in sculpture at the University of Brighton, Wales had no desire to spend another three years in school. A fan of simple solutions, she simply snuck into the second-year cohort of a jewelry program at the Royal College of Art in London and never left. Looking back on it, Wales calls that piece of practical chutzpah a career-defining move—even if she didn't realize it at the time.
"I somehow got away with that," she laughs at the memory. "The first-year course is all about learning technical skills. So I didn't really have the foundation—'the rules.' When I did start making jewelry, I was always making it not knowing what the restrictions were supposed to be. I think that had quite a big influence."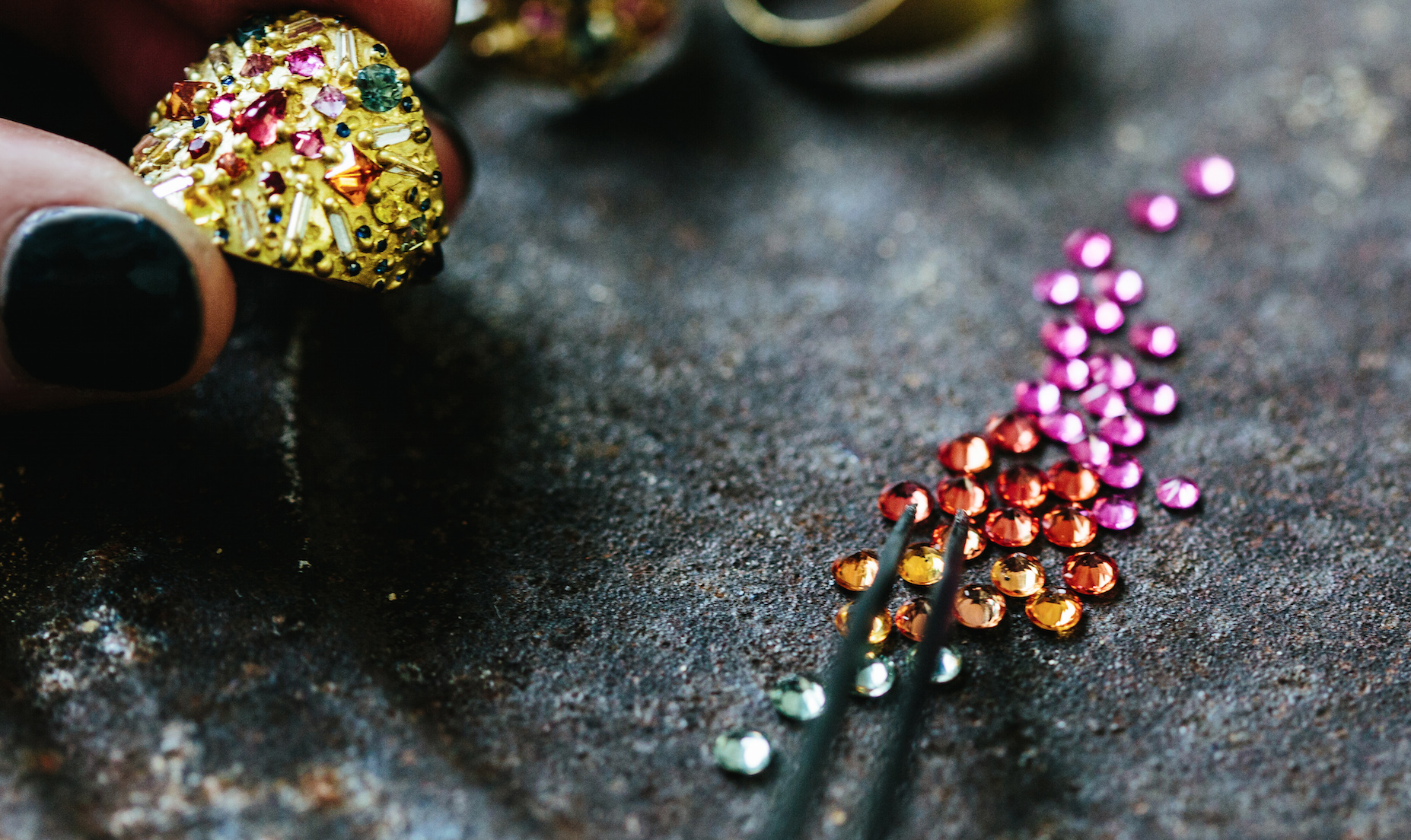 Wales's work is imbued with a sense of imperfect beauty. Jewels are embedded in textured metals, and in the case of her newest line, the Ourika Collection, piled and layered into stately swirls and stacks. Recently, her pieces netted the coveted Best in Bridal prize at the 2016 Couture Design Awards in Las Vegas, a category that Wales proudly notes included Tiffany's and Ivanka Trump.
Much has changed since the Polly Wales brand's 2010 debut. The designer, along with a generous handful of employees crucial to the manufacturing process, moved shop in early 2016 from Stroud in Southern England to Los Angeles. The brand has also launched a wedding line, after becoming a go-to for nontraditional brides looking for alternative pieces to reflect their lifestyles in all their day-to-day glory.
"It's not about jewelry for special moments—it's about all the time."
"I feel that quite a lot of what we do and what we make is about the idea that [our jewelry] should make you feel like you don't have to be fantastic to look fantastic in it," she says. "For me, there was always this notion that [to enjoy] glamor, or things that were wonderful, you had to be someone else. You had to be pristine and proper. I really like that the jewelry I make can make you feel and look great even if you're just gardening. It's not about jewelry for special moments—it's about all the time. It's good when your hands are filthy. When you're covered in muck, 'Oh, here's a nice bit of gold jewelry.' I think that's why people gravitate toward it. It speaks to them instead of to some other notion of ladyhood."
If art is a reflection of the artist's soul, then Wales has found success in her work, which is sure to only grow from this point forward. She laughs at the idea that her life to date could ever be considered traditional. And that's just the way she likes it.
"My old friends know me from when I first started out on this journey," Wales laughs. "So many of them came from the alternative rave culture back in the '90s in the UK. That's where my social roots are. It's quite amusing that I've found this refined world." FL
This article appears in FLOOD 4. You can purchase the magazine or download a free copy here.