In the small strip of Sahara that birthed Tinariwen—the foremost Tuareg guitar band, whose wind-whipped playing and percussive stomp has been instrumental in making northeastern Mali a nearly mythic musical oasis, and whose influence and power have drawn TV on the Radio to the desert and brought the desert to France, the US, and beyond—nobody lives. The Adrar des Ifoghas mountain range that separates Mali from Algeria is now controlled by jihadis and human traffickers, who in inadvertent concert have choked much of the life from the region—an army camp in nearby Gao was bombed by Al-Qaeda just last week, killing dozens of people.
Forced out of Mali, Tinariwen made a temporary home for themselves in Joshua Tree National Park, where they recorded both 2014's Emmaar and the forthcoming Elwan. Their music is mournful at the best of times—even the pulsing groove and gang-chanted choruses don't hide the frustration at the center of "Sastanàqqàm," Elwan's second single—but with "Assàwt," which we're premiering today, they turn their eyes to the women left behind in the Adrar des Ifoghas. Over a flecking acoustic guitar line that would've sounded at home 2011's Tassili, Abdallah Ag Alhousseyni sings for the Tamashek women "living in a Sahara devoid of water / Dessicated and miserable." "My wish for [them]," he sings, "is to stop being subservient." Electric guitar lines snake around Ag Alhousseyni's voice, and the band joins in behind him. "That's the voice of the Tamashek women," the men sing, "searching for their freedom." Give it a listen below, and catch Tinariwen at one of a string of North American stops this spring; those dates are below, too.
Elwan tracklist
"Tiwàyyen"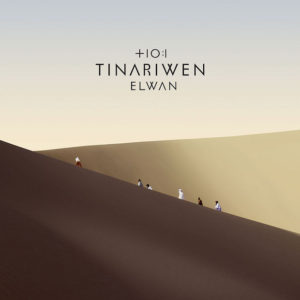 "Sastanàqqàm"
"Nizzagh Ijbal"
"Hayati"
"Ittus"
"Ténéré Tàqqàl"
"Imidiwàn N-Àkall-In"
"Talyat"
"Assàwt"
"Arhegh Ad Annàgh"
"Nànnuflày"
"Intro Flute Fog Edaghan"
"Fog Edaghàn"
Tinariwen tour dates
3-30 — Solana Beach, CA — Belly Up Tavern
3-31 — Los Angeles, CA — The Fonda Theatre
4-1 — Berkeley, CA — The UC Theatre
4-2 — Portland, OR — Revolution Hall
4-4 — Seattle, WA — Benaroya Hall
4-5 — Vancouver, BC — Chan Centre for the Performing Arts
4-7 — Salt Lake City, UT — The State Room
4-8 — Denver, CO — Swallow Hill Music Association
4-10 — Minneapolis, MN — Cedar Cultural Center
4-11 — Chicago, IL — Old Town School of Folk Music
4-12 — Toronto, ON — Massey Hall
4-13 — Montreal, QC — Place des Arts
4-14 — Boston, MA — Royale
4-15 — Brooklyn, NY — Brooklyn Bowl
4-16 — Brooklyn, NY — Brooklyn Bowl
4-18 — Philadelphia, PA — Union Transfer
4-19 — Washington, DC — Barns at Wolf Trap
4-21 — Pittsburgh, PA — Carnegie of Homestead Hall
Elwan is out February 10 via ANTI-.