Yorkston/Thorne/Khan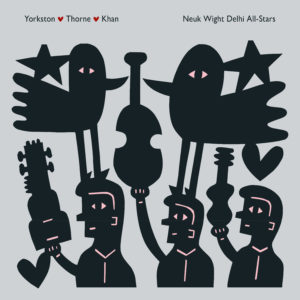 Neuk Wight Delhi All-Stars
DOMINO
7/10
On their second LP, the Scottish/English/Indian trio of guitarist James Yorkston, double bassist Jon Thorne, and sarangi player Suhail Yusuf Khan demonstrate a subtle mastery of fusion. A lightning-quick follow-up to the band's 2016 album Everything Sacred, Neuk Wight Delhi All-Stars is named for the trio's individual points of origin, but the title works toward describing their musical approach as well, indicating the way the three players meld Celtic ballads, English folk-rock, and Hindustani classical music.
"I think YTK is a fine example of how music operates without boundaries as a common international language and a source of cross-cultural unity," Thorne says on the group's website. "It's an important message in the times that we live in." To that end, it's a solidly democratic record, with all three players singing, their instrumental palette a global mingling of sounds evoking the spiritual free jazz of Alice Coltrane, the wildest Incredible String Band recordings, the most droning moments from Pentangle and Fairport Convention, and the ragas of Khan's grandfather, Ustad Sabri Khan.
The trio sounds as comfortable playing traditional Hindi and Scottish songs ("Jaldhar Kedara (Wedding Song)," "False True Piya") as they do on originals, like Yorkston's tender "The Blues You Sang," which explores the feeling of falling in love with the sound of a live performer, and Thorne's aching "One More Day (Jon's Song)." Most often, the band weaves its influences together seamlessly—like on opening song "Chori, Chori," where Khan sings transcendentally over a composition by Yorkston—but occasionally the vibe gets more overt, like on "Samant Saarang/Just a Bloke," which layers a spiritual chant over Roger Eno's "You'Re just a Bloke (Ted)." It's not as graceful as the vocal interplay of record highlight "The Recruited Collier," but it is a lot of fun to listen to, indicative of the lovely sounds on display on this collection.