At the Drive In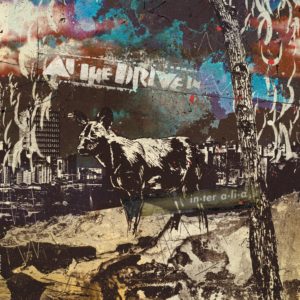 in•ter a•li•a
RISE
6/10
Bands reuniting can be much like exes reuniting—there's the initial intoxication of a long-lost love restored, the few brief moments of ecstasy as it commences, and finally, the heart-sinking reminders of why the damn thing ended in the first place.
At the Drive In abruptly shuttered just after 2000's Relationship of Command catapulted the El Paso five-piece into the mainstream. Lead vocalist Cedric Bixler-Zavala and guitarist Omar Rodríguez-López went onto several of their own acclaimed projects (most notably The Mars Volta), but the starvation for a follow-up to Relationship remained—which is why the announcement of At the Drive In's first LP in seventeen years, in•ter a•li•a, felt like a post-hardcore holiday. Still, it's worth asking whether the band that so personified teen angst in the '90s could manage to pick up where they left off now in their middle age.
But if in•ter a•li•a is a questionable attempt to start things back up with an ex, opening track "No Wolf Like the Present" is that nostalgia-flooded first night with your high school sweetheart during a hometown visit—maybe fleeting, maybe unwise, but undoubtedly worth it. It's straightforward, with a shamelessly simplistic guitar riff, and Bixler-Zavala spews one of his signature ATDI-era death-rattles before the second verse. This is what we came for.
Soon after, though, there is a post-wow-factor mundanity that sinks in all too quickly. Bixler-Zavala babbling those lyrics that ride the razor wire between esotericism and nonsense; Rodríguez-López toiling dissonantly at his Ibanez; drummer Tony Hajjar barreling down on both crashes to start every bar… The thrill begins to run thin. Sadly, tracks two through six make you wonder if there really is something to be gained from a fourth ATDI album, or if that horse on the cover of Relationship is just dead and beaten after all this time.
But suddenly, "Call Broken Arrow" begins, shooting down all doubters in their tracks. Between the chorus's melodramatic chords and semi-automatic kick-drum pulse, it marks one of their most indulgently emo songs to date, and it is glorious. Later, "Ghost-Tape No. 9" sees the quintet at their most experimental, with slow, decrepit trash drums and a bass line that pairs so hypnotically with Bixler-Zavala (who here uses his slithery Mars Volta voice) that it may be the most exciting piece of the album. Side B is where the greater artistry of in•ter a•li•a dwells.
In all, the album is less akin to the many crates of sad nostalgia reboots and more akin to recent reanimations like that of We Got It from Here… Thank You 4 Your Service or Black Messiah (even if it doesn't come close to reaching parallel artistic heights)—born of organic inspiration rather than a beach house mortgage, and it's poignantly unconcerned with modernity. No, in•ter a•li•a will never make you feel the way In/Casino/Out did for the first time from the back of your high school smoke buddy's Kia Sportage, but blowing off some Trump-era steam with a solid new set of ATDI tracks still feels great in 2017. Here's looking at you, Rage Against the Machine…