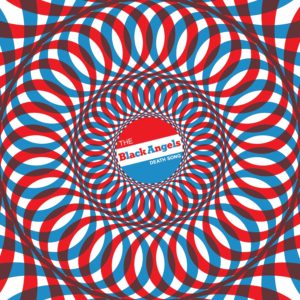 The Black Angels
Death Song
PARTISAN
6/10
In The Velvet Underground's "The Black Angel's Death Song," Lou Reed snarls, "And if epiphany's terror reduced you to shame / Have your head bobbed and weaved / Choose a side to be on." The song's semi-namesake band have spent a career navigating the aftermath of, indeed, decisively choosing a side between past and present. From their 2004 inception, The Black Angels' aesthetic modus operandi has slid further and further from the prevailing zeitgeist, until the term "psych rock" now rings with overwhelmingly nostalgic (if trippy) overtones.
And now they've closed the circle, intrepidly titling their fifth album Death Song. From the first notes of "Currency," a sludgy Sabbath-esque riff that soundtracks a semi-nihilistic meditation on an escalating culture of greed, they seem to have been well-prepared to live up to that title: "All these paper lives you've sold / There's no God in whom you trust… One day it'll all be gone." Billionaires in the White House? Come Armageddon, come.
There is little in the way of mercy to give. The title seductress of "I'd Kill for Her" surely did not employ her charms for the common good, as evidenced by the "caught in her web" lyrics: "It mesmerized me / I had to follow / Her black horizon." As you can imagine, it all didn't work out well.
Through sheer force of creative impulse, Death Song is something of a Black Angels "greatest influences" run through. From the Physical Graffiti strut of "Hunt Me Down" to the Lizard King mysticism of "Medicine" to the echo-drenched encomiums to early Bunnymen that are "I Dreamt" and "Grab as Much (As You Can)," this is dark, heady powerful, and forcefully unrelenting work—an awesomely overwhelming wall of noise with impassioned but bleak ideology to match.

So, obviously, it couldn't end with a whimper. And towering dramatic effect comes by way of the surely intentionally epic closing juxtaposition. "Death March" is just that, the terrifying thumpety-thump of looming mortality set to screechingly ominous guitars (think Bauhaus) before the Pink Floyd–echoing finale "Life Song" attempts to tie it all up in death itself. As singer Christian Bland intones, "I'm traveling upside down / Into a world of the unknown / How can I explain / I'm dying?" You wish they would have offered up a sliver of hope. But you're left to accept that this is not a work of redemption, but pure catharsis…and loss. This is the end, my friend.