B Boys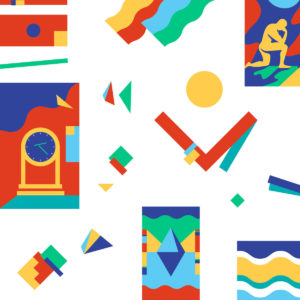 Dada
CAPTURED TRACKS
8/10
"Every day is a struggle to hold on to a sense of myself," Britton Walker shouts on "Another Thing," from his band B Boys' full-length debut Dada. It's hard to take him all that seriously. From their album art to their song titles (cue up "B Boys Anthem" to get things started) B Boys present a unified front of "selfness." The Brooklyn trio—Walker, Brendon Avalos, and Andrew Kerr—embody the idea of a band as self-contained unit, a singular force against an indifferent world, a unified wall of inside jokes, jittery noise, and propulsive post-punk.  
On Dada, the band's coherence is illustrated by compact songs, equal parts Wipers, SST hardcore, and brainy Devo-esque abstraction. Like their one-time tour mates Parquet Courts, B Boys are as witty as they are snotty, couching their poetic tendencies in a knotty squall. The songs are hooky, taut, and driving. Occasionally, like on the synth-led, Tubeway Army–recalling "Fade," the crew land in more tempered territory, but mostly, they keep things speedy.
Often, dual vocalists Walker and Avalos play clumsy rubes; "Fear It" features the line "I don't like foreign films / 'Cause I can't relate." But there's no hiding the band's combined smarts: From the titular citation of the European avant-garde art movement to the existential lyricism of "Walking" and the declarative message of "Energy," B Boys clearly wink with each dismissive bio quote ("It's all connected; not everything has to make sense," the trio write) and tricky sonic move. On the fifty-second "Distance," they build up a mesh of tangled guitars, picked bass lines, and frenetic drums, which fades out just before anything of consequence happens. It's a joke, or it isn't; B Boys don't bother to clear it up. It would be disappointing if they did.