Trailer Trash Tracys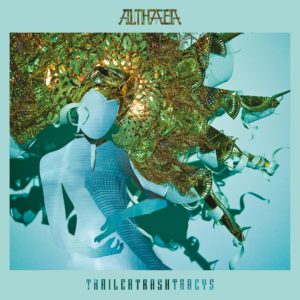 Althaea
DOMINO/DOUBLE SIX
7/10
The word "althaea" has taken on different meanings over time. In ancient Greek mythology, it was the name of the daughter of Thestius and Eurythemis. It was eventually adopted to name a genus of perennial flowers in Europe and Asia. On Althaea, London's Trailer Trash Tracys reflect this mythicism and whimsy, weaving dream-like soundscapes through with reverberating vocals and beats.
Singer Susanne Aztoria has a voice that sounds like dripping outer-space honey, providing a focal point for the auditory experience. She's accompanied by a gauzy mesh of synthesizers and distorted drum beats—the perfect backdrop for her otherworldly presence. It almost feels like the sounds here could spin out of control, yet Aztoria and her bandmates keep it on track.
That push against what is normal, or what is to be expected, is part of what makes the album so intriguing—they avoid falling to genre-specific tropes and instead challenge the listener. It's a step away from the 2012's Ester as well. Althaea is a more cohesive record, with each song easily flowing into the next. The band seems to have grown into their trademark chaotic compositions—instead of shying away or going halfway, they fully embrace it and even add a little more flair.
One song that stands out in particular is "Eden Machine." The song has an addicting beat,  growing in tempo and complexity with each minute. It conjures up images of whirling lights at an amusement park, or the feeling of riding in a car with the windows down on a warm summer night. Aztoria's vocals are sweet and meander gently here.
The daring complexity of Althaea may be intriguing because of its collaged-together composition. This conglomeration of sound might feel overpowering if attempted by other groups, but with their second record, Trailer Trash Tracys prove that they have an ability to make it sound absolutely intentional.