"Nothing is forever / Forever is too long" isn't the kind of sentiment you build an anthem around, but then, Nurses aren't the kind of group you'd expect to write an anthem in the first place. And despite what that line—and their opening slots with the like of The Mountain Goats and Stephen Malkmus's mighty Jicks—the Portland/LA duo of Aaron Chapman and John Bowers aren't exactly blasting paeans to teen angst, either.
Instead, they're pushing against angst of a different kind. Call it post-genre malaise, perhaps—the effects of there being so many ways to make music, so many choices to navigate. It's an exhausting proposition, and true to form, Chapman and Bowers sound both exhausted and exhilarated in "In the Mirror," the opener from their forthcoming record, Naughtland. They chant with all the fatigued soul of Autre Ne Veut over a beat that molds Ariel Pink's faded funk into Teddy Riley's New Jack Swing mold. And when they get to that chorus—"Nothing is forever / Forever is too long / Wake me up soon"—they round into a sweetness and unity of purpose that suggests that even if nothing is forever, sometimes the here and now is a-okay. Check it out, along with Naughtland's cover and track list, below. And if you happen to be in Portland on Halloween, they'll be playing Mississippi Studios that night.
Naughtland track list
"In the Mirror"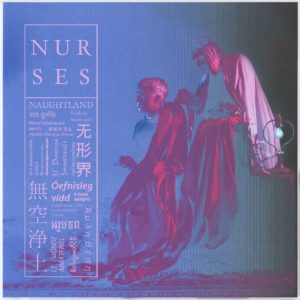 "Fortress"
"Pillow Talk"
"Afterlife"
"Why"
"Silver Moonlight"
"Naughtland"
"Heavy Money"
"Names You Know"
Naughtland is being self-released by Nurses on October 6.