Amadou & Mariam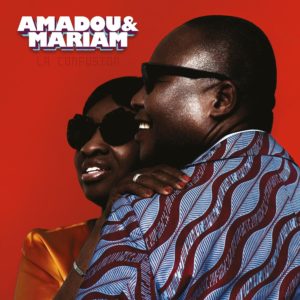 La Confusion
BECAUSE
7/10
Finally, Amadou & Mariam have crept fully into the Western cultural consciousness. The pair, who both lost their sight in their youth, first appeared on the Malian music scene as teen phenoms all the way back in the mid-1970s, and they play with a sheer exuberance that's made fans worldwide, including Damon Albarn, who produced the first single on the duo's 2008 North American breakthrough, Welcome to Mali.
"Bofou Safou" opens the pair's latest album, La Confusion, with chunky, sexy electro synth-pop at its absolute finest. It instantly reminds of the four decades of interplay between African and British pop; it could just as easily be a cut by Culture Club or Neneh Cherry.
"Filaou Bessame," with its minimalist guitar riffs and cool-toned sax, is actually best for its elated, exhilarating chorus—indeed, Amadou & Mariam are at their best when it sounds like they've brought the entire community into their studio to join in the chant.
The album surprises at every turn. The title track has a bit of a surf vibe; "Diarra" is haunted reggae; "Fari Mandila" is feminized funk. Yet you'd fail in trying to find a seam anywhere between them.
Remarkably sophisticated with an effortless command of irresistible hooks, La Confusion merely confirms that Amadou & Mariam are as yet masters of layering instrumentation and cultural multifariousness to inimitable effect. But even beyond that, it's a record built around and sustained by groove, which makes it a pleasing workout for body and mind.