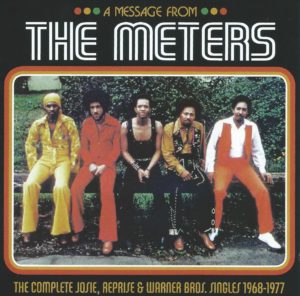 The Meters
A Message from the Meters [box set]
REAL GONE
9/10
The Meters—one of the most locked-in groups to ever sit in a studio together—were the rhythm section to beat in the '60s and '70s. Some give that honor to Booker T. and his crew, or the Funk Brothers up north, or maybe even Alabama's Muscle Shoals Rhythm Section, but The Meters hold their own rivaling only The J.B.'s in terms of cranium-wobbling funk.
The core group—guitarist Leo Nocentelli, bass ruler George Porter, Jr., and drum wizard Joseph "Zigaboo" Modeliste—was hand-picked by organist Art Neville from the cream of New Orleans' crop. Their after-hours sessions near the Thirteenth Ward would go for hours and the jams flourished and evolved into unnamed pieces eventually given titles like "Sophisticated Cissy" and "Cissy Strut." Other times they would hop into the studio with an artist like Lee Dorsey or Dr. John and just roll tape. While Earl Palmer and company had tightened things up for Dave Bartholomew and Fats Domino in the decade previous, The Meters took those same influences—jazz, heavy R&B, the distinctly marshy sound of New Orleans congregational music—and roared on through the '60s.
On this new singles box set, take a listen to that chicken squawk guitar on "Sehorn's Farms"—the B-side to "Sophisticated Cissy"—and note that it's strictly roots music. But then there's "Cissy Strut" (we're only on track three of the collection, folks)—a kind of cubist approach to R&B. Every angle stretches out, and depending on which instrument you follow, you end up in a different place. How the hell do you get your drums to sound like a metal bucket strapped to a horse hoof and yet it's still the deepest sound since the plates shifted?
The group's wild sides for Josie Records are where the magic lays. Dropping the needle down on "Hand Clapping Song" for the first time? It's like being shown the Dead Sea Scrolls—only you probably wouldn't start doing a wild Joe Cocker–esque dance upon finding the Scrolls (but who knows, maybe?). The grease and grit of songs like "Stretch Your Rubber Band" and "Good Old Funky Music" is the kind you can't wash off. A band this good could only evolve, and, by the time they get into "Cabbage Alley," they are so incredibly well-oiled that you know why everyone was running to the Big Easy to get The Meters as their backing band.
This comp follows the band from their move to Reprise and Warner Bros. and cuts off in 1977, so they barely get a chance to go stale. Anyone with even a passing interest in beats, party vibes, "in the pocket" grooves, or ecstatic dancing needs to breathe this music in like the fresh air it is.