Ought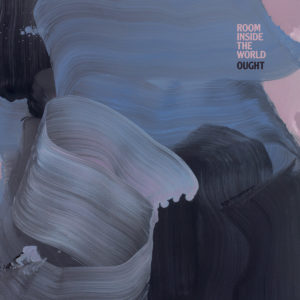 Room Inside the World
MERGE
6/10
When Ought released their debut back in 2014, the Montreal group showed a predilection for clamorous, No Wave–inspired dissonance, along with a galloping groove that helped put their songs into more traditional forms. With vocalist Tim Darcy at the helm, the wry and writerly lyrics could be sputtered out like the great Mark E. Smith (RIP, ugh) or lifted into more atmospheric realms as their cacophonous anxiety and tension found release.

Room Inside the World is less forceful upon initial listen. "Desire," for instance, is structured as a soulful pop tune in the beginning—a slow build without the insurgent panic of Ought's previous two albums. But it's not smooth sailing by any means, especially with Darcy's pitched and out-front vocal delivery giving off a raw, exposed affectation like something between King Krule and Iceage's Elias Bender Rønnenfelt. "Take Everything" brings a sort of Interpol-meets–The Smiths croon into the band's repertoire and feels like it's going to be one of those reach-to-the-rafters alt-rock moments—but then it changes gears into a more ragged, distorted, and welcomed zone.

The album's strongest tunes—the opener "Into the Sea" and the following "Disgraced in America"—feel like assured dry-runs for a broader audience. Not in a calculated way, but in an evolutionary one; the anxiety is not so much personal and twitching as it is grander, all-encompassing, and more persuasive. The schizophrenic energy of their early albums is harder to find here, but it's not gone—it's in the changes of tempo, the unpredictability, and the assured poetic slants within the lyrics. "Disaffectation" kind of sums up the entire album: A bleak, moaning mashup of the words "disaffected" and "affectation" set against a goths-dancing-in-the-moonlight skittering drumbeat. It's aware of its own seriousness and yet totally willing to embrace and have fun with it.