"I ate your food almost every day that we recorded Woodstock," Portugal. The Man's bassist Zach Carothers tells chef and restaurateur Roy Choi. "Nearly every one of the four-hundred days that we recorded!"
"Yeah, you were a huge part of that record," remarks frontman John Gourley.
Recorded over the course of two years in various studios across LA, Woodstock would go on to become the band's surprising crossover smash, with the single "Feel It Still" topping charts around the world. But who knew Choi's innovative cuisine had such an unlikely influence on the album?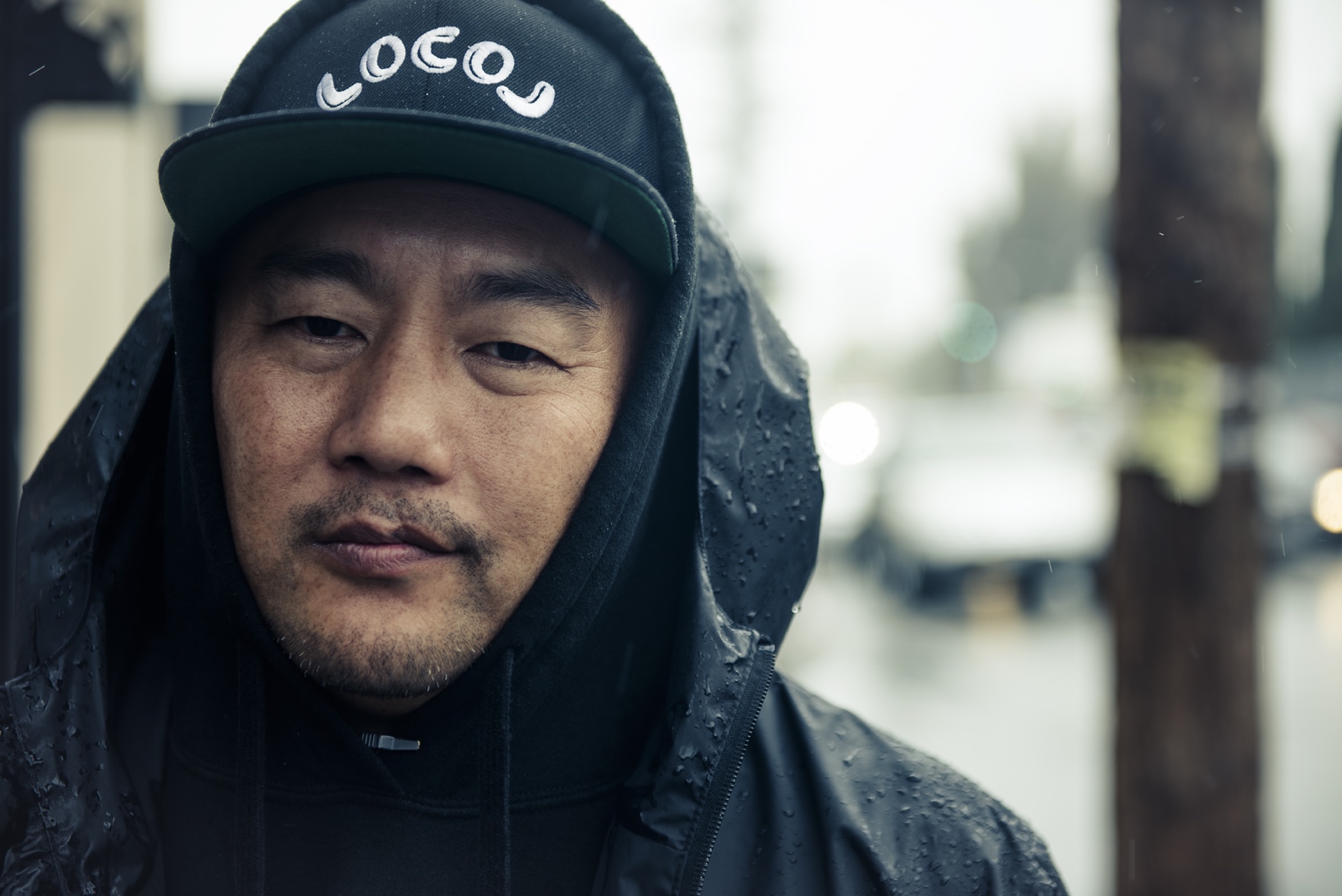 Initially meeting through Mike D of the Beastie Boys (one of Woodstock's producers), Portugal. The Man and Choi formed a special friendship and appreciation for each other's craft, thanks to the band's near-daily visits to the chef's LA restaurants, including Commissary and A-Frame.
Not unlike Portugal. The Man's genre-defying sounds, Choi gained notoriety for colliding styles and flavors into provocative new dishes, most notably creating a bona fide phenomenon with the Korean taco truck Kogi, inspiring a gourmet food truck movement throughout the city.
In 2015, Choi embarked on one of his most ambitious endeavors yet (along with chef Daniel Patterson): bringing quality, healthy, and inspired fast-food to inner-city neighborhoods with LocoL.
On a recent visit to Los Angeles amidst their intensive touring schedule, Gourley and Carothers ventured out to LocoL's Watts location to catch up with Choi and sample burgers, "foldies" (folded, fried tortillas stuffed with carnitas, beef, or beans), and fresh juices. Here's what transpired…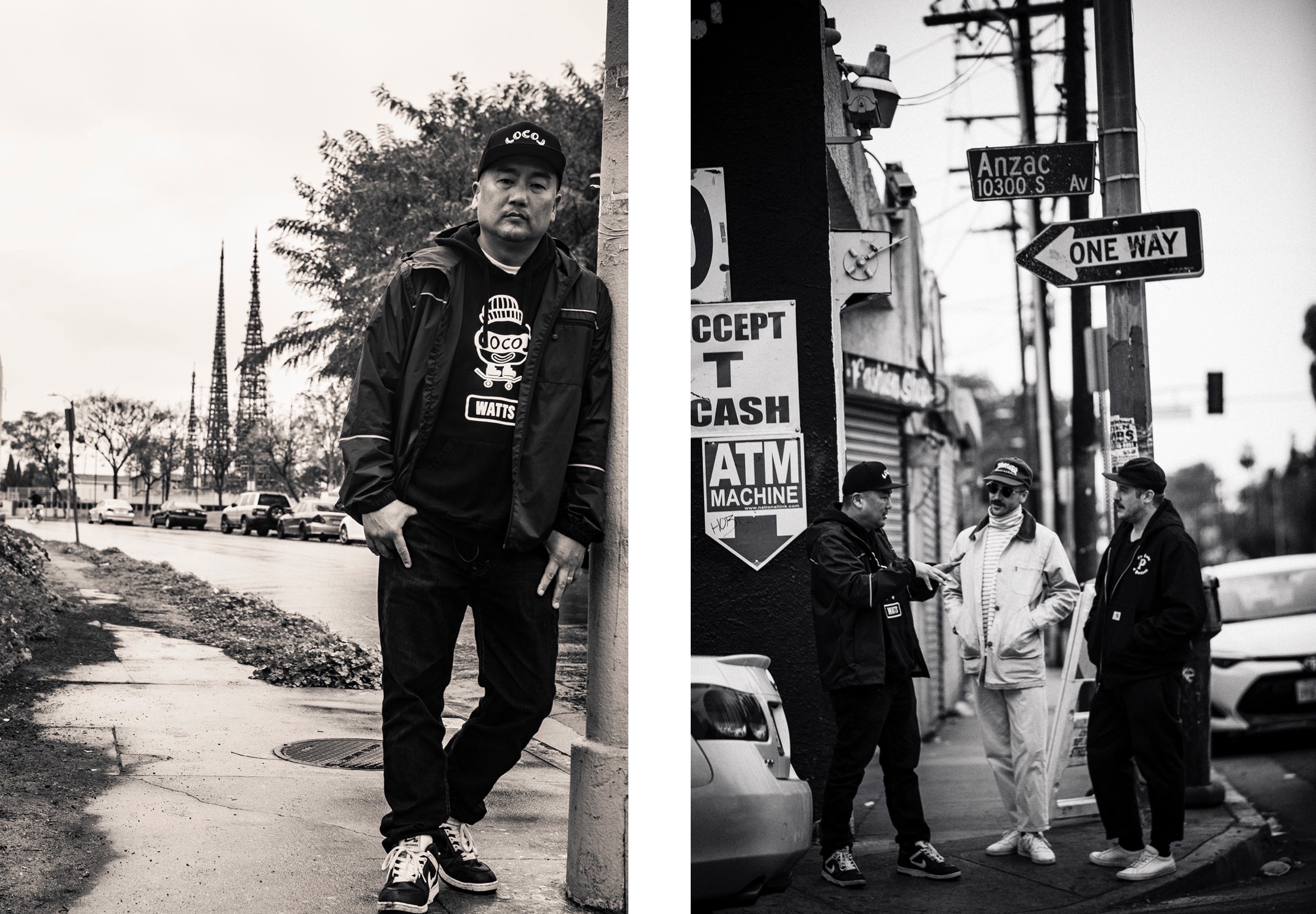 Roy Choi: Here in Watts, this is a restaurant, but it's also a social project. It's also an album—a creative poem, I guess—to try to figure out where we can go as humans. We're in an area right now where there's a lot of poverty; there's a lot of history of police brutality; there's a lot of history of abandonment; there's a lot of history of resources being stripped. Basically, we're in the projects. So what we're trying to do with this is figure out: Why does it have to be that way?
A lot of people thought it was gonna be a lot more elaborate than this. But we've always looked at it like a stepping stone in the rebuilding of what this country abandoned. Start with fast-food, 'cause that's the important gateway to how a lot of communities are eating. The only people that have the courage to open restaurants in the hood, a lot of times, are fast-food places. The question really is: What does that say about us, as chefs and as restaurateurs? We're the ones hating and blasting all fast-food restaurants, but they're the only ones coming into communities and feeding them. So really, the hypocrites are us, the chefs. We're saying that the food sucks, but why aren't we in there feeding?
John Gourley: You've always been a subject in our circle of friends. We talk about what you do quite a bit 'cause you're also bringing opportunity to this area, teaching people how to cook, teaching people how to run the place. It's just really nice to see somebody who is so aware and successful and comes straight back to it. It's not something everybody catches.
Roy: I guess for me it's been very natural. These are folks I'd be hanging out with even if I didn't have a business. So now that I am employed—and now that I actually do employ—why wouldn't I give those jobs away to them? To me, it just makes complete sense.
"We're the ones hating and blasting all fast-food restaurants, but they're the only ones coming into [low-income] communities and feeding them. So really, the hypocrites are us, the chefs." — Roy
And I hate to get so deep on shit, but it's not just the food, it's not just the jobs—it's also the art. In a lot of our communities, not only have we stripped resources in the schools—programs, food, jobs, access, everything—but we're also putting as minimal an effort into design as possible. So it's really important for us to put a lot into the design here. See the light patterns? See the screen doors? See the open kitchen? I really believe in the impression of memories. These things will now make new impressions on the young kids growing up here. There was never a place in the neighborhood that was designed by an architect, you know?
John: Just imagine being a kid in this neighborhood, coming in and saying, "God, this is art." I remember our band leaving Alaska for the first time—it was such an eye-opener because we went to Portland and were like, "Oh, you can go to school for art? You don't have to be, like, a classical painter? You don't have to be inside this box?" And that's what this place is.
Roy: Kids can walk by and it's gonna make an impression on their mind. I mean, that's the best that I can do at this point in my life, you know? I'm not a multi-billionaire.
Zach Carothers: But that's important, too. It's not just giving back—it's teaching and giving people skills. It's the whole "give the man a fish or teach the man to fish" thing, and that shows such a different level of thought.
Roy: It's different. You could give away a hundred basses versus…
Zach: Teaching somebody, or teaching somebody to give something else away.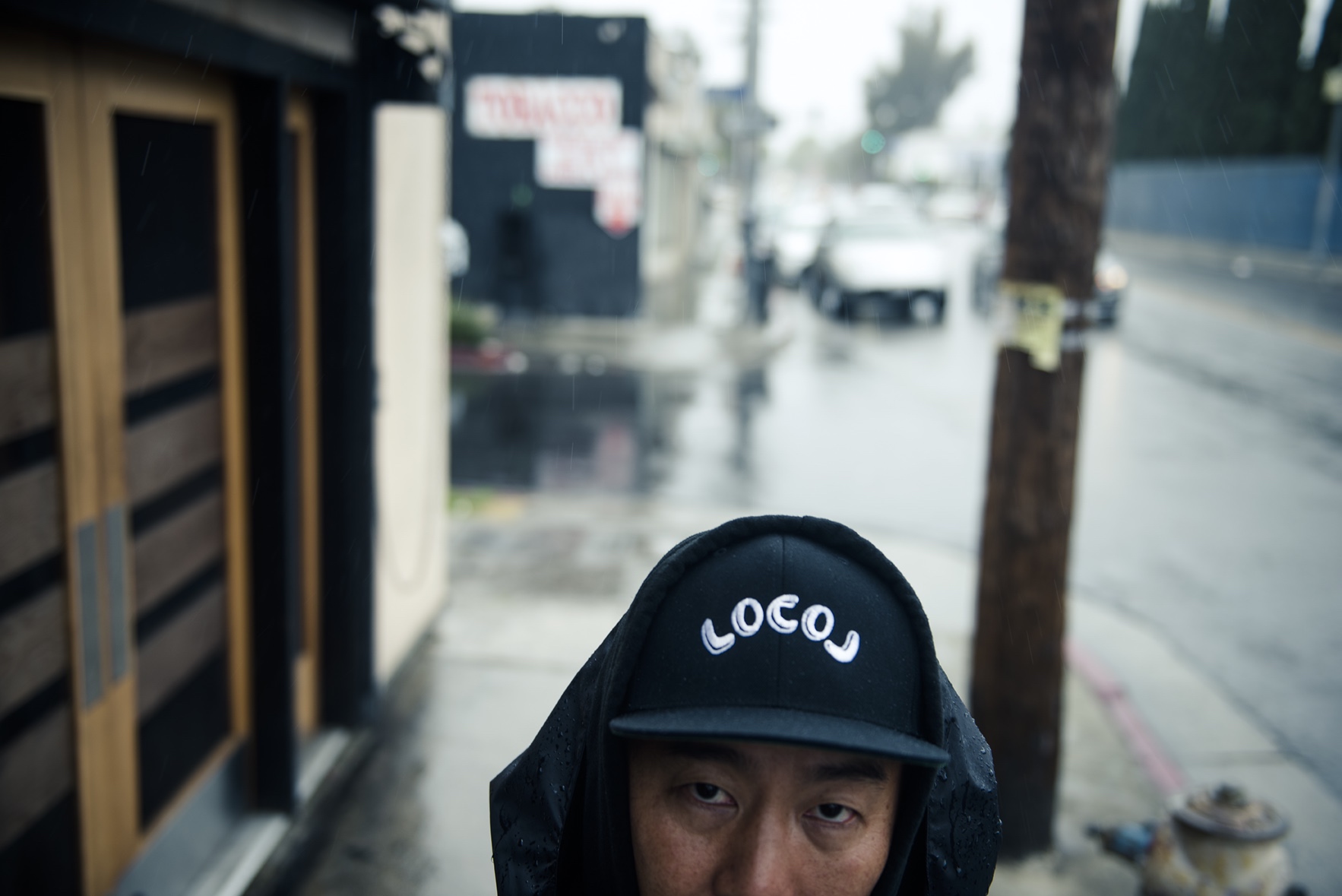 John: I was looking at a playlist you made that goes from Dilated Peoples to the Beastie Boys, Miles Davis to Coltrane… All the music that you're into—all these fringe movements. What drew me to that music growing up was that it was something different. You're still kind of a part of that outsider group, and I think that's really amazing.
I remember being at Mike [D]'s birthday. Sting was there, and you were like, "Oh man, this is crazy—Sting's right over there," and I was like, "Yeah, this is wild." There was something about that that was so cool—just the feeling that all of us had about music and who this person is, that we're still in awe of these things. You can build a place like this because you can look at it the way a kid would look at it. That's such an important thing—and that's what those genres do to all of us.
Roy: Man, thank you for those words. That's the first time I've heard anything about my playlist being on the fringe, but it makes sense 'cause I was never a music nerd who knew every single song of one genre. I didn't know what I was attracted to, but you crystallized it for me: just all things from the fringe.
John: This is the conversation we have every now and then: "Why did we get into hip-hop? Why do we like soul? Why do we like all these things?" We were talking about Great Balls of Fire!—I remember the scene where they're talking about the devil's music, like, "Jazz is the devil's music! Blues is the devil's music!" Those are the artists that come in and they bring change. It's not easy being an outsider, but those are the things that make you feel a part of something.
Zach: Totally. Do you see the obvious connection with food? Maybe one of the reasons you do so many things is because of how eclectic your music taste is. Like, Korean tacos: I never heard those two things together before and instantly was like, "That sounds amazing."
Roy: I love the way you guys think. I was never gifted musically—never.
Zach: Neither were we. [Laughs.]
John: Yeah. We don't know what's going on.
Roy: But I always thought that way. I think I created my playlists like albums, when you mix a song or something with all these layers to them. Like the taco: There are sounds in there that you don't actually hear, but without them…
Zach: You would know.
Roy: I guess that's how I approached the Korean tacos—all these different layers until finally it's something.
John: That's what I like: There are no rules to what you do. And there's this subtlety in it. It's almost funny. Like the way you approach food, you have a sense of humor about what you're doing. And that's really important for the people around you to see, too. I don't know anybody that works as hard as you do, and you don't make it look like work. It's just kinda who you are.
Roy: There is a strategy to that: I've cut out all of the stuff that's normally considered work. I don't have a computer. I don't do any spreadsheets. I don't have any sandbags that hold me down. And I have great people that let me be that person.
Zach: It seems like you just take care of everybody. Were you always that guy? Or, once you had your first restaurant, did you decide, "OK, now I can take care of everybody?"
"It's just: Give me a guitar and I'll write you a song. Give me a kitchen, I'll make you some food. And that's what life should be." — John
Roy: I don't know if I'm always that guy. I think my creativity is giving, right? It's being the homie. I was always the homie growing up when I was younger. You guys are lucky 'cause you found an artform that was able to channel your creativity, and you found it early. I never had that. I always had everyone's back, and that was what I thought life was. I always loved just hanging out on the block—just being with my friends and stuff. And a lot of those friends were able to express their creativity in skating, graffiti, DJing, emceeing, all that stuff. It's always been with me, but I never knew it was an artform or a creative outlet. It was just who I was. I thought that was one thing, and then I had to go do another thing for work. That's why I'm smiling all the time: I found it later in life, I found it in my mid-thirties. Once it came together, it was just like…
Zach: "Oh, this is easy now. I'm just gonna be me."
John: It's just cool to see something I think you're really good at. I'd seen you all over town, but I'd never seen you actually directly manage a group of people. And there's something that I think is very clear when we go to A-Frame and here at LocoL: Your managing reminds me of being back home with my dad managing subcontractors, like, "Here's my group of electricians. You do electrical work. You're good at that. I trust you to do it." Everywhere we go, it's always the same feeling of "Roy trusts these people."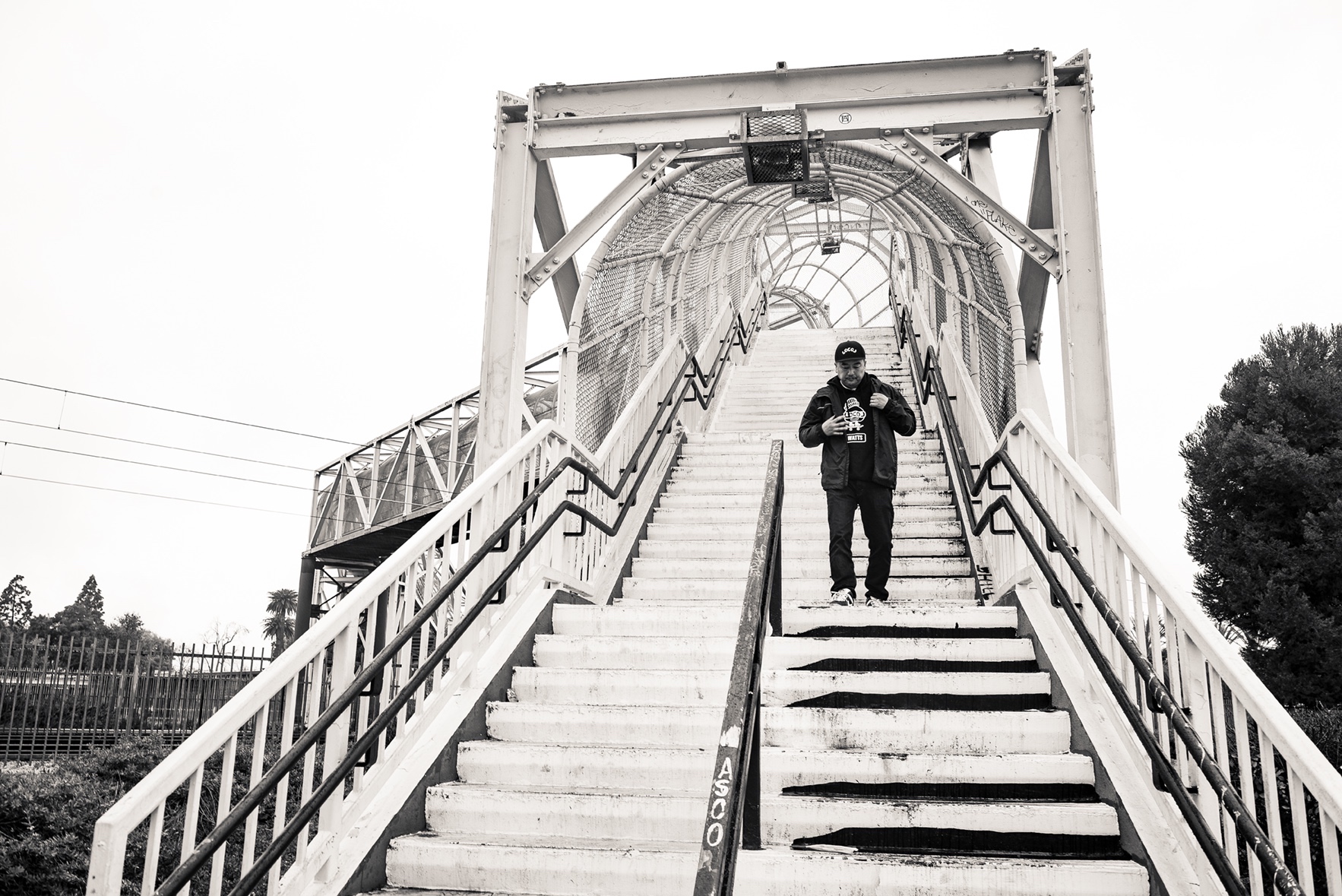 Roy: You don't have to directly see me work because my work is shown through their actions. They've adopted my ideas in theirs, and they've felt a freedom to express themselves. We've made something together.
Zach: Your table's pretty big.
Roy: I feel like this is something I was put on this planet for. I can bring people together and all of a sudden it doesn't matter anymore who you are—you connect in that moment. I wish I could harness it more, 'cause that would be a cool power: to bring world peace.
John: The best you could do is make the people around you happy.
Zach: I've seen you literally give John the shirt off your back. Let's not forget that. Actually, literally…
John: I wish I had been more in need [laughs]. But the thing about you is you would totally do that for anybody. We were all really excited just within our group: "You see what Roy's doin'? He's building a restaurant out in Watts." It's really amazing. I mean, if that could happen everywhere…
Roy: That's the goal. Even if we become just the beta to something else down
the road, we're willing to fall on that sword. If it opens up something for the future, like—
Zach: —you won't be mad if other people rip off this idea. It's like, "Go for it."
Roy: To me, that would be the best thing in the world because we're just showing that it can be done. You can build things with heart and humanity. Use grains and vegetables and seaweed and tofu and make everything from scratch. Make it affordable. And we're going into our third year. We're just trying to show that it can be done so that other cities can do it. That's really what LocoL's about.
Zach: It's making things accessible.
"We're just trying to show that it can be done so that other cities can do it. That's really what LocoL's about." — Roy
Roy: Yeah, and along the way if LocoL becomes successful, we want that to happen, too. When you say it sounds to some so idealistic, we're showing you it's not idealistic. It's real. And this should happen in every city. There should be chefs opening up delicious natural food outlets that are staffed by the community, providing more jobs, providing more opportunities, getting more people to come into shops—or providing access and ways for people to make their own shops.
Zach: It's a true win-win situation.
Roy: It's different than gentrification, too. Watts ain't never gonna gentrify. This is one of the deepest communities that America has. It's the opposite of gentrification. It's not gonna push residents of Watts out.
Zach: You wanna make the community that exists here better.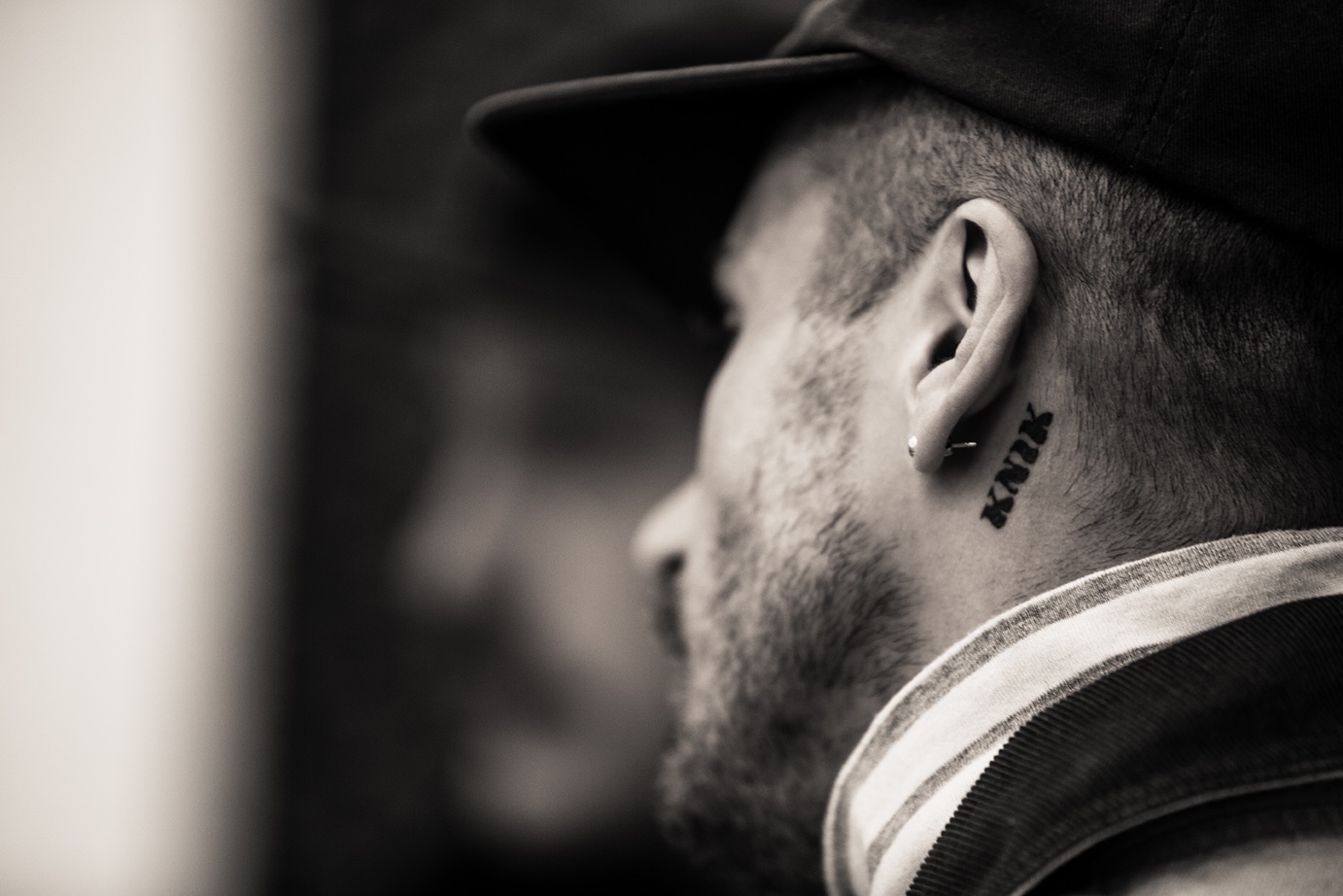 John: I love the EBT thing—that you can use food stamps here. It took two years to do that? That's some dedication.
Roy: Well, it's a bureaucracy; there's a process.
John: Not everybody would go through it.
Zach: Yeah, that's badass.
Roy: Well, thank you.
John: That's really respectful, giving people something good to eat. And that's a lot of what was happening in Portland twelve years ago or whenever, right before everything started going really crazy with expensive food. There was a lot of punk rock people doing what you do on a much smaller scale. And I think there was something really great about that period, and I want Portland to hold onto that because it is a tight community. I'm dead serious when I say it—our band would not exist if it weren't for people like you. Because that was a period where I was really growing a lot as an artist. That's when we were putting out our first records.
Roy: You mean because of the restaurants you were going to?
John: Yeah, coming from Alaska, I didn't have restaurants.
Zach: People that cared.
Roy: Oh, I see. And that influenced you as young artists at that time.
Zach: The details like this. Making it a full experience.
Roy: There was a lot of that going on in Portland in the mid-2000s.
John: Yeah, there was. Around that time, I remember walking into Oscilloscope [Laboratories] for the first time and seeing the Beasties' gear and their studio setup. It was probably the most inspiring thing I'd ever seen in my life because you walk in there and you expect state of the art—these guys have, like, worldwide smash hits. Beastie Boys had money. They could get what they need. And if they couldn't buy it, it'd be given to them. We walked in there and it was like five off-brand guitars and basses with old strings, a mismatched drum kit in the corner, a vocoder with some dust on it, a plastic mic.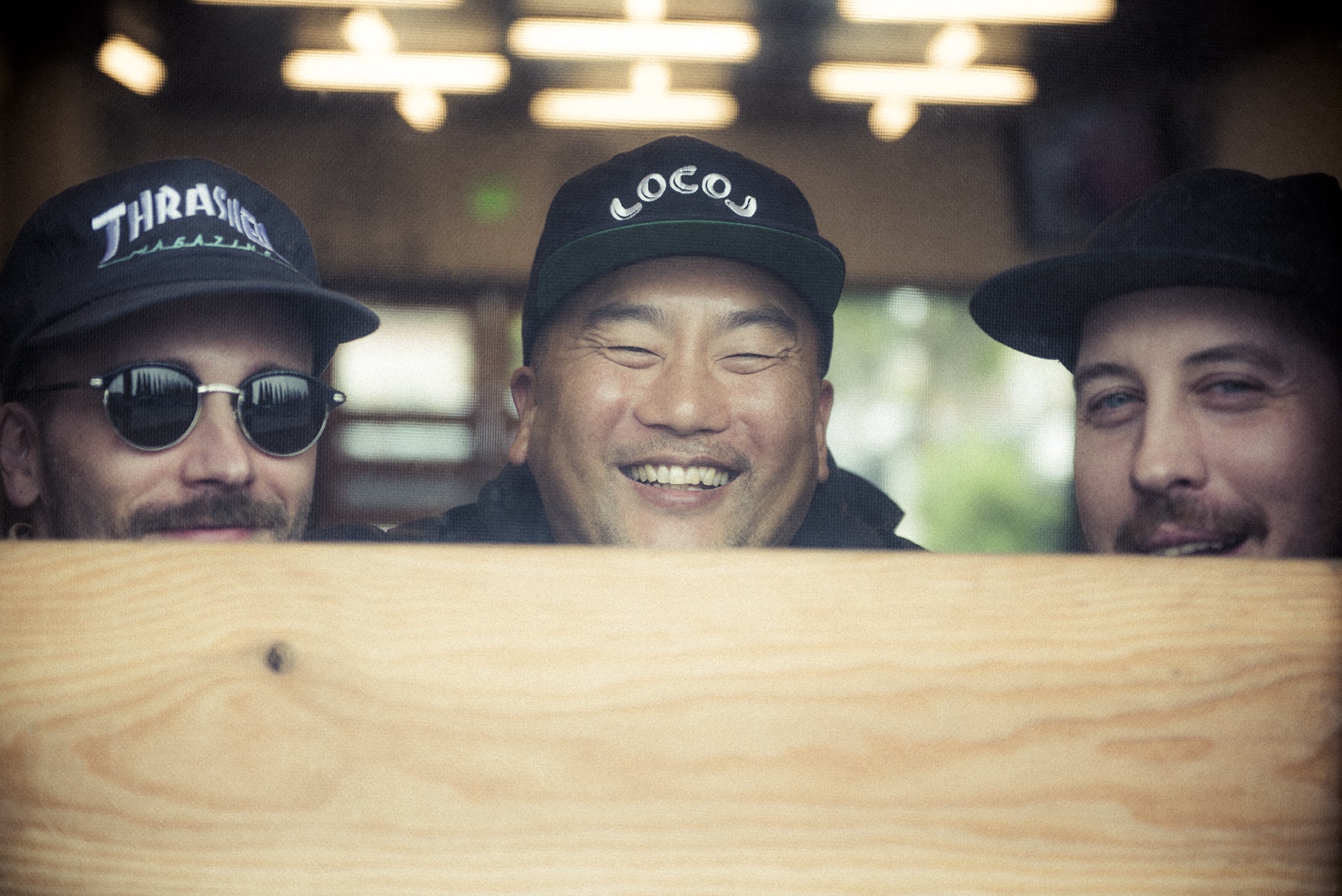 Roy: I mean, we do that, too—this [table] was made in the high school woodshop.
Zach: Oh, no way, that's awesome.
John: It's just: Give me a guitar and I'll write you a song. Give me a kitchen, I'll make you some food. And that's what life should be.
Roy: But I think there's a distinction, too. There are some people who go vintage with cameras and then they're using 'em for art, but they're also using 'em for a little bit of style as well. And then there's the Beasties, where it wasn't intended for anyone to see that style. It was just, literally, that's the guitar they're using. Literally the bowl I brought from my house: that's what we're mixing the thing in. Sometimes it's about not putting value on anything—it's just expressing yourself.
John: Yeah, you're as true an artist as any out there.
Roy: Thank you. It's hard to hear that word because our form doesn't get the same glory as yours. I don't know what it is. It's never like, "Oh, chefs are artists," you know.
Zach: But it's ridiculous, because food is what makes a culture. When you think about what makes a specific country, it's like, "OK—people, the food, and the music." Those are the biggest things there are. FL
This article appears in FLOOD 8. You can download or purchase the magazine here.