"This is it, a time for real engagement. And you are it, this is your time. The architecture, music, imagination that has put this weekend together is meant to inspire you. And you'll need it, because we're standing at the edge of the roof."
— Jeff Stein, President, Cosanti Foundation
---
When Paolo Soleri*, architect of Arcosanti, set out to create the city, he envisioned it as humanity's next step—the evolution of human existence based on recapturing its lost sense of community caused by urban sprawl. Designed as a city of the future, Soleri was inspired by the writings of Pierre Teilhard de Chardin, a philosopher and Jesuit priest who, to the awe of some and chagrin of others, hypothesized on humanity's future and current society's place on the timeline of it.
(*Editor's Note: In late 2017 Soleri was accused of sexual abuse by his daughter Daniela in a lengthy Medium post that, in addition to her trauma, discussed the legacy of her abuser and the plausibility of separating art from artist. "Work deserves recognition and use," she wrote, "but its value will never negate his faults, or obscure the larger lessons." Arcosanti issued a statement in the wake of the revelations, saying: "We support and stand firmly with Daniela. We know that Arcosanti and Cosanti are much greater than the ideas of one man.")
For the last four years, Arcosanti has played host to FORM, a three-day experience centered around musical and artistic performances. While it retains festival status, to call it one feels like a misnomer, or at the very least a half-truth. Yes, there were performances; yes, there was camping—but the feel and chaos that has come to accompany the modern-day festival was absent.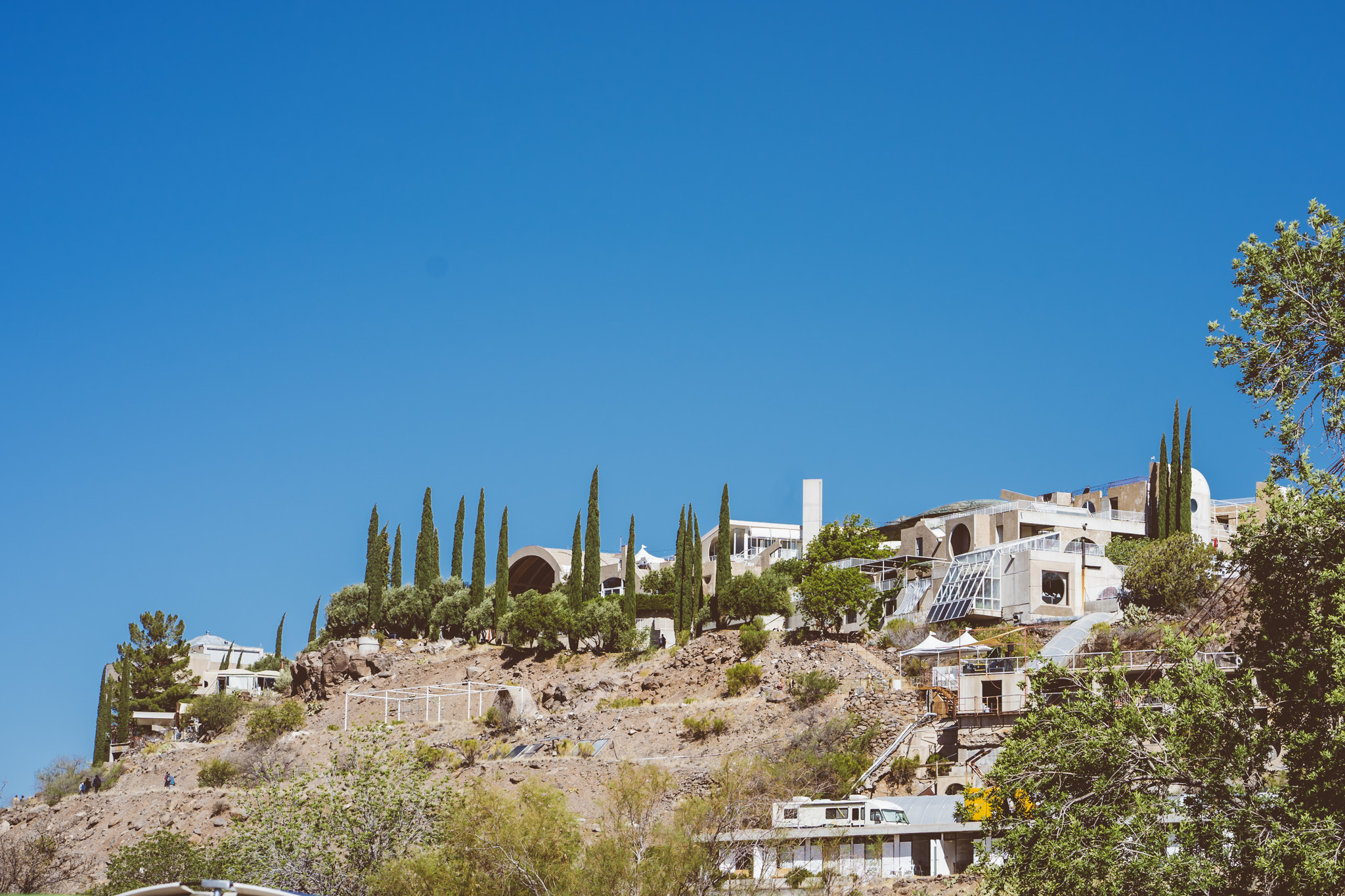 Instead, attendees were given the opportunity to continuously witness intimate performances enacted out in an environment that would be impossible to replicate at any other venue in America—a fact FORM is well aware of. In its welcoming packet, a quote from Stein mentions that the event doesn't "happen in a converted football stadium, nor in a series of darkened nightclubs or elite galleries; it is not out on an unforgiving desert plain, or a converted farmer's field. It occurs, as if by magic, in an architectural community designed especially for events like this."
Here, nestled in the community that allegedly inspired the design of Star Wars' Tatooine, creative experiences are constant and consistent, spaced out perfectly throughout the day to not only avoid overlaps, but to curate an aesthetic for those in attendance. Previous iterations of FORM required an application to attend, and even without it, the creative spirit flowing from person to person was still retained. At any moment, you could turn your head and see somebody drawing, or painting, or dancing, or, as noted by Tennyson artist Tess Pretty, absolutely shredding on a typewriter.
Each day and performance seemed to provide the high of the weekend, only to be shattered immediately following the next. On the first night, an audience waiting for Flying Lotus (who was a last-minute replacement for Chance the Rapper) was blown away by poet Aja Monet, who urged action and passion in the face of a growing need for both.
"We all stand in privilege," she said, delivering each line with increasingly urgent fervor, "and whether or not you know it, whether or not you thought you came here to turn up, we all have an obligation: It is our duty to fight for our freedom, it is our duty to win. And we must love, and support one another, and we have nothing to lose but our chains."
The same happened the next night, when Saul Williams spoke the phrase "the greatest Americans have not been born yet—they're waiting for the past to die" into the air and let it linger to haunt the audience well into an equally chilling performance by Blood Orange. Sitting alone on stage, surrounded only by instruments and backed by visuals ranging from drift videos to Blockboy's shoot dance to displays of Lil Wayne's guitar prowess, Dev Hynes ran through a catalogue of his own work and covers of others.
With an attending population that most likely didn't exceed 1,750 (FORM doesn't release attendance numbers, but the site was built with a population of 150 in mind), the fostering of a community came naturally. Passing familiar faces was commonplace, and soft smiles turned to head nods which turned to hellos which turned to hugs. Though drugs were assuredly being consumed, the narcotic-fueled freakouts that have become the norm at larger festivals were noticeably absent.
Multiple artists on the main stage, some in Arizona for the first time, expressed joyful bewilderment at the festival's location and the focus of the crowd. At the amphitheater, most shows were accompanied with a focused silence, each member in the audience attentive at the nuances of each performance. "I'm not used to being able to see you guys so clearly," riffed Damon McMahon of Amen Dunes. "It feels like… It's like I don't have pants on." Daniel Caesar was blown away by the attentiveness, closing his eyes and thriving off the intimacy during his set. Flying Lotus simply threw back his head in laughter at mid-point during his stunning multimedia performance and yelled, "Yo, where the fuck are we?"
Perhaps no event symbolized the unique power of FORM more than Sunday night's Charli XCX performance, by far the most energy-fueled set of the weekend. Toward the end, those in front of her rushed the stage, creating an impromptu dance party around the singer and PC Music's A. G. Cook, Charli's production partner and DJ for the night. Dozens swarmed in, joining the frenzy, refreshingly focused on experiencing the moment and dancing in it rather than documenting it.
Watching the madness unfold, Stein's words from FORM's opening night came to mind, reinforcing the idea that, in this place in the desert, true community and unabashed creative expression and inspiration is not just possible, but unavoidable. FL