Gruff Rhys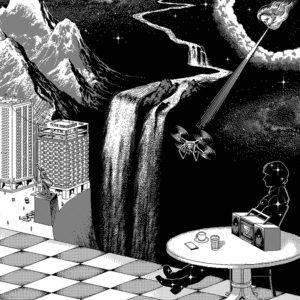 Babelsberg
ROUGH TRADE
7/10
Although they didn't break in any huge way here in the States (perhaps too much techno influence), Super Furry Animals did curry cult favor amongst US Anglophiles with their esoteric, hard-to-pigeonhole guitar pop. In many ways, their costumes, psychedelic imagery, and fusion of electronics made them a sort of Welsh Flaming Lips.
While SFA is on a recording hiatus of unknown length, shaggy-haired frontman Gruff Rhys has continued to flourish as a solo performer, making music that has a more singular (and to these ears, fascinating) quality. Two of his most recent albums were tied to larger (or at least adjacent) art projects—one about his collection of hotel shampoo bottles, and the other a soundtrack to a film about the American poet John Malcolm Brinnin's friendship with Dylan Thomas.
This new album stands alone. Babelsberg has no set topics to consider other than the ones that appear in the tracklist. But soundwise, Rhys is working with the same palette of 2014's American Interior—strings and luscious orchestral accents abound; the songs feel like they were given time to soak, and lyrically he's more pointed here (for better or for worse) than in much of his discography.
Still, he's very clever: "On the frontier of delusion, I'm your foremost frontier man," he sings on the opener, which is a track cut from the Lee Hazlewood cloth in recording, delivery, and structure. Better still is "Limited Edition Heart," a jangling pop beauty with a ghostly femme vocal integrated into the chorus and some nice Frippertronics tagged on at the end. "Oh Dear!" is just as strong, a galloping number in the vein of the earliest Belle and Sebastian singles. "Take That Call" feels like a Bacharach-esque movie theme, and plenty of the swelling strings and nimble basslines have an air of '60s exploitation cinema (no surprise, given Rhys' connection to the esteemed Finders Keepers reissue/lost music label).
The album's lyrical fixation on modern culture in 2018 gives it an of-the-moment quality, though "Selfies in the Sunset" and "Drones in the City" feel like well-worn lyrical matter that will date just as well as singing about MySpace and Groupon would have a few years back. But that's a quibble, really. Rhys has a great voice—perhaps inflexible, but ideal for these space-age ballads and cosmic troubadour rambles. Long may he run.