Kids See Ghosts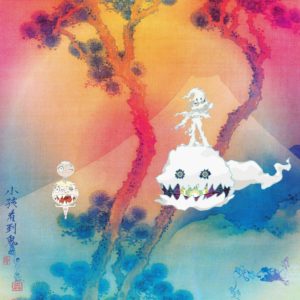 Kids See Ghosts
G.O.O.D./DEF JAM
7/10
Late 2016 marked a bleak time for both Kanye West and Kid Cudi. Cudi checked himself into rehab, plagued by depression and suicidal thoughts. West was hospitalized just one month later for "temporary psychosis" shortly after the Saint Pablo Tour derailed. In the midst of this, the relationship between the two longtime collaborators (since 2008's 808s and Heartbreak) had devolved into petty, bitter public sniping.
As such, the very existence of Kids See Ghosts, the new collaborative album between Kanye and Cudi, is itself something of a minor miracle. It marks the halfway point of Kanye's ambitious Project Wyoming, in which he and friends have retreated to the mountains of Wyoming to craft five different albums with seven songs each. Ghosts lacks the tight precision of Pusha T's Daytona, the first album of the bunch, but it's a notable improvement over ye, Kanye's eighth solo album, which was fractured and noncommittal, unsure of what it wanted to be or how it wanted to be it.
But where ye lacked an identity, Ghosts has one that's lucid and engaging. Kanye's instrumentals are cold and nightmarish, even when the lyrical content (such as the zen ruminations of "Reborn" and "Feel the Love") skews toward the uplifting. As such, Ghosts often toes an interesting line, thick with atmosphere but ripe with positivity. As a listener, it's difficult to detach this from both artists' ongoing struggle with mental health. Kanye's recent stream of cloyingly upbeat tweets hinted that he's achieved a certain inner peace, but ye's aimless ramblings on suicide and murder suggest something very different. Where ye failed to address this tension in a cogent way, this record uses it as subtext. Ghosts may not be about mental illness, exactly, but it's colored by it in fascinating ways.
Some of the album's most progressive moments are pure Kanye (such as the Kurt Cobain sample at the core of "Cudi Montage," or "4th Dimension," which wields an eerie, warped Louis Prima Christmas song as its backdrop). But Kids See Ghosts is quietly dominated by a clear-minded, rejuvenated Cudi. His strengths are limited, but his hums and warbles perform some heavy lifting here all the same, more aligned with the moody pop hooks of Man on the Moon than the stuffy dorm room experimentalism of Speedin' Bullet 2 Heaven. While Kanye's lyrical performances are a marked improvement over his slapdash ye verses, Ghosts works best when he allows room for Cudi to shine.
The seven-song format provides a suitably narrow scope; it's easy to imagine something getting lost in a project twice as long. As such, Kanye feels uncommonly focused and Cudi's impulses—his last album was nearly ninety minutes long—are reined in considerably. The full story of Kanye's Wyoming era isn't yet told (new albums from Nas and Teyana Taylor will theoretically close things out later this month). But his statements so far suggest that Kanye wants its legacy defined by playful experimentation and unpretentious intuition. Kids See Ghosts, both freewheeling and focused, suggests that he may indeed be on to something.