Drake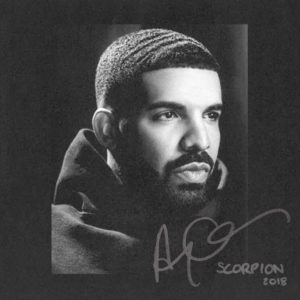 Scorpion
YOUNG MONEY/REPUBLIC
6/10
In May, for the first time ever, Drake was defeated. In an instantly legendary diss track, Pusha T revealed to the masses that Drake had a secret child named Adonis with a former adult actress in Europe. Drake didn't respond to the rumors, but a gossip trail quickly confirmed it to likely be true, and with his fifth studio album Scorpion due out the next month, it was obvious he'd address things the way he's always done best: through the music.
That's why Scorpion—and its twenty-five-song double-disc tracklist (a volume likely motivated by inflated streaming revenue)—reeks of squandered opportunity. In the past, Drake had brilliantly portrayed fatherhood from the perspective of an abandoned child, lamenting and forgiving his own estranged father, and this was his was his chance to introduce Adonis to the world with the same emotional precision. But now that he is the estranged father, his music feels cold, distant, and distracted.
Drake's signature superpower of cohering vicious trap and nude R&B throughout an LP is depleted on Scorpion, the flat mumble-rap attempt of "Nonstop" shrilly clashing with syrupy ballads like "Jaded" despite being separated by disc. "Summer Games" seems like an attempt to rekindle a "Hold On, We're Going Home" moment, and serves only as a reminder of previous albums' staggering superiority.
Side-A track "Emotionless," however, is lyrically one of the best songs of Drake's career: "There's times when I wish I was where I was / Back when I used to wish I was here / Missin' out on my days / Scrollin' through life and fishin' for praise," he reveals over a lush Mariah Carey sample. It's immeasurably moving for Drake, despite his excessive successes, to admit to the same guilt about wasting life and dwelling on social media we all experience. "I wasn't hiding my kid from the world, I was hiding the world from my kid," goes the most memorable line of Scorpion, in an unforgettable song that deserves a better home.
Drake speaks more of Adonis on the album, but it sounds like obligatory last-minute additions, as if he would have just kept him secret had the beans not been spilled. If there's any rapper you'd expect to come out with a lukewarm ode to their firstborn, Drake wouldn't be it. "I only met you one time, introduced you to Saint Nick / I think he must've brought you like twenty gifts" he raps plainly on closer "March 14," seeming more focused on getting the story over with than on quality rhymes, failing to address how disheartening it must be for fans to hear he's only seen his son once in his life. In past songs, Drake has specifically mentioned not being ready to start a family.
Suddenly, the song breaks into a heartbreaking piano interlude, where Drake quotes Boyz II Men and starts singing more like a child than ever before: "I'm changing from boy to a man / No one to guide me, I'm all alone / No one to cry on." It's the most genuine moment on this haplessly confused album, delivered right after a clumsy attempt at making sense of something he cannot, like a child breaking down in tears in the middle of a stuttering confession. After years as one of music's most upstanding role models, Drake now seems lost, afraid, and emotionless.